Find February Fun in Muskegon County
Thank goodness for that extra Leap Day! You will need it to fit in all the fun you can find in February, here in Muskegon County.
While the month of February may be the shortest month on our calendar, it is packed full of holidays, famous birthdays and commemorations. What it may not see, is a full moon. Due to there being more phases than days of the month! This last happened in 1999 and 2017.
For a short month, there are many major events and holidays; Ground hog Day (2), Super Bowl Sunday (2), Full "Snow" Moon (9), Valentine's Day (14), President's Day (17), Mardi Gras (25), Ash Wednesday (26) and Leap Day (29).
February also celebrates African-American History. This makes a perfect time to discover The James Jackson Museum of African American History. Visitors can learn contributions made by African-Americans to the growth of America and develop a greater appreciation of their history. Gain knowledge of the African American experience, history and culture. See their past come to life, from African origins to present and future generations, through the collection.
The James Jackson Museum of African American History in Muskegon Heights
February is also host to several "National Months". Find everything from "American Pie Month" to "Responsible Pet Owners Month" with "National Library Lovers Month" falling between. National Library Lovers Month is dedicated to people who "love whole buildings devoted to the reading, housing, organizing, categorizing, finding, studying and otherwise loving books".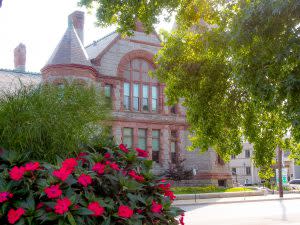 Hackley Public Library viewed from Hackley Park
You will love the Hackley Public Library. Built in the American Romanesque style in 1890, the library is listed on the Michigan Register of Historic Places. Enter through the ornate wooden doors and step into the recently restored mosaic tile entryway. Gaze up at the Louis Millet stained glass windows and canvas murals painted by Muskegon artist Wilfred Berg. Berg painted the murals for the children's library in 1934 as part of the Public Works of Art program. Walk over, and peer through, the glass floors of the "The Stacks". Behold the seven fireplaces and one of only 2 facsimile editions of The Book of Kells on public display in a US library.
Famous February birthdays include Susan B Anthony (15), George Washington (22) and Abraham Lincoln (12). Stop by Hackley Park's northeast corner and wish a happy birthday to our 16th president of the United States. The beautiful bronze of Abraham Lincoln was presented to the City of Muskegon on May 30, 1900 by Charles Hackley.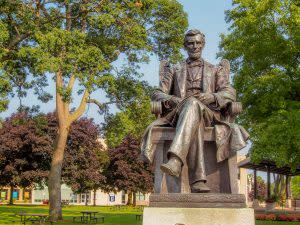 Sculpted by Charles Henry Nienhaus. Cast by the Roman Bronze Works of New York.
February Highlights:
Valentine's Day Dates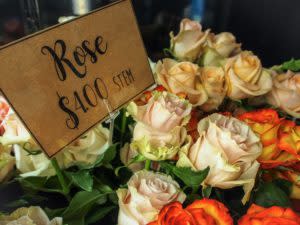 Fresh and fragrant roses at Wasserman's Flowers and Gifts
Swing Dance Lessons at SE4SONS
Join Swing Dance Instructor, Becky Biesiada, at SE4SONS inside the Muskegon Country Club for a series of 3 classes in February.  This is a fun opportunity to learn something new!  Don't forget to check out SE4SONS Gastropub after class for great Happy Hour Deals. Class Dates: February 6, 13, 20.
Saturday, February 8 from 12:00pm – 6:00pm, the West Michigan Business and Craft Fair presents the "Valentine's Love A-Fair 2020" at the Lakes Mall! This craft show features over 50 booths of local handmade items.  Local small businesses will also be on hand with the perfect gifts.
Saturday, February 8 at 7:00 pm, you are invited to Harris Catering and Event Center for the annual gala and auction, "Black Tie for the Y" to benefit LIVESTRONG with the Muskegon YMCA!  Get dressed up (black tie optional) and enjoy an elegant evening featuring a silent auction, live auction, raffles, hearty appetizers, hosted bar and dessert.
Thursday, February 13 from 6:00 – 8:00 pm, celebrate your Valentine and friendship with a date night at the Muskegon Museum of Art! Bring your sweetheart or a friend for a relaxed night of pizza and puzzles in the galleries.  Tickets include a table for puzzle building with your partner, pizza, and 1 free drink ticket for the cash bar.  Puzzles are provided.
Valentine's Day Friday Family Fun Night
Friday, February 14 from 5:30 pm – 7:30 pm, come to the Lakeshore Museum Center for a Valentine's Day Friday Family Fun Night!  Take the whole family on a date at the museum.  Enjoy collecting Valentine's from various museum creatures, create your own Valentine's Day craft, and learn some love science.  You'll also get a Valentine's Day treat to take home!
Celebrating its' 15th season, The Alley Door Club at the Frauenthal Center  features live music from popular West Michigan bands in a fun environment which includes a cash bar and dancing in the Ballroom located on the 3rd Floor of the Hilt Building.  The doors open at 6:00 pm for Happy Hour, with live music from 7:00 pm – 10:00 pm.  On Valentine's Day, February 14, it's funk, soul and R&B with the Westside Soul Surfers!
Valentine's weekend, February 14 & 15 at 8:00 pm, come to the Back Alley Comedy Club for Comedian Michael Palascak! Most recently, Michael was named the 2018 Stand-Up of the Year by the Late Nite Last Week podcast for his performance on The Late Late Show with James Corden.  He's also done stand-up on The Late Show with Stephen Colbert, CONAN, The Tonight Show with Jay Leno, Letterman, Comedy Central's HALF HOUR, was a top 5 Finalist on LAST COMIC STANDING!
Saturday, February 15, the Muskegon Luge & Adventure Sports Park presents "Parkas & Plates!"  This is a fun night for couples and friends who want to hit the lighted cross country ski trails or snowshoe trails, enjoy some amazing food and beverages and kick back to live acoustic music.  It's the perfect Valentine's date night or just a fun night out with friends.
Moonlit Trails and Winter Ales
Saturday, February 8, enjoy a nearly full winter "Snow" moon with a snow shoe hike, drinks, dinner and bonfires at Hoffmaster State Park. Don't want to hike and just want to hang out? No problem! Earth's Edge will be on hand to talk about other adventure gear, and the park staff will have programs to check out, raffles and more! Included in the price is a State Park Centennial Pint Glass, (1) drink ticket, guided hike, dinner and dessert.
February Fun for Familes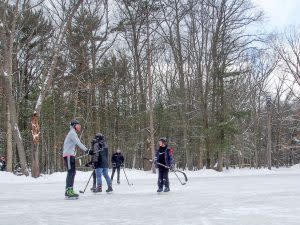 Ice skating at the Muskegon Luge & Adventure Sports Park inside Muskegon State Park
Fridays, Saturdays and Sundays through March 8, enjoy "Learn to Luge Weekends" at the Muskegon Luge & Adventure Sports Park inside Muskegon State Park! They offer one of only four luge tracks in the United States.  Although shorter in overall length than the Olympic tracks in New York and Salt Lake City, the Muskegon Luge track provides an Olympic thrill for first timers.  The track was designed by three-time Olympian Frank Masley and consists of six curves and speeds around 30 mph.
Sunday, February 2 from 10:00 am-4:00 pm, come to the Muskegon Luge & Adventure Sports Park for your opportunity to try three Winter Olympic sports; luge, ice speed-skating and cross country skiing.  This event is family friendly and geared toward those who may have never done at least one of these sports.  Of course, serious competitors are welcome as well.  Muskegon Luge & Adventure Sports Park recognizes that many people may have very little experience in some of these sports and will teach you everything you need to know in continuous 20 minute clinics at each venue.
Every Wednesday through February 26, come to the Muskegon Luge & Adventure Sports Park at 6:00 pm for a chance to learn how to skate and cross country ski with free skate and ski lessons for beginners.  Whether young or old, all beginners are welcome to participate.  A $5 rink or trail pass is required for each activity.  Rental equipment is also available for $5 inside the lodge.  All participants should arrive early enough to purchase a pass and get equipment on.
Wednesday, February 5 from 6:00 – 8:00 pm, skate with the Muskegon Lumberjacks hockey team at the Muskegon Luge & Adventure Sports Park! You can skate and play hockey with the hottest team in the USHL under the lights on 2 acres of outdoor ice rink and 1/4 mile ice skating trail through the woods.
The Very Hungry Caterpillar & Other Eric Carle Favorites
Saturday, February 15 at 11:00 am and 2:00 pm, enter a magical world of enchantment as three beloved stories by award-winning children's book author, Eric Carle, come to life right before your very eyes!  This world-class touring show by the Mermaid Theatre of Nova Scotia has been seen by millions in over 13 countries across the globe and is coming to Muskegon's Frauenthal Center for 2 shows only!
USS Silversides Submarine Museum
Tour a restored WWII Submarine, a Prohibition-Era Coast Guard Cutter and the Naval Museum.  This is a wonderful opportunity to experience what it was really like to sail a sub trolling the waters of the South Pacific 60-plus years ago. Named for a small fish of the same name, the Silversides once slid beneath the surface of some of the most dangerous waters in the world.  You can walk the deck topside as well as the major internal compartments below deck.
Free & Frugal in February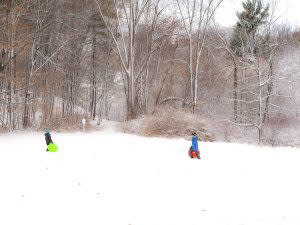 Sledding in the snow at McGraft Park
Tuesdays & Thursdays through February 27, come to the Carr-Fles Planetarium at Muskegon Community College for the free show, "We Are Stars!"  What are we made of? Where did it all come from?  Explore the secrets of our cosmic chemistry and our explosive origins.  Connect life on Earth to the evolution of the Universe by following the formation of Hydrogen atoms to the synthesis of Carbon, and the molecules for life.  Narrated by Andy Serkis.  This is a free, 35-minute presentation.
Two days, twice a year, families and friends can enjoy one of Michigan's premiere outdoor activities, Michigan Fishing, for free! The 2020 Free Fishing Weekends are schedule for winter: February 15 & 16 and summer: June 13 & 14.
All fishing license fees will be waived for two days. A Recreation Passport will not be required for entry into state parks and recreation areas during Free Fishing Weekend. Residents and out-of-state visitors may enjoy fishing on both inland and Great Lakes' waters for all species of fish.  All fishing regulations will still apply.
February 8 from 10:00 am – 3:00 pm, come to the Muskegon Museum of Art for the free family fun day, "Sculptit Super Saturday!" Imagine it, plan it, sculpt it!  Explore the art of making this Super Saturday as you create your own sculpture in the classroom.
Schedule:
10:00am & 1:00pm – Family Film
11:00am – 1:00pm – Tour "The Art of Making" with an MMA docent
11:00am – 2:00pm – Create your own sculpture in the classroom
Feeding the Soul of the City Concert Series
The Feeding the Soul of the City concert series offers half-hour lunchtime concerts that feature a variety of musical styles, predominantly classical, jazz, and folk/Celtic. They are held in the historic and beautiful St. Paul's Episcopal Church in downtown Muskegon. The concerts are free and open to the public and light refreshments are provided.  One can also bring a lunch to enjoy before or during the concert. On February 25, enjoy classical offerings from the Grand Valley Faculty Brass Quintet.
"A House Divided," is an exhibition of artwork by MCC art faculty member Erin Hoffman. The artist's work explores contemporary American social and political issues through the use of collage and the combination of different printmaking techniques. Hoffman's artwork will be on display to the public from January 21 through February 28 in the Overbrook Art Gallery at Muskegon Community College. A closing reception will be held on Thursday, Feb. 27, from 3:30 - 5:00 pm in the Overbrook lobby with Hoffman discussing her works in the Overbrook Gallery at 4:00 pm.
The exhibit and events are free and open to the public. The Overbrook Gallery hours are 9:00 am to 4:00 pm, Monday through Friday; with special weekend and evening hours during performances and concerts in the adjacent Overbrook Theater. There is no admission fee.
February Festivals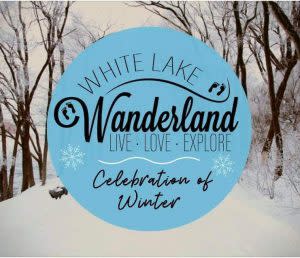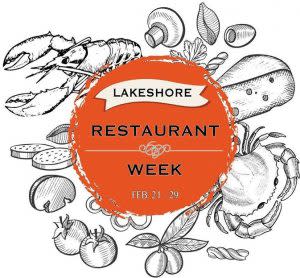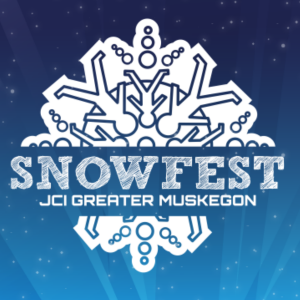 Fun February Facts
February is named after the ancient Roman purification festival of Februarius
The Anglo-Saxons called February "Solmonath" meaning the month of mud or wet sand
The birthstone of February is the amethyst
The birth flower is the violet or common primrose
Rock singer, and Michigan native, Alice Cooper was born on February 4, 1948
All the above is just the tip of the iceberg. Visit our Calendar of Events to find ALL the fun and make this February your most frolicking yet!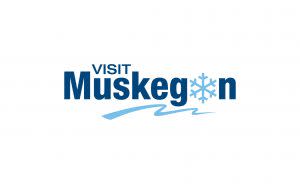 #VisitMuskegon