How to Halloween in Muskegon:
There are SO many unique ways to get your chills and thrills!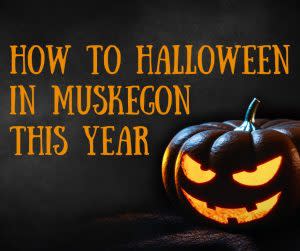 We love this time of year;
and know you will too!
The chills and thrills range from historical to hysterical.  We have compiled a list of not too frightful fun for the little ones, eerie entertainment for the entire family, and ghostly good-times for the grownups. 
👻  All Ages
🎃  Kid Friendly
🍂

  Grown Up Fun (Not recommended for little ones)
7th Annual Halloween Harvest Weekend
September 23 - 24
Bring your Halloween bling! There will be a Campsite Decorating Contest and the winner will receive 2 nights of camping for the 2023 season.
The fun includes Goodie Bags at Check-in, Glow in the Dark Bike Ride, S'mores by the Lodge, Breakfast at the Lodge, Bounce Houses, Games and Face painting, Trick or Treat, Hay Rides, Haunted Trail
Rates are $34 per night for Camping and additional fees for vehicles. Two Night Minimum for Reservations!
Pioneer County Park 1563 N. Scenic Dr., Muskegon, MI
Thursday, October 24
🎃 6:00 pm - 7:00 pm FREE Joel's Spooktacular Comedy Show: Fruitport District Library 👻 6:00 pm - 8:00 pm Fruitport Bands - Events Page Halloween Spooktacular Concert 👻 7:00 pm - 8:00 pm / 8:30 pm - 9:30 pm Obituary Tour: Hackley and Hume Historic Site
[video mp4="4"][/video]
Friday, October 25
🍂  6:00 pm - 8:00 pm Full Moon Cookies & Canvas by Wine and Canvas Grand Rapids: Sherman Bowling Center 👻 6:00 pm - 8:00 pm Frankenstein Friday: Jumpin Jupiter Skate Center 👻 7:00 pm - 8:00 pm / 8:30 pm - 9:30 pm Obituary Tour: Hackley and Hume Historic Site 🍂  7:00 pm - 10:00 pm Haunted Hall: Muskegon Conspiracy Exposed: The Lakes Mall 👻 7:00 pm - 11:00 pm Trail of Terror Holton: 7582 Crocker Rd 🍂 11:00 pm Rocky Horror Halloween Show: Harbor Cinema
Saturday, October 26
👻 Halloween Extravaganza at Lewis Farms & Petting Zoo 👻 9:00 am - 5:00 pm FREE Halloween at The Crue 🎃 10:00 am - 5:00 pm FREE Spookley the Square Pumpkin Fall Activities: Weesies Bros. Garden Centers & Landscaping 🎃 12:00 pm - 2:00 pm FREE Trunk or Treat: Forest Park Kids Ministry and Forest Park Covenant Church 👻 12:00 pm - 4:00 pm FREE Zombie Walk: Harbor Cinema 👻 12:00 pm - 11:00 pm FREE Open to the Public Halloween Party: Muskegon Yacht Club 🎃 FREE 1:00 - 4:00 pm FREE Glenside Annual Halloween Party: McGraft Park 🎃 2:00 pm - 4:00 pm FREE Mini Pumpkin Painting: Hackley Public Library 🎃 2:00 pm - 2:54 pm Kids Yoga - Halloween Edition: Rootdown Yoga·Juice·Greens 🎃 2:00 pm - 5:00 pm Trick or Treating at the Muskegon South Pierhead Light (FREE for kids in costumes with paid adult) 🍂  3:30 pm - 11:55 pm Celtic Halloween Samhain Party featuring The Barley Saints: Unruly Brewing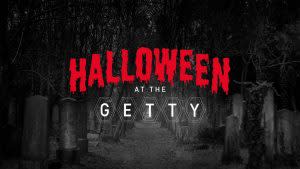 👻 4:30 pm - 10:00 pm Halloween at the Getty Drive-In Theatre: ......4:30 PM - Doors Open ......5:30 PM - Trunk or Treat ......7:00 PM Goosebumps & Goosebumps 2: Haunted Halloween ......7:30 PM Halloween 1978 & Halloween 2018 ......7:30 PM Psycho & The Birds ......8:00 PM Rocky Horror Picture Show
🎃 FREE 6:00 pm – 8:00 pm FREE Trunk or Treat: First Presbyterian Church, Muskegon 🍂  6:00 pm - 10:00 pm Halloween Game Night: Bardic Wells Meadery 👻 7:00 pm - 8:00 pm / 8:30 pm - 9:30 pm Obituary Tour: Hackley and Hume Historic Site 🍂  7:00 pm - 10:00 pm Muskegon Conspiracy Exposed: Lakes Mall 👻 7:00 pm - 11:00 pm Trail of Terror Holton: 7582 Crocker Rd 🍂  8:00 pm - 11:00 pm Downtown Halloween Pub Crawl: Pigeon Hill Brewing Company 🍂  8:00 pm - 11590 pm Downtown Muskegon Halloween Pub Crawl: Hennessy's Pub 🍂  9:00 pm - 1:00 am Halloween Party featuring Borrowed Time: PUB ONE ELEVEN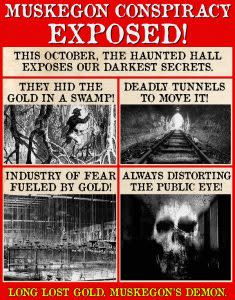 Sunday, October 27
👻 Halloween Extravaganza at Lewis Farms & Petting Zoo
Monday, October 28 👻 6:00 pm - 8:00 Pimp Your Pumpkin: Old Homestead Tavern 👻 6:30 pm - 8:00 Cumbia Halloween Dance: Orchard View Early Elementary
Tuesday, October 29
👻 5:30 PM – 7:30 PM FREE Paranormal Muskegon: Hackley Public Library 👻 6:00 pm - 8:00 pm Monster Mash Boo Bash: Jumpin' Jupiter Skate & Fun Center 👻 6:30 pm FREE Escape Box Challenge: Harry Potter & the Quidditch Quest: Friends of the Norton Shores Library 🍂 7:00 pm FREE Halloween Trivia: Pigeon Hill Brewing Company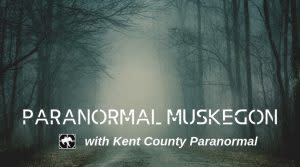 Wednesday, October 30
🍂  5:30 PM – 7:30 PM Skull Painting Party: Unruly Brewing 🍂  6:00 pm FREE AhFest (Muskegon Area Arts and Humanities Festival) Film Fest, Surprise Horror Film: Muskegon Museum of Art 🎃  6:00 pm - 8:00 pm FREE Life Change Church Trunk or Treat: Reeths-Puffer Central Elementary 🍂  8:00 pm Founders Brewing Co. Film Series "Scream" with Underground Mountain Brown: Celebration Cinema
Thursday, October 31
🎃 10:30 AM – 11:30 AM FREE Halloween Story Time: Hackley Public Library 👻 3:00 pm FREE Escape Box Challenge: Harry Potter & the Quidditch Quest: Visually & Physically Disabled Branch of the Muskegon District Libraries 🎃 5:00 pm - 9:00 pm FREE Trunk or Treat: Harbor Cinema 🎃 5:00 pm - 9:00 pm Twin Lake County Park Haunted House & Trunk or Treat 🎃 Trick or Treat Times: * Fruitport Charter Township 6 pm - 8 pm * Montague 6 pm - 8 pm * City of Muskegon 6 pm - 8 pm * Muskegon Charter Township 6 pm - 8 pm * City of Muskegon Heights 6 pm - 8 pm * Norton Shores 6 pm - 8 p.m. * Roosevelt Park 5:30 pm - 7 pm * Whitehall 6 pm - 8 pm
Friday, November 1
🎃 6:00 pm - 8:00 pm 6th Annual Little Goblins Boo Bash: Watermark 920 👻 7:00 pm – 9:00 pm Haunted Car Wash: Van's Car Wash 👻 7:00 pm - 8:30 pm Tellabration - A Night of Storytelling: Muskegon Museum of Art 🍂 8:30 pm Day of the Dead Costume Party: Unruly Brewing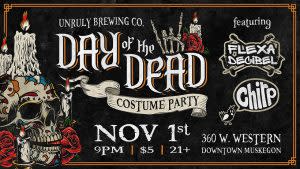 Saturday, November 2
🎃 8:00 am - 5:00 pm FREE Roosevelt Park Halloween Open House: Roosevelt Community Center 🍂  5:00 pm - 8:00 pm Delicious Demise: Art of Cookery - Cooking School 🍂 5:00 pm - 8:00 pm Passion and Perversity: The Inner Chambers of Edgar Allen Poe: Muskegon Museum of Art 👻 7:00 pm – 9:00 pm Haunted Car Wash: Van's Car Wash 🍂  8:00 pm Adult Halloween Party: Jimmy's Pub Montague 🍂  8:00 pm - 12:00 am Adult Halloween Party: 46 Bar 🍂  9:30 pm – 2:00 am Adult Halloween Party: Old Homestead Tavern
Monday, November 4 👻 3:00 pm FREE Escape Box Challenge: Harry Potter & the Quidditch Quest: Muskegon Township Library
Tuesday, November 5 👻 6:00 pm FREE Escape Box Challenge: Harry Potter & the Quidditch Quest: Holton Library
Thursday, November 7 👻 6:00 pm FREE Escape Box Challenge: Harry Potter & the Quidditch Quest: Montague Library
Friday, November 8 🍂  5:00 pm Hackley Attic Escape Room: Hackley and Hume Historic Site 👻 5:00 - 8:00 FREE Beyond The Day Of The Dead: Latinos Working for the Future
To find more information on all these events and more, head over to our Calendar of Events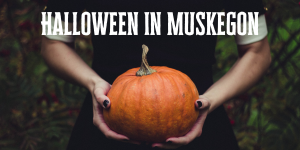 #VisitMuskegon 🍁