Make Merry in Muskegon this Holiday Season!
Downtown is already sparkling with lights and festooned with pine branches. To celebrate the season, Muskegon County offers Holiday Concerts, a Singing Christmas Tree, a Festival of Wreaths, stage productions like "Inspecting Carol" and "The Nutcracker", Parades, Carriage Rides, decked out Queen Ann Style Mansions, and of course...hockey and outdoor activities at Muskegon Luge and Adventure Sports Park.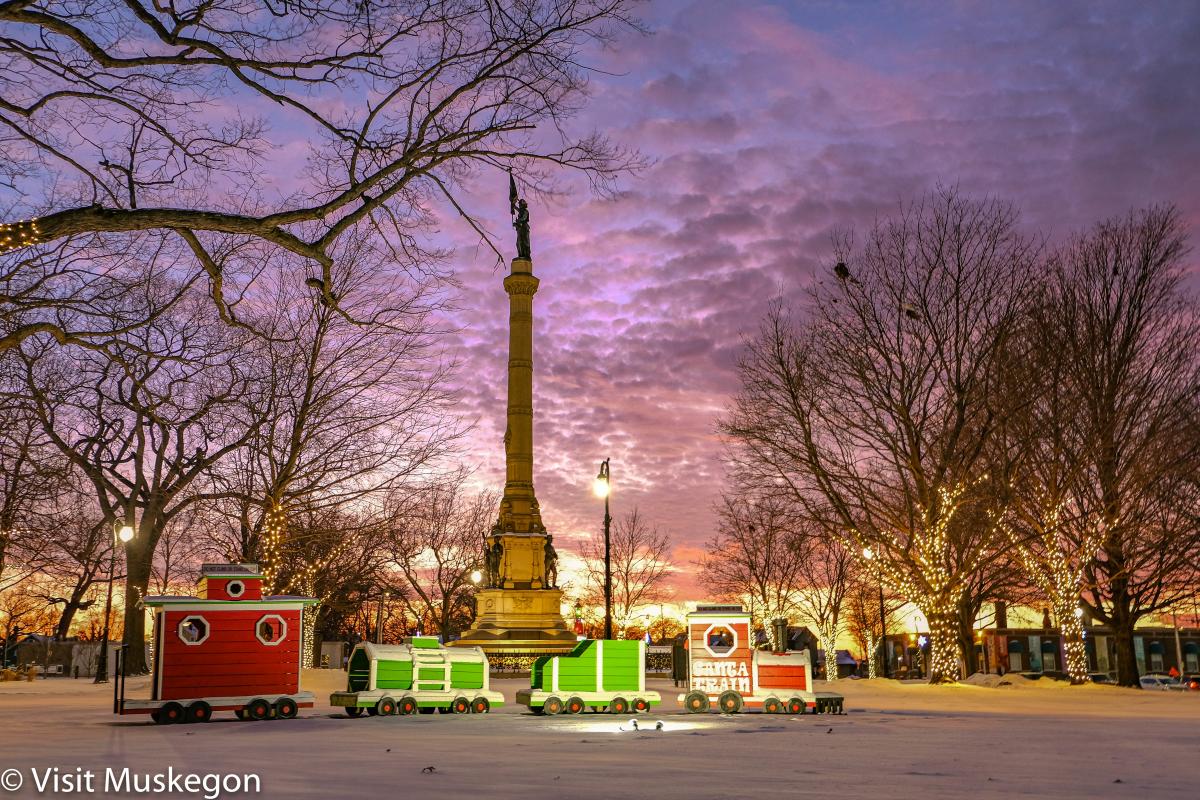 Here's a roundup of the festive fun. Find full descriptions including times, location (and ticket information where applicable) by clicking on the event name. 
White Lake Area Annual Holiday Walk
Ring in the holidays with the 29th Annual White Lake Area Holiday Walk! This year's Holiday Walk takes place the weekend of Nov. 18th and 19th along the streets of Montague and Whitehall with dozens of participating businesses. Enjoy Christmas Open Houses featuring live music, crafts, discounts, special sales and delicious refreshments.
November 18-19
Festival of Wreaths
The Muskegon Museum of Art has partnered with Downtown Muskegon businesses and organizations to display wreaths (designed by local artists and designers) in their windows.
November 22 – December 11
Downtown Muskegon
Holidays in the City
Holidays in the City is a collaboration between the Downtown Development Authority, City of Muskegon, Muskegon Lakeshore Chamber of Commerce, and local business owners to bring the very best to downtown Muskegon during the holiday season. Every weekend from Thanksgiving through Christmas, there will be fun and exciting events to celebrate the season! 
November 22 – December 31
Downtown Muskegon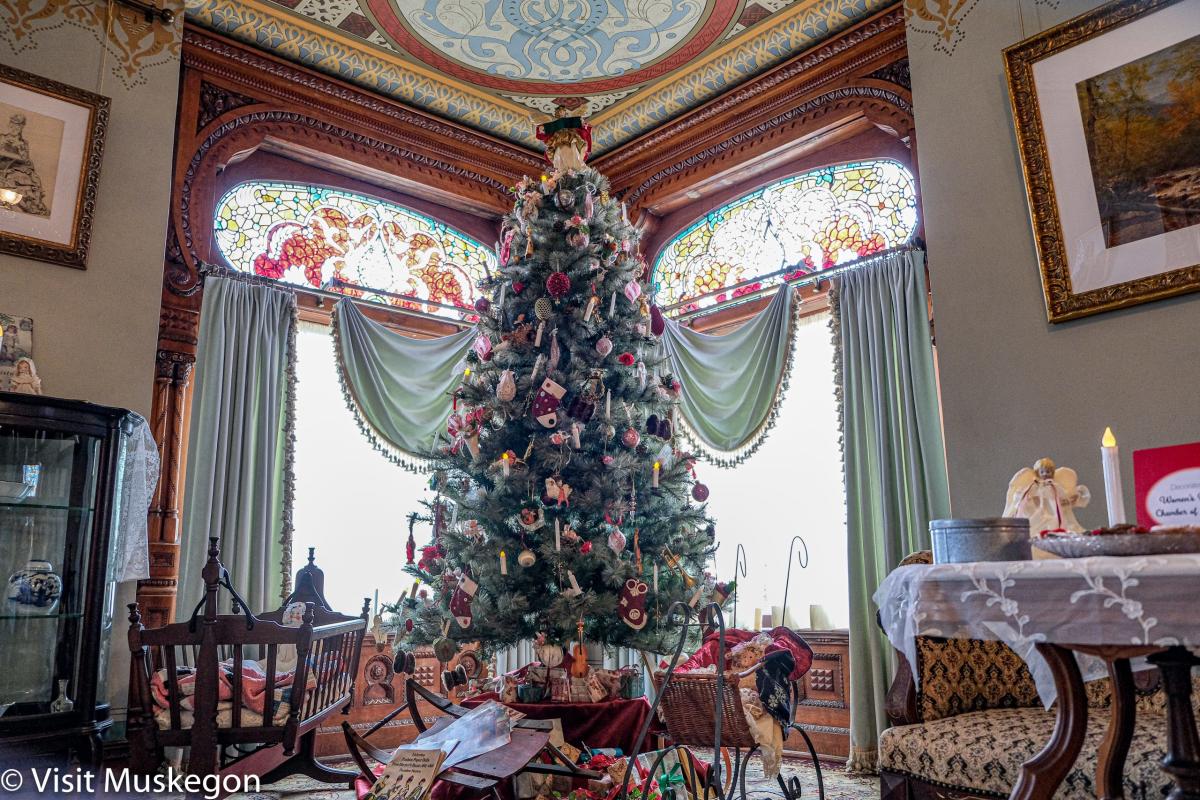 Hackley Hume Historic Home Holiday Tours
Experience the Hackley and Hume homes decorated beautifully for the holidays. These lumber-baron mansions in the Queen Anne style will be decked out with period-appropriate artifacts, ornaments and more! Admission includes both grand houses and the barn situated between.
November 26 and 27. December 3, 10, 17, 27 and 28 from 3-7 pm
Teddy Bear Trail
Bring your family and favorite teddy bear or stuffed animal on a special holiday trail through Downtown Muskegon.
Jingle along our holiday teddy bear trail for donuts, crafts, story-time, teddy bear check-ups and adoptions, hot cocoa and candy canes with Santa Claus - and so much more! Don't have a stuffed animal? The Museum will have a limited supply available for adoption!
November 26
Muskegon Market and Mercantile Shop Small Saturday
Shop over 100 local artists and merchants while starting or finishing your Christmas list! Enjoy at least 10% the entire store and additional markdowns! 
Muskegon Market and Mercantile
November 26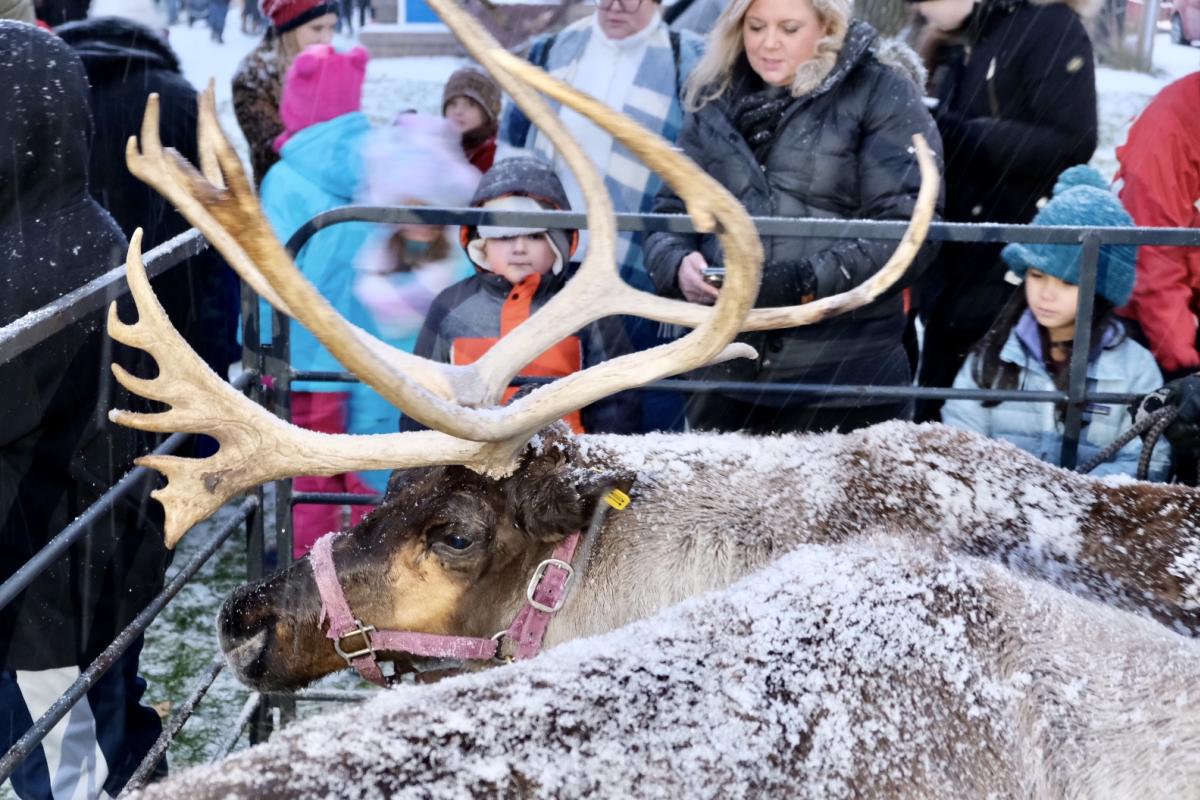 Santa, Reindeer, Carols, Hot Chocolate, and Lighting of the Christmas Tree and Holiday GLOW on Western Ave
Kick off winter festivities with a visit to Hackley Park in Downtown Muskegon! Witness the mayor give Santa the key to the city and light the Christmas tree. Enjoy hot cocoa and fresh baked cookies as you stroll thru the park and experience the elaborate display of holiday lights and decorations. Stop and visit the live reindeer. Visit Hackley Public Library after the lighting of the tree to take pictures with Santa. At 4;30 pm the holiday lights along Western Ave will begin their GLOW! The perfect way to start the holiday season!
Hackley Park and Downtown Muskegon
November 26
Mona Shores High School Choir Presents "America's Tallest Singing Christmas Tree"
Over 200 enthusiastic performing arts students sing and play an eclectic mix of seasonal favorites from a wide variety of genres while standing in a 67-foot Tree covered with over 25,000 lights...it is simply spectacular! Performances take place amidst the backdrop of the opulent Frauenthal Center for the Performing Arts, located in downtown Muskegon, Michigan.
November 30 – December 3
Inspecting Carol
Get your holiday cheer on with this hilarious, madcap comedy presented by Muskegon Civic Theatre! It's a farcical behind-the-scenes look at when all goes wrong in a community theatre company's attempt to mount its annual production of A Christmas Carol. Complicating the effort are prima donna performers, cast love affairs, and a surprise visit by an inspector from the funding arts foundation. This laugh-out-loud spoof makes for a night at the theatre that is anything but show business as usual. Beardsley Theater November 18, 19, 20, 25, 26 and 27. December 2, 3, and 4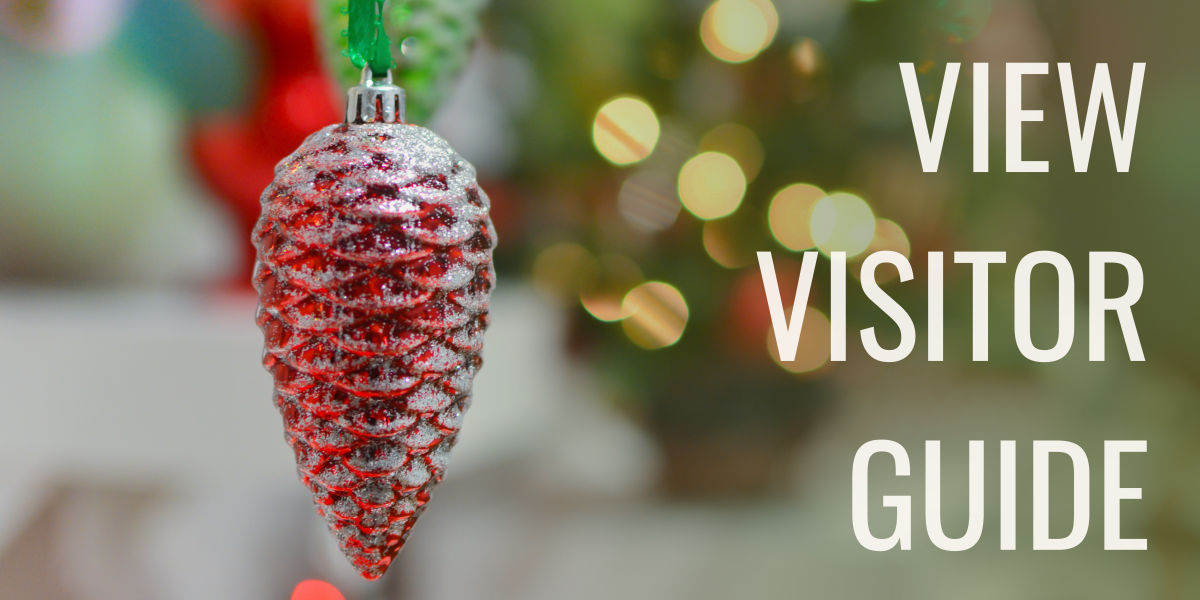 "Mystery of the Christmas Star"
Free Planetarium Show at Muskegon Community College. A holiday favorite returns to Carr-Fles Planetarium! "Mystery of the Christmas Star" This 35-minue program investigates possible dates for the sighting of the "star" that declared Jesus' birth. Free and no reservations are needed. Suitable for ages 8 and up.
Muskegon Community College
December 1 – 15, Tuesdays & Thursdays 7pm (Closed Nov 24 for Thanksgiving)
Clickity Clack Ho Ho Ho
What would the holidays be without our WMS brass quintet reindeer performing great music for this holiday show? Based on the book by Doreen Cronin and Betsy Lewin, 'Click Clack Ho Ho Ho' takes us to Farmer Brown's barn to find out what the animals are up to for Christmas... crazy things happen at this show so be on the lookout! 1-hour concert designed for kids ages 3 - 8. Children of all ages require a ticket for entry.
December 3
GLOW With Mr. and Mrs. Claus
Get photos with elves and Mr. and Mrs. Claus while you enjoy hot cocoa and cookies in the warmth of the convention center. After you are done visiting Mr. and Mrs. Claus take a stroll through downtown and see all the lights GLOW from 1st to 5th St.
VanDyk Mortgage Convention Center
December 3
Holiday Cheer Party at Hackley Library
Celebrate the holiday season with a drop-in Holiday Cheer Party at Hackley Library!  There will be trivia, bingo, crafts, and light refreshments! Hum or sing along to holiday music playing in the background. Plus, our Friends of Hackley Library will have books for sale – books make great gifts! 
Although the games and crafts are geared more toward adults, families and kids are welcome to attend and enjoy this FREE Holiday Cheer Party!
December 3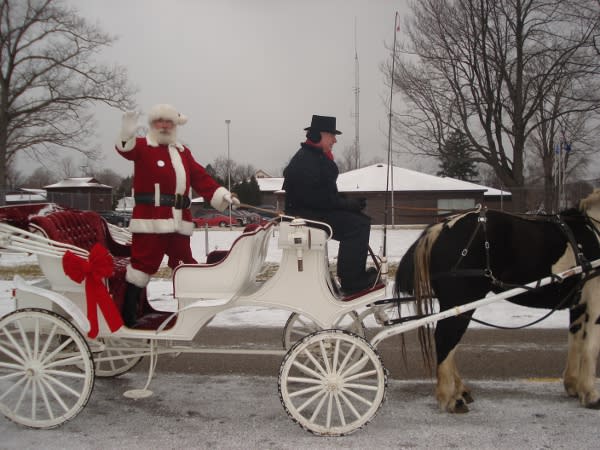 69th Annual White Lake Area Christmas Parade
Santa's coming to town! He will be at the Annual Christmas Parade in downtown Montague and Whitehall. The American Legion and VFW will lead the event, along with generous Event Sponsor, Shepherd & Shepherd Law. With over 50 entries, this parade is a very special slice of "small town America" and a great way to celebrate this holiday season with family, friends, and neighbors. With the help of our Santa Sponsor, Lighthouse Title Co., Santa will make his entrance as the grand finale!
Downtown Whitehall and Montague
December 3
Christmas Carol Sing-a-Long
Immediately Following The White Lake Christmas Parade stop in The Book Nook & listen to live singers on stage singing some of the most beloved carols of Christmas. Coffee specials and holiday books for both children and adults.
December 3
Holidays in Lakeside 
Join Lakeside merchants for our annual Holidays in Lakeside! Enjoy carriage rides, visits with Santa, letters to Santa, tree lighting, carolers, raffle basket, fabulous Holiday Shopping and an abundance of Holiday Cheer!
Lakeside Business District
December 3
Photos with Santa at Pigeon Hill
Get your picture taken with Santa at The Brewer's Lounge at Pigeon Hill! You will be on his "nice" list if you bring a donation for their Toys for Tots and Canned Food Drive!
December 3
Visit with Santa at The Porch and Co
Santa and Mrs. Claus will be visiting The Porch & Co! Stop by to see him in person and tell him what's on your Christmas wish-list this year. You can check items off your shopping list while you are there. There will be a "sweet treat" for those who are on the "NICE" list - a $5 gift card to The Porch & Co. per family that meets with Santa.
December 4
Holiday Movie Trivia
From Elf to Hallmark let's see how much you really know about holiday movies!
December 5
Super Saturday DIY Ornaments
View the holiday gallery and exhibitions at the Muskegon Museum of Art then pick up supplies for a DIY ornament activity to do at home.
December 10 
Reindeer Hot Cocoa Take and Make Craft Kits
Reindeer Hot Cocoa Take and Make kits will be available for kids and teens to pick up from Hackley Public Library on Saturday, December 10 from 10:00-2:00pm! Available while supplies last. Free.
December 10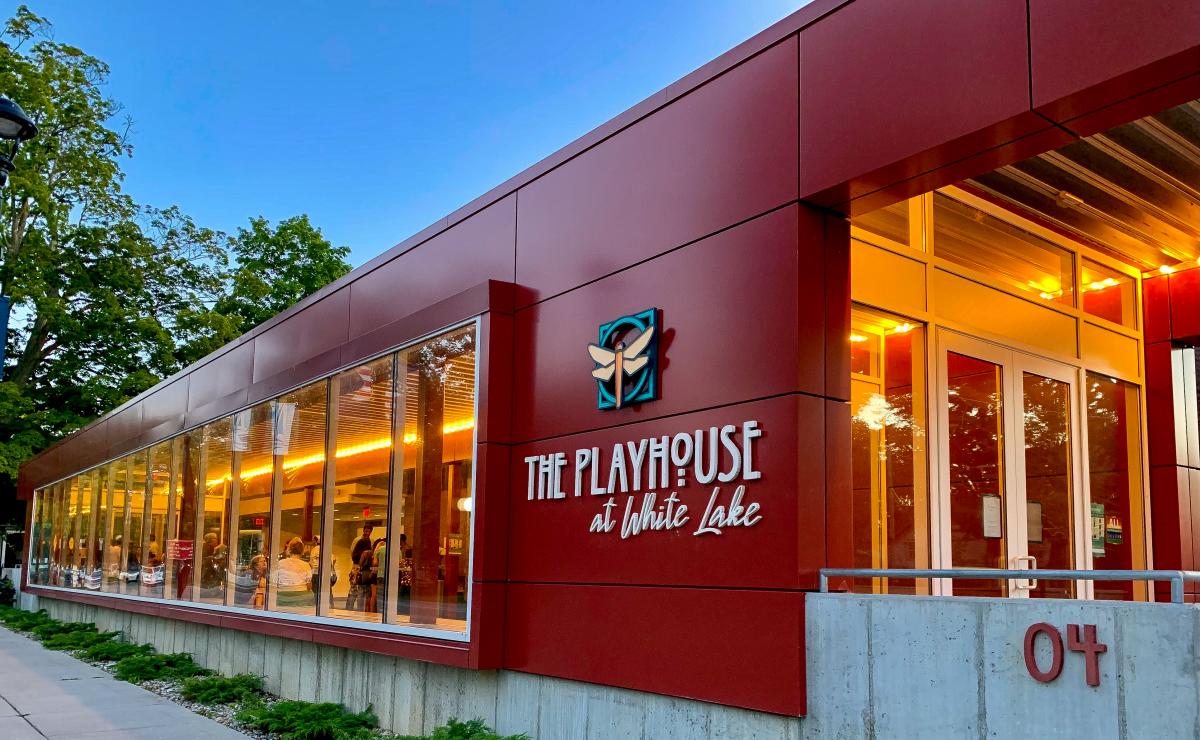 Ruth and Max Bloomquist Concert: Changing of the Seasons
This special concert will feature both old favorites, some holiday tunes, and new music, as well.
December 10
Downtown Muskegon Cookie Crawl
Get your sweet tooth ready! The Downtown Muskegon Cookie Crawl is back. Crawl through downtown participating businesses and collect cookies. Cookie tins are $25 and go on sale Monday, November 7, 2022 on Eventbrite. Act fast as tins are limited.
Downtown Muskegon County
December 10
Holiday Piano Recital
Young pianists from beginner to advanced performing holiday tunes. Shop to music, or sit and enjoy with a hot drink. 
December 10
Muskegon Civic Theatre Presents A Holiday Cabaret
Join local talent as they ring in the Holiday season with a little bit of theater, some catchy songs, and a lot of fun at this free cabaret! Proceeds from the event will go to support the Muskegon Civic Theatre Education Department. No tickets are required; seating is first come, first served.
December 11
Christmas Collage 2022
An evening of classic carols and Christmas favorites, presented by the bands and choirs of Western Michigan Christian High School.
December 13
Reader's Theater: Cozy Christmas Tales
Enjoy a cozy night of Christmas tales at Hackley Public Library! Presented by local performer Les Rorick and actors from Muskegon Civic Theatre. Bring a blanket and get cozy with some hot cocoa to watch scenes of holiday magic and whimsy under libraries stained-glass windows!
December 15
West Michigan Symphony: Home for the Holidays
West Michigan native, pianist, and consummate performer Rich Ridenour puts a fresh twist on this annual holiday tradition. Features seasonal favorites, a soprano soloist, two youth choirs, and the song-fest sing-a-long. A night of joyful, heartwarming, pure family fun. Rich Ridenour: pianist and conductor Amy Mahoney: soprano WMS Children's Choir Grand Haven High School Choir
December 16
Ugly Sweater Party
Ugly sweater party at the Brewer's Lounge – Friday December 16th from 7-10 with music by Post Fontaine. Ugly sweater contest, games, music, fun!
December 16

Praytell: It's Almost Christmas
From classic Christmas songs to heartwarming originals, Praytell's holiday music has quickly become a staple in homes around the globe. This year, they will release Volume III of their "It's Almost Christmas" collection. Join Praytell in Michigan for a warm evening of peace, joy, and holiday cheer!
Beardsley Theater at Frauenthal Center
December 16
Crafty Holiday Day
Hackley Library's Youth Services department is opening up their craft closets for some fun holiday hijinks! Crafting materials will be available beginning at 10:00am, and will be put away at 4:00pm. This FREE Crafty Holiday Day is great for kids, teens, and families to enjoy!
December 17
Make Paper Snowflakes 
'Tis the season of snow. Stop into the Muskegon Museum of History & Science to make your own paper snowflakes.
Muskegon Museum of History & Science
December 17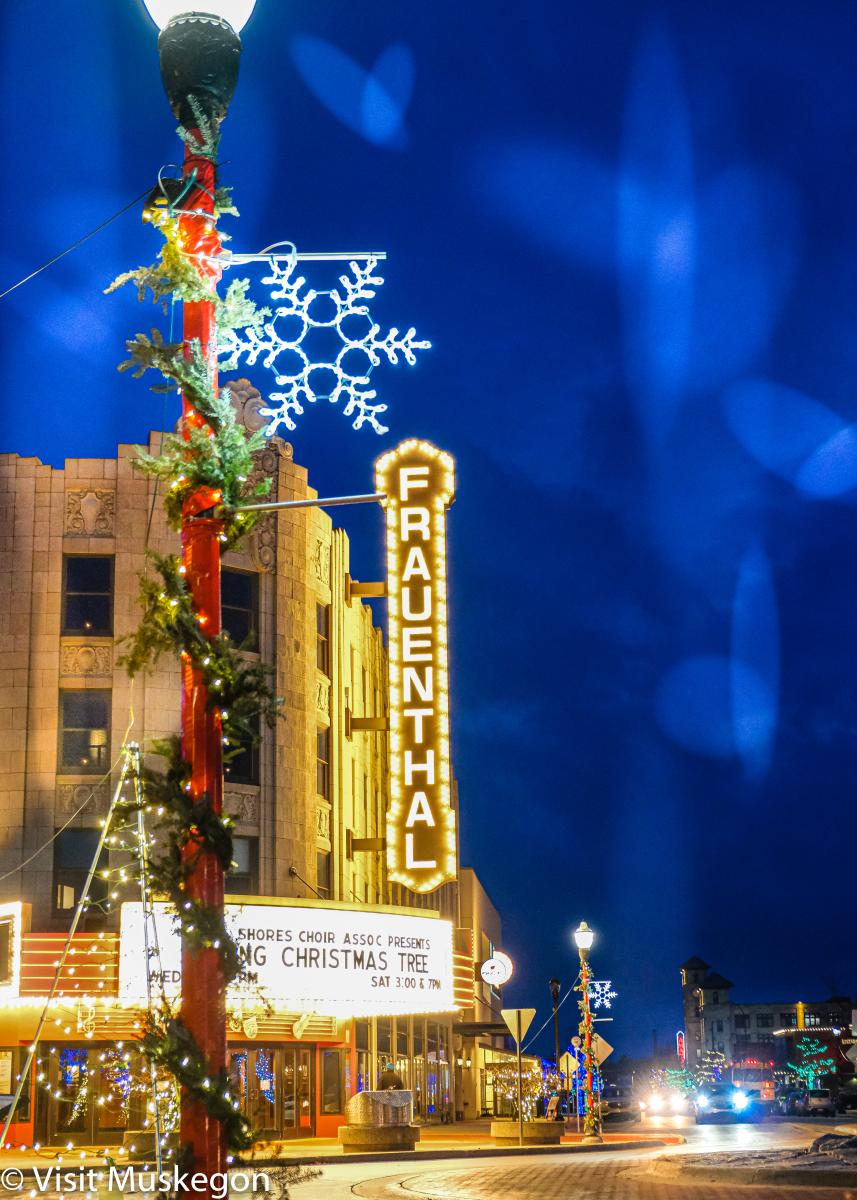 The Nutcracker
Join Clara and her magical friends as the West Michigan Youth Ballet brings THE NUTCRACKER to the beautiful Frauenthal Theater for a family holiday experience to remember! The West Michigan Youth Ballet is comprised of young dancers from the West Michigan area. Don't miss this holiday tradition!
December 17
White Christmas - Free Family Movie Days
The Frauenthal Center invites everyone to their family-friendly entertainment series featuring FREE family movies inside the beautiful and historic Frauenthal Theater. This month's movie is White Christmas! The 1954 holiday classic about WWII vets-turned-entertainers who scheme to help a retired general with his strapped New England inn by putting on a big musical show with the help of their army buddies and a singing sister act.
December 18
Holiday Music Trivia
Do you know Dominick The Donkey? If so you just might have what it takes to win Holiday Music Trivia!
December 18
Christmas Eve at the Frauenthal
Experience Christmas Eve at the historic Frauenthal Theater in downtown Muskegon with your favorite Christmas songs and a message that will draw you into the Christmas story like never before.
December 23 & 24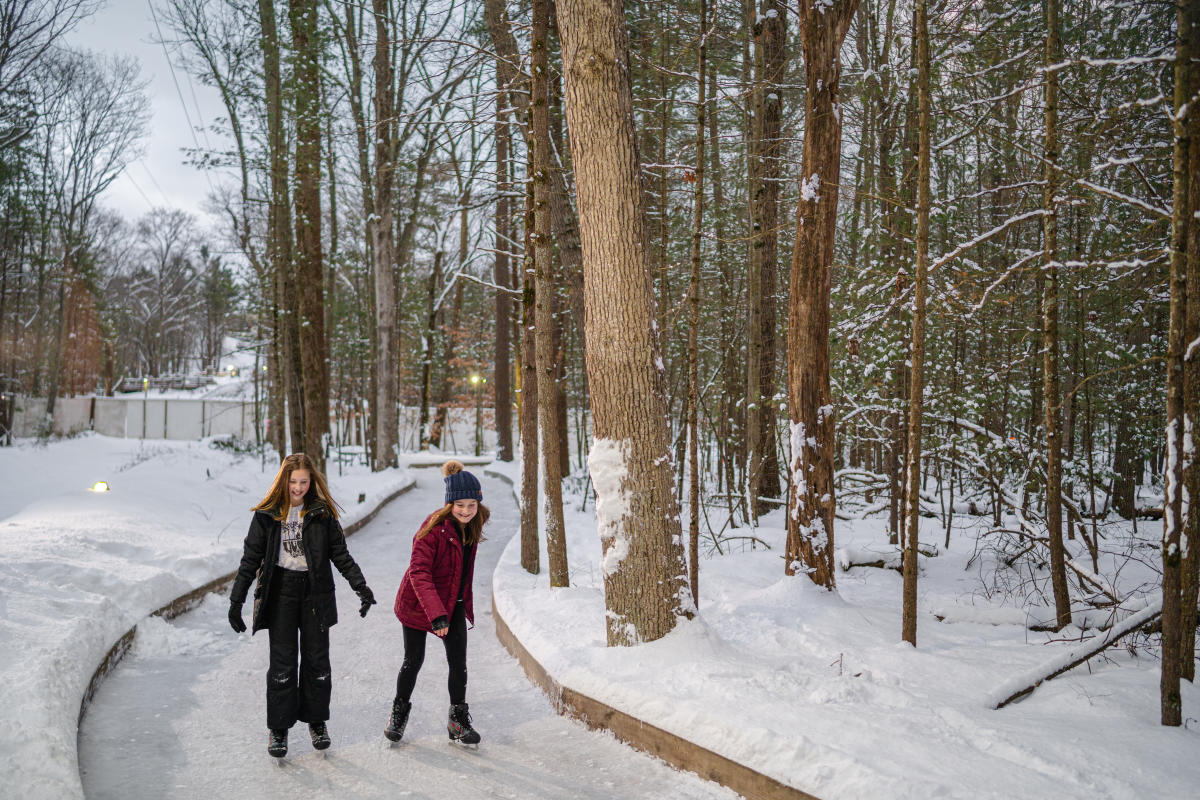 Bundle up and take it outdoors!
All told Muskegon County has over 60 miles of trails of natural and paved trails perfect for snowshoeing and fat tire biking. There are also 26 miles of Lake Michigan shoreline and when they freeze and get snow covered, the coast takes on an otherworldly magnificence! Taking walk on the frozen landscape will leave you breathless with how beautiful it is. (But mind the safety rules!)
Don't forget the Muskegon Luge and Adventure Sports Park! Did you know they have one of only four public luge tracks in the United States? And an outdoor skating trail that winds through the State Park woods. It is lit at night and it's beautiful! Learn to Luge Weekends begin in December. 
Information on these and more events (there are so many!) can be found on our Calendar of Events
Give Back Here!
'Tis the Season of giving; here are Muskegon County businesses accepting donations:
Brewer's Lounge at Pigeon Hill: Toys for Tots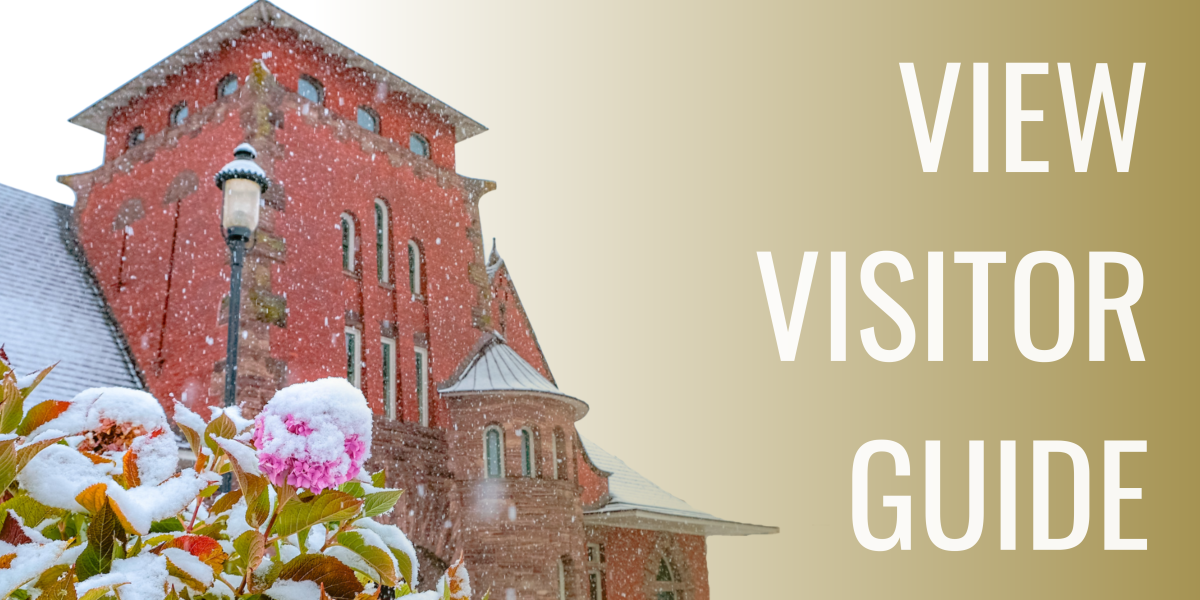 ​