Muskegon County offers diverse and delicious options for eating out. From healthy and seasonal, to ethnic and specialty, the options are limitless. Waterfront views are bountiful, patio dining is plentiful and Muskegon restaurants have claimed numerous accolades. To name just a few: Best French Fries in West Michigan, Best Mexican Restaurant in Michigan, Best Chili in Michigan,

Best Doughnut in

Michigan

and

Best Beach Bars in America

.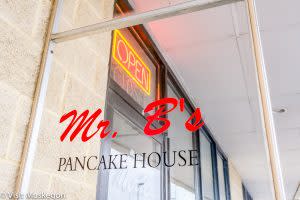 Patios a' Plenty!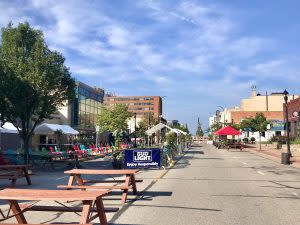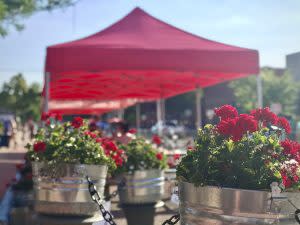 Muskegon businesses have been allowed to "stretch out" into the open areas for dining, drinks and shopping. Stretches along Downtown Muskegon's Western Ave have taken on a "festive" feel with umbrella festooned patios, cozy outdoor seating, tiki themed areas, live music and food trucks. Downtown Muskegon has closed the following streets/alleys in the city center now through October 31, 2020, to facilitate increased outdoor dining capacity:
Western Avenue, entire street between 4th and 5th 

Streets
Western Avenue north alley, between 4th and 5th Streets
Western Avenue, north side of the street between 2nd and 3rd Streets
In Midtown you can find Third Street lined with picnic tables and happy diners enjoying fare from Only Canolli, Hamburger Mikey, Naan Pizza and Curry Kitchen.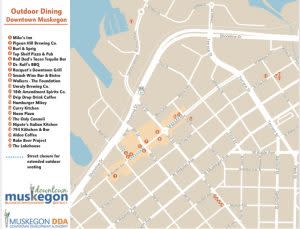 Downtown Muskegon Outdoor Dining
To-Go Cocktails! The Muskegon Social District is officially open in Downtown Muskegon.
The district allows you to purchase a to-go cup from participating businesses and carry it around in the social district. The district stretches down Western Ave from Second to Fifth Streets, and includes the corner of Pine and Clay Streets. Participating businesses are 18th Amendment , Burl and Sprig, Courses, Pigeon Hill Brewing Company, Unruly Brewing and Walkers - The Foundation.
Some guidelines to make your dining experience more pleasant: 
Be especially patient and kind with the staff. The restaurant business is a high stress business under normal circumstances, and the workers are doing their best in anything but normal circumstances. Many will be figuring out how to run things best by trial and error

Be prepared for your server. Know what you want to order and try to keep trips to your table to a minimum

Bring your face mask. Guidelines require anyone moving about the restaurant to wear one; once seated at your table it may be removed 

Call ahead. Hours are varying and many restaurants are requiring reservations

Do not forget to tip, and tip well

Help the establishment turn their tables by not lingering. Running at 50% occupancy requires a faster turnover for restaurants to be successful

Maintain and respect the required 6 feet of separation between yourself and anyone not seated at your table

Remember restaurant staff are REQUIRED to wear masks. Do not share your opinion on the matter with them

Stay home if you are feeling sick or experiencing symptoms of COVID-19

Wash your hands often and try not to touch anything that is not necessary.
Find Restaurant Listings by Category on the Visit Muskegon Website:
Restaurant staff are required to wear face coverings. Restaurants must follow "rigorous disinfection protocols" and provide COVID-19 training to employees. See the Centers for Disease Control and Prevention (CDC) "Considerations for Restaurants and Bars" by Clicking Here