Michigan has more lighthouses and towers than any other state in the country with 129. And three are located here in our Lake Michigan beach-town.
"Lighthouse Hunters" in the United States Lighthouse Society Passport Program, can get THREE stamps by bringing their pass to the Muskegon South Pierhead, South Breakwater and White River Light Station. Learn more about the Passport Program HERE.
National Lighthouse Day is celebrated annually on August 7th. The bill was introduced to Congress as a day when "lighthouse grounds, where feasible, be open to the public." President Ronald Reagan signed the Bill into public law on November 5, 1988.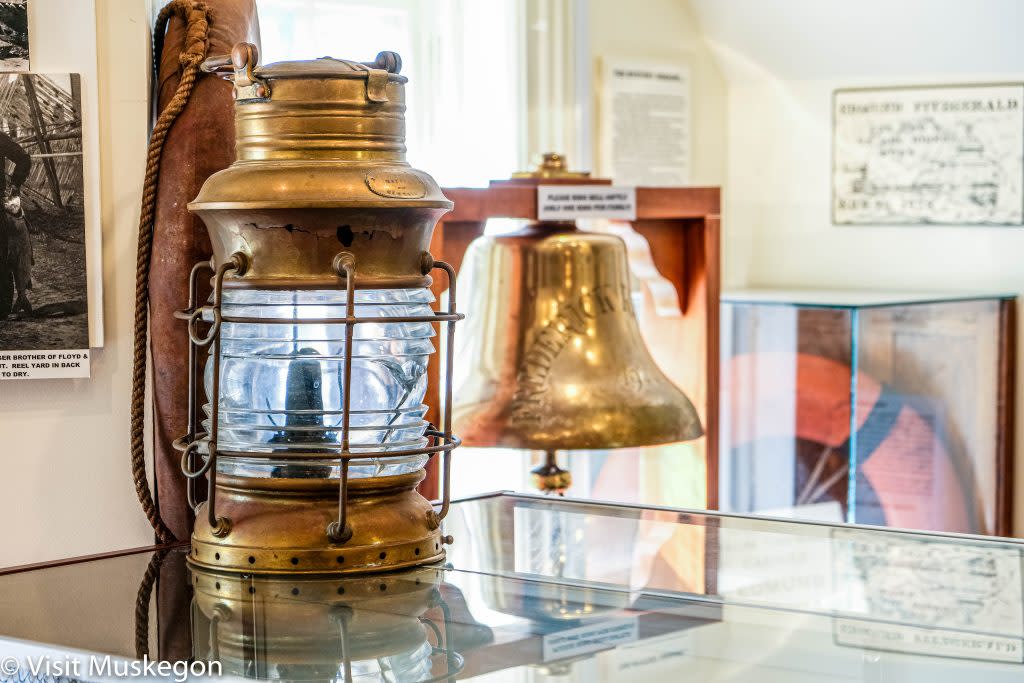 Meet the Muskegon County Lights
Muskegon South Breakwater Light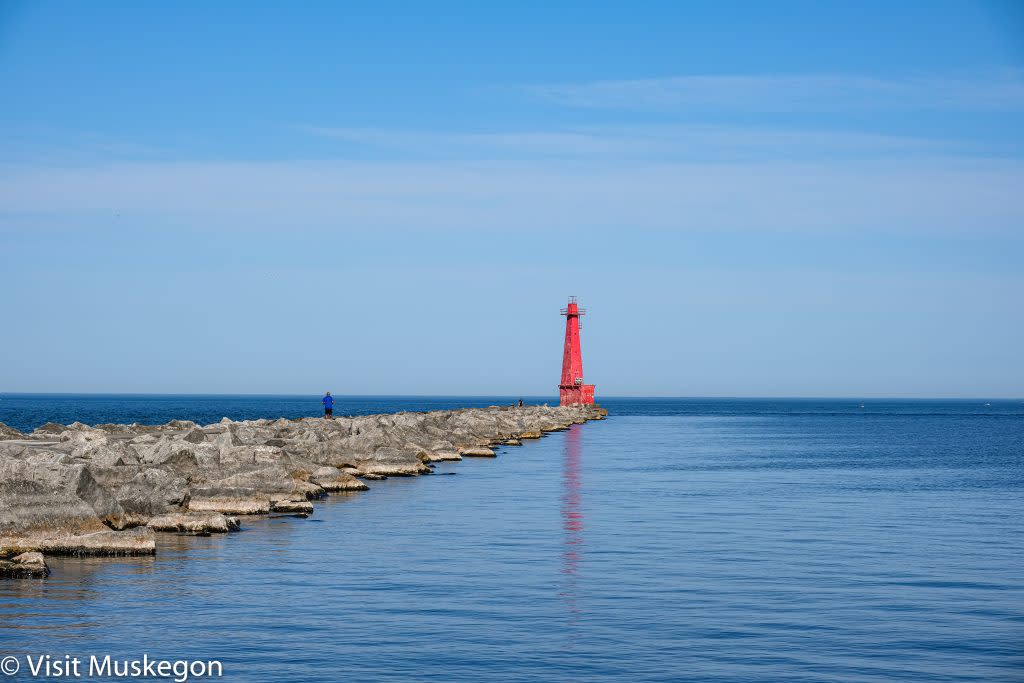 Located at Pere Marquette Park, the lighthouse is at the end of a walkable 1,514 foot pier which creates the south "arm" of the Muskegon breakwater. Built in 1931 the red, ironclad, pyramidal tower sits upon a rectangular base which makes up up 10 of it's 63'. Listed on the National Register of Historic Places, the structure was never meant to be manned or occupied and its sparseness speaks to this. Visitors can walk the pier and take in the view of the Muskegon Channel, breakwater and Lake Michigan.
Lighthouse Fun Fact: The lantern room in the Muskegon South Pierhead Light is 33 years older than the light tower that surrounds it.
Muskegon South Pierhead Light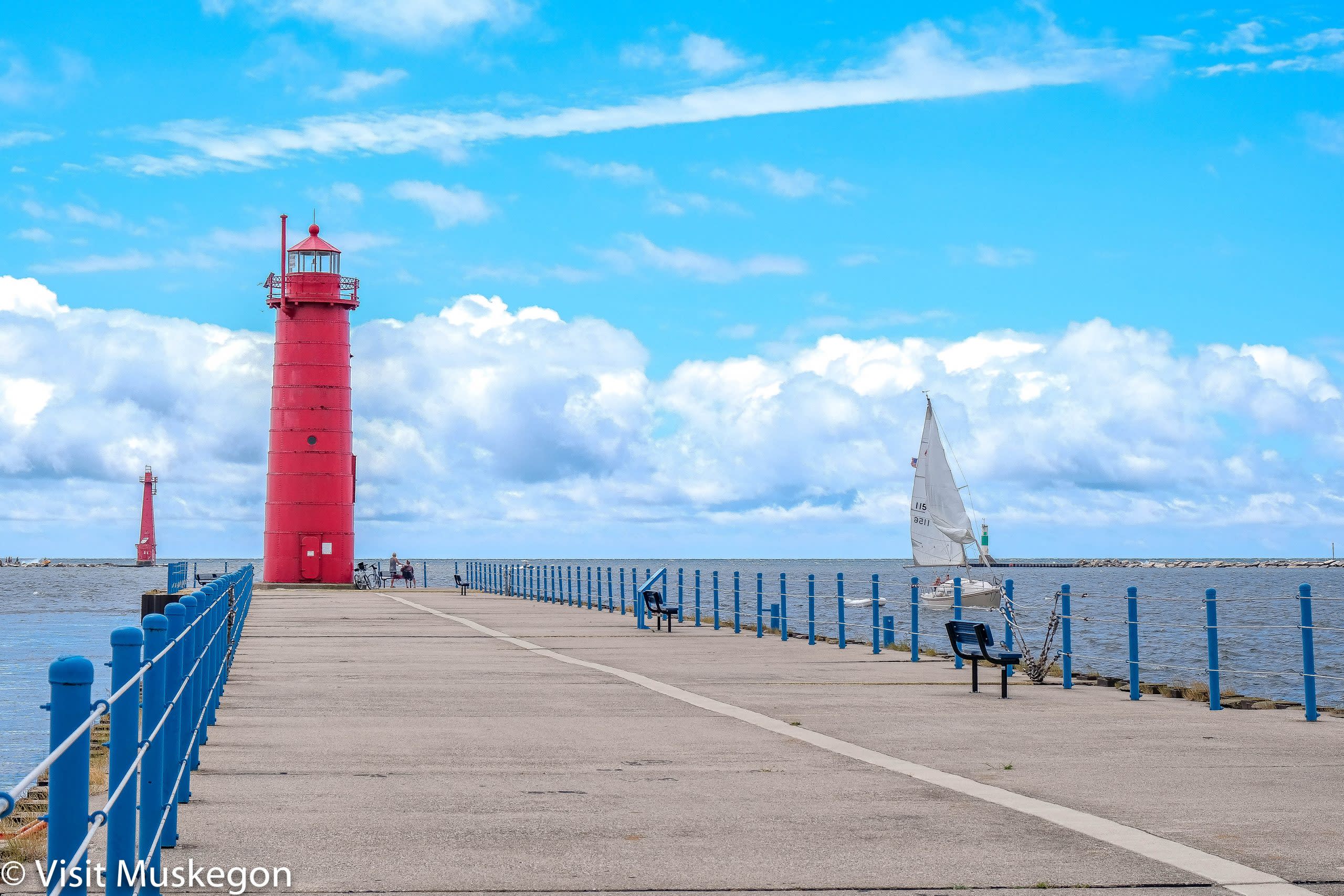 At the tip of the north "arm" visitors can tour the cylindrical, ironclad, 48' tall Muskegon South Pierhead Light built in 1903. Climb two spiral staircases and a shipman's ladder to find unparalleled views from the lantern room. To access the Muskegon South Pierhead Light, follow the visitors pathway at the NOAA Lake Michigan Field Station (1431 Beach St.)
Lighthouse Fun Fact: In 1858, the widow of William Monroe, the Muskegon South Pierhead Light's keeper, took over his duties when he passed away. Jemima Monroe was the tower keeper, while raising her two children, for ten years until her resignation. She is still Muskegon's only female lighthouse keeper. The state of Michigan boasts the highest number of female lighthouse keepers in the US.
Open for tours Memorial Day to Labor Day Address: 1431 Beach St. Muskegon, MI 49441 Website: www.muskegonlights.org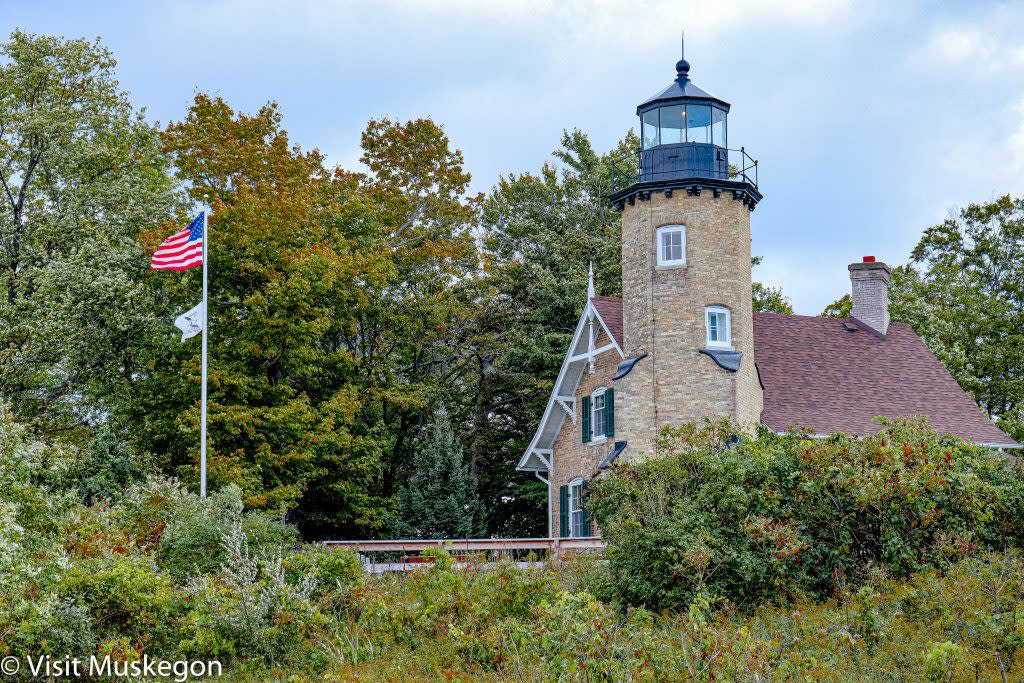 White River Light Station & Museum
Built in 1875 by Captain William Robinson, the White River Light Station now serves as a reminder of Michigan's rich nautical history. Plan a visit to the museum and climb the spiral staircase to the top of the lighthouse tower. Here visitors can browse a collection of historical photographs, nautical artifacts and look out across Lake Michigan - just like the lighthouse keeper did a century ago. Access the White Lake Channel walkway by descending the steps located in front of the Light Station.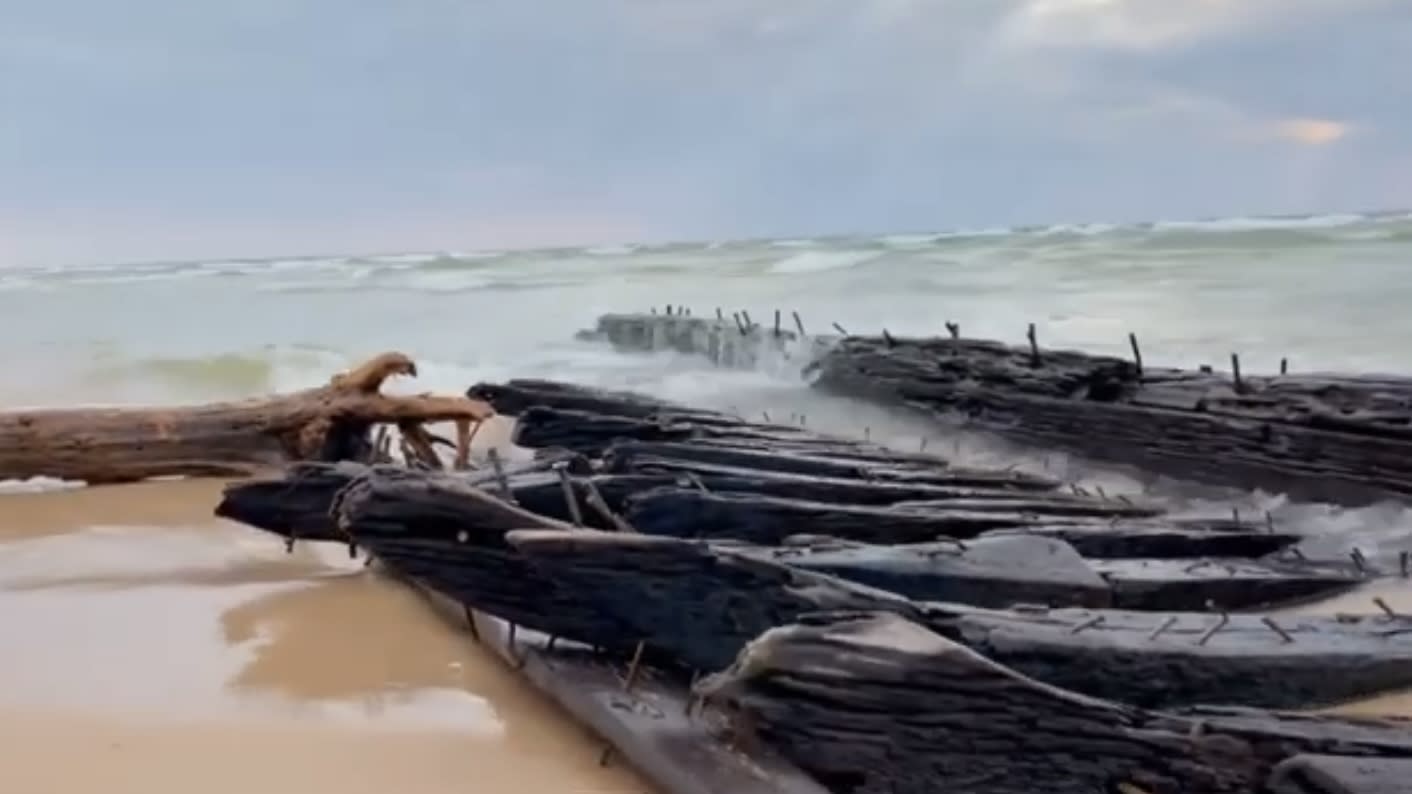 In December of 2018 and March of 2021 the "spine" of a shipwreck surfaced along the shoreline of Lake Michigan, below view of the lighthouse. Originally believed to be the remains of the LC Woodruff, the Michigan Shipwreck Research Association concluded the spine belonged to the ship Contest. Watch our video of the shipwreck spine here
Lighthouse Lore: Lighthouse legend says Wm Robinson, who watched over the White River Light Station for 47 years, never left! He (& wife Sarah) can sometimes be heard walking the second floor & stairwell. See our "Whispers of Hauntings" blog here
Open for tours Memorial Day to Labor Day Address: 6199 Murray St., Whitehall, MI 49461 Website: www.splka.org/whiteriver.html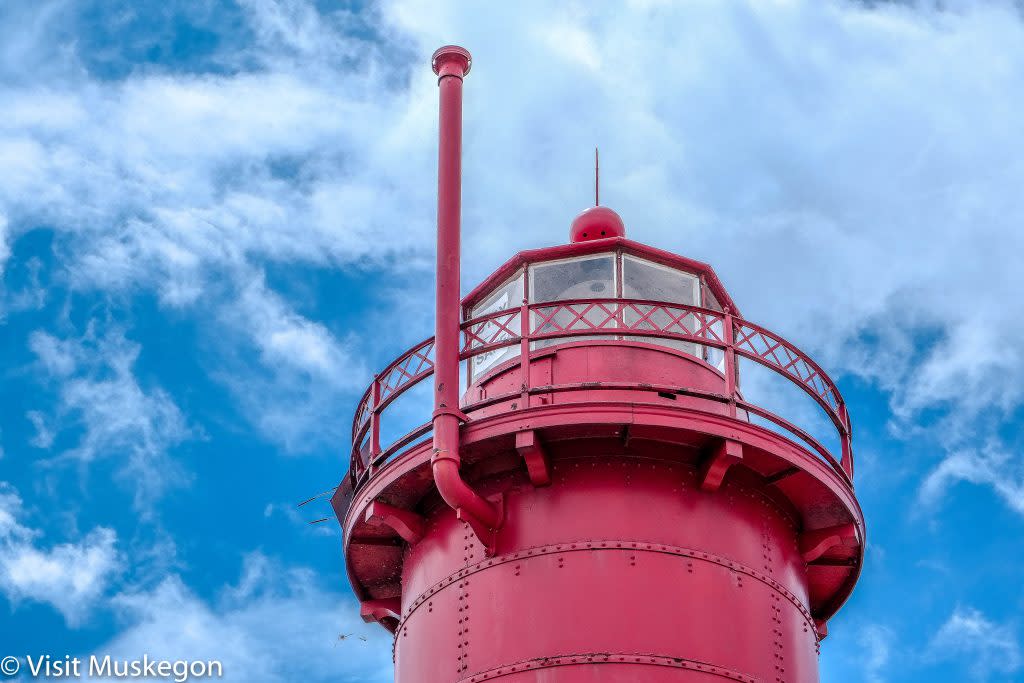 Don't Miss:
"Ceremonial Washing of the Lighthouse." as the Muskegon County Sheriff Pumper boat, ceremonially washes the South Lighthouse representing the start of the boating season. May
"Concerts on the Lawn" at the White River Light Station. June - September
"Storytime with the Lighthouse Lady" at Muskegon South Pierhead Light. June - September
"Trick or Treat at the Tower" at Muskegon South Pierhead Light. October
"Yoga on the Lawn" at the White River Light Station. June - September
"I can think of no other edifice constructed by man as altruistic as a lighthouse. They were built only to serve."  ~ George Bernard Shaw