Military
Muskegon is proud to be the home to the USS LST 393 and the USS Silversides Submarine. Our historic ships set the perfect background for your next military reunion. Visit, or revisit these ships with your military reunion group.
The USS Silversides Submarine is a Gato-class diesel-electric submarine, originally launched on August 26, 1941. The ship was named after the silversides, a small fish with silver stripe along both sides of its body. The Silversides was commissioned from December of 1941 to April of 1946.
The USS Silversides was awarded 12 battle stars during WWII for its services as well as one Presidential Unit Citation for cumulative action over four of its patrols. Silversides was credited with the sinking of 23 ships, making it the 3rd most of any allied WWII submarine. It ranks in the top 5 for the tonnage sunk by an American submarine during WWII. According to JANAC (Joint Army-Navy Assessment Committee) the USS Silversides has the most prolific combat record of any still extant American Submarine.
 Today the Silversides has found a home in Muskegon, and has been turned into a Museum. The submarine itself offers overnight stays for interested groups as well as access to the museum building.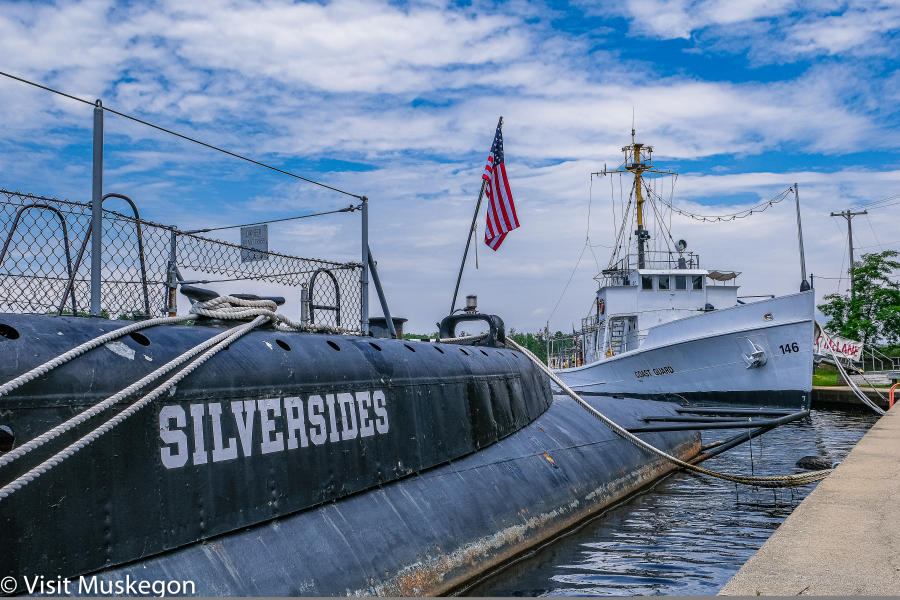 The USS LST 393 is a LST-1-class tank landing ship, originally launched November 11, 1942. The LST 393 was commissioned from December 1942 till March 1946.
The LST 393 is only one of two LSTs to survive in the original configuration out of 1,051 that were built.  This ship won battle stars for the Sicilian occupation, Salerno landings, and the Invasion of Normandy. The LST 393 made 75 voyages to foreign shores and was one of the only LSTs to be equipped with an airplane.
Today the LST 393 has been converted to  a veterans museum with thousands of artifacts. Special events are often hosted on the ship, making the ship a great part of our downtown community.