Guest Blog by Jeffrey VanDyke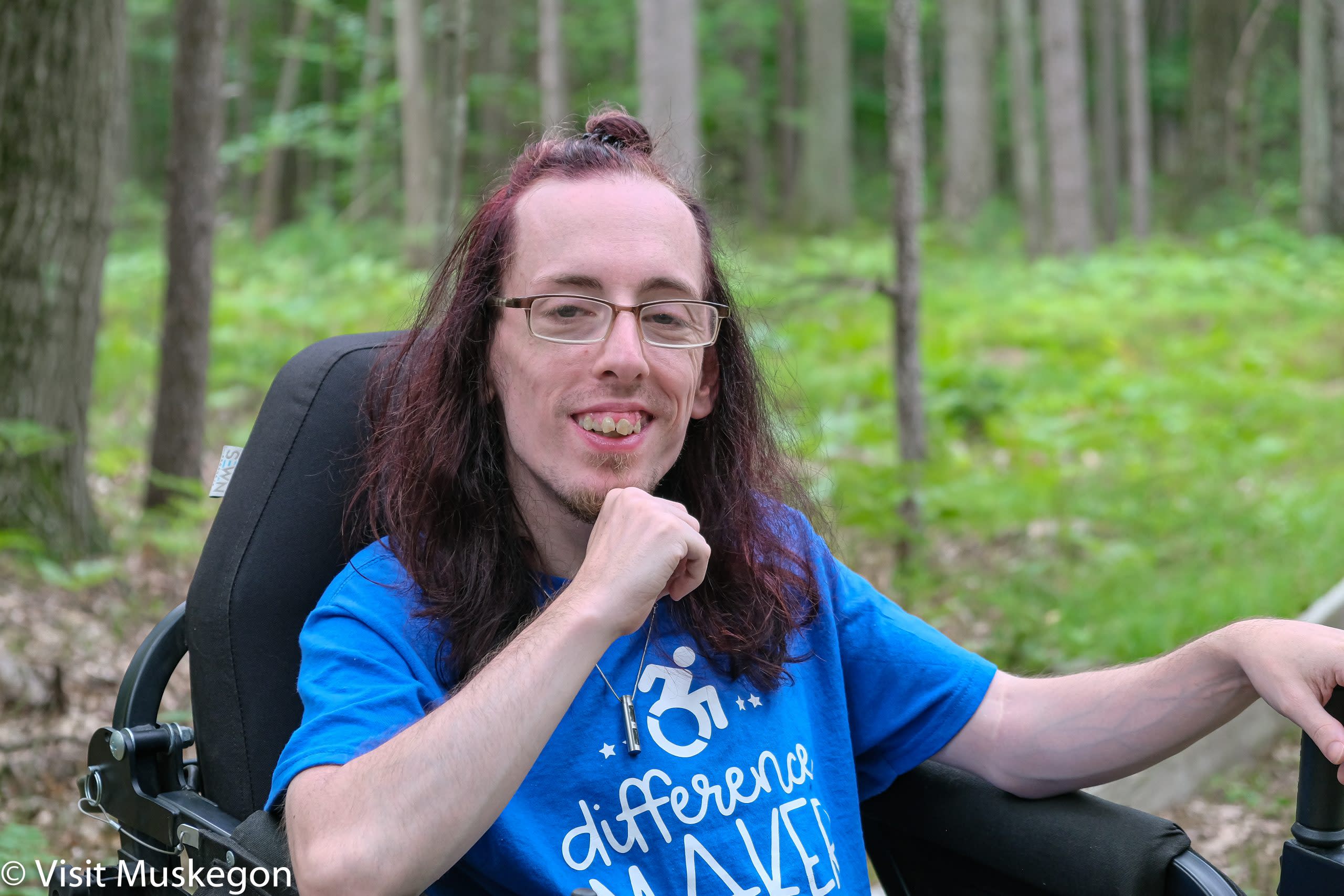 I am a Peer Mentor, Graphic Designer, Social Media Manager, and Community Presenter at Disability Network West Michigan. My job is to talk of accessibility in terms of making the world a better, more inclusive place for others. But I also speak from a practical perspective - and lived experience. I myself, am a wheelchair user who was born with Cerebral Palsy as a result of being born 3 months premature.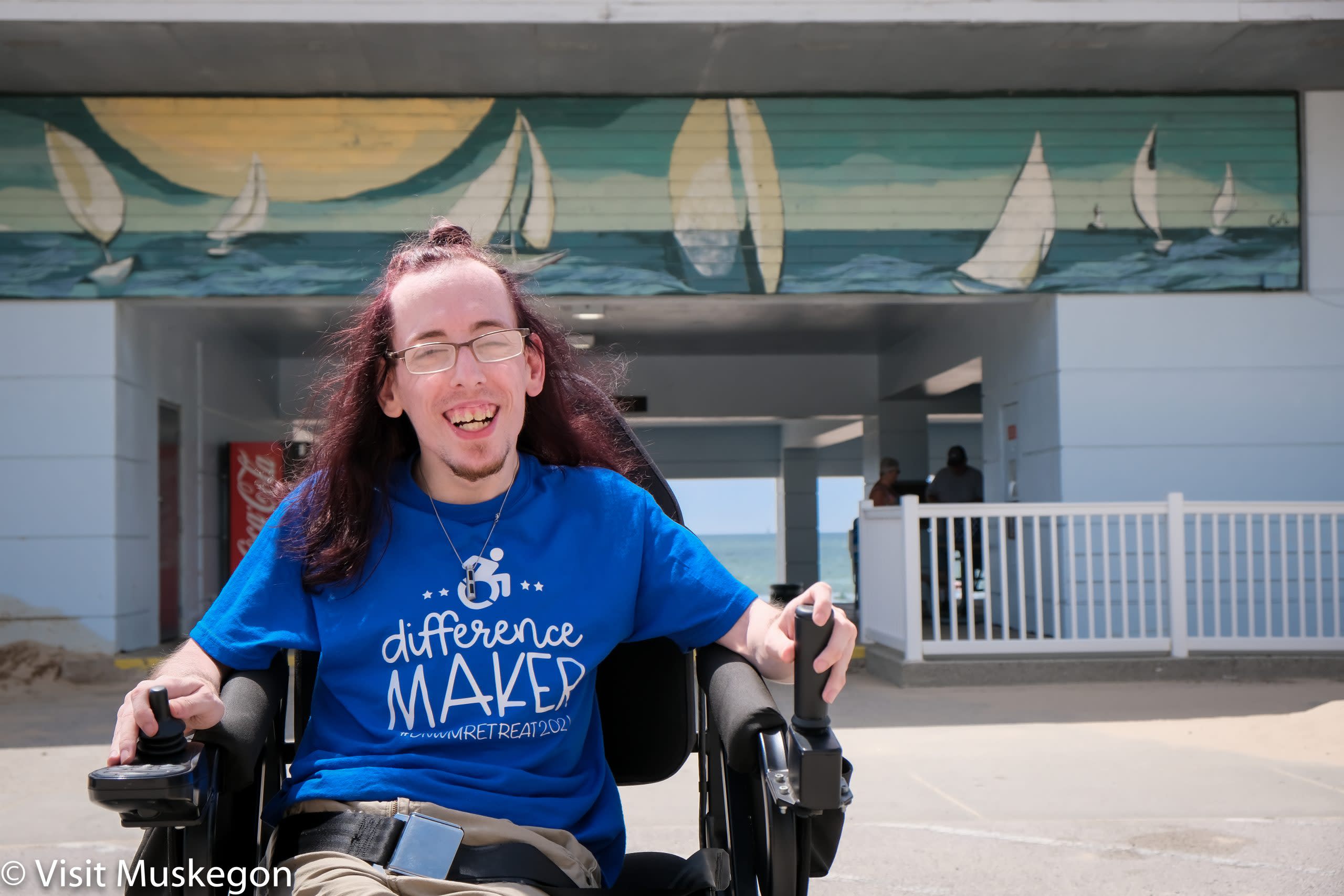 While accessibility, at its core, is intended to open up the world for all, it's also important to acknowledge there is not a "one size fits all" approach. Something that works for one individual might not be the entire key for the person beside them. But take a little dialogue, trial and error, compassion, and perhaps a bit of MacGyvering with the tools and elements available (don't look at the screen like that... I'm not that old, we're talking about the reboot!). Couple these with creative thinking and you never know whose life you could be impacting. Or, just how far into the future that reach can - and will go.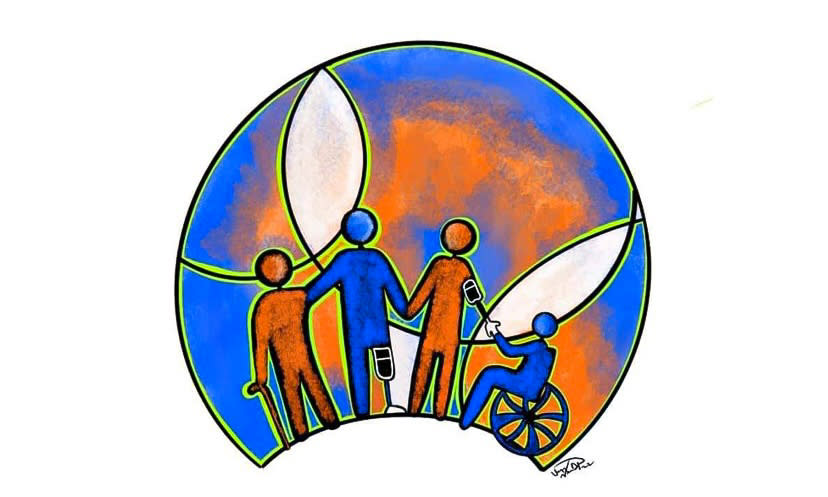 Design by Jeffrey VanDyke
You see, accessibility is not merely being able to access something - or not. Accessibility elevates a person from being a casual observer to an active participant in the treasures of life. This is often achieved by providing the proper tools and specialized equipment. This equipment offers an opportunity to take part in daily activities. Daily activities that those living without disabilities may take for granted. For those within the disability community this was something only to be dreamt of. Until recently.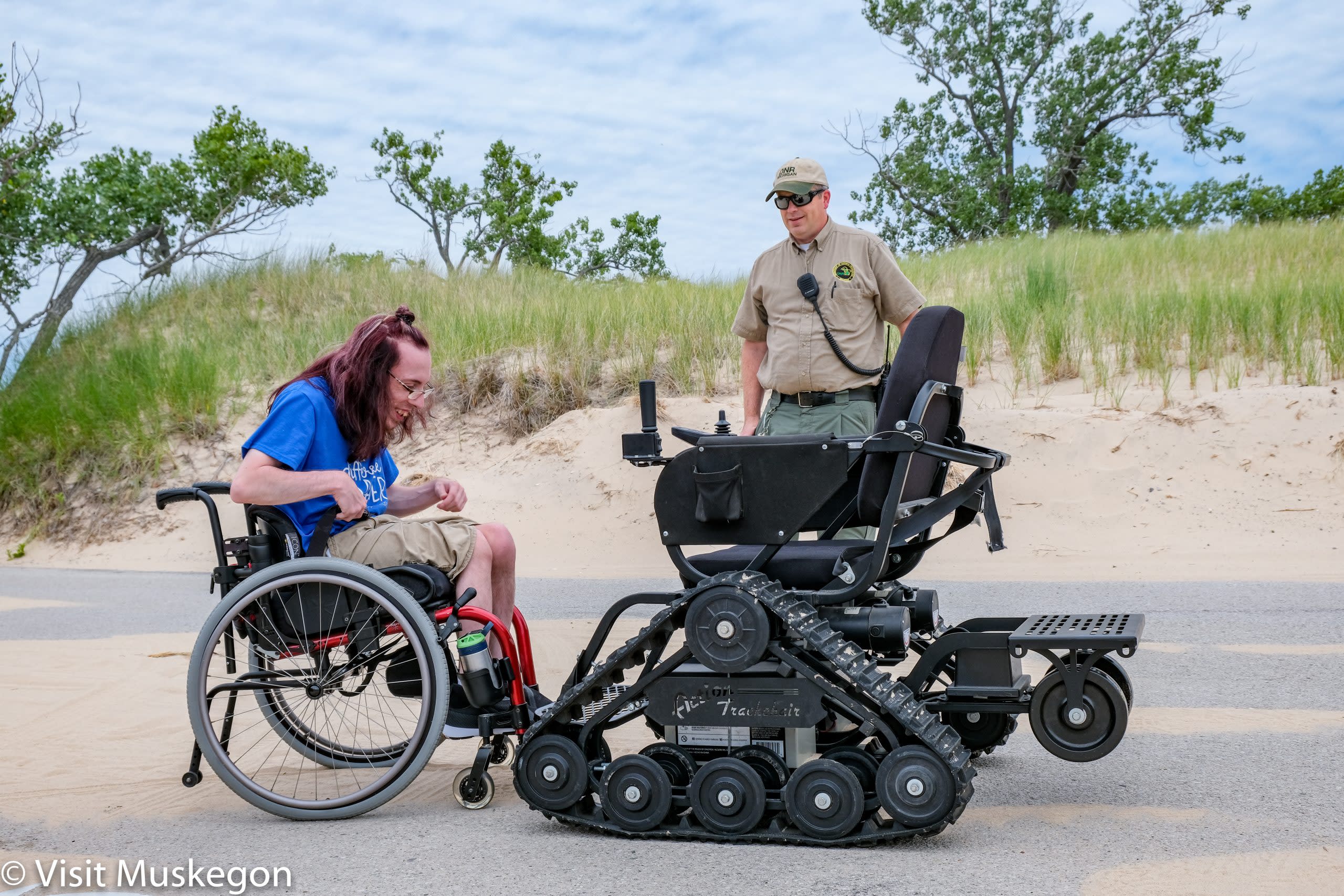 This past week, I had the privilege of doing something I never thought possible. That was being able to not only go to the beach as a wheelchair user - but to actively explore the sandscape. I was also able to traverse the hiking trails at Muskegon Luge Adventure Sports Park. All thanks to a specialized Action Trackchair, which was provided to me by the Muskegon State Park. This TrackChair available to all who request it - free of cost!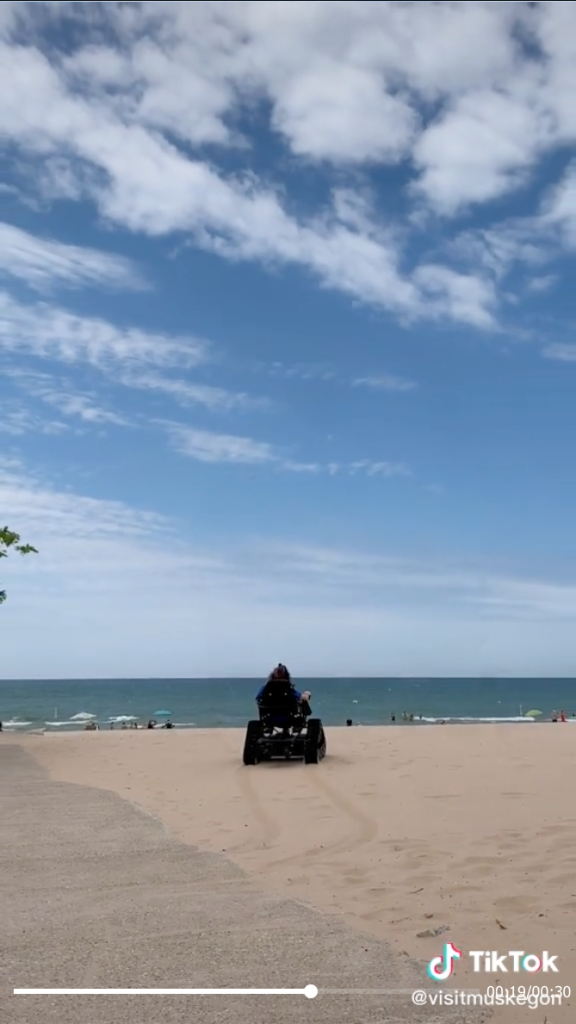 View on TikTok
From a personal perspective, it's difficult to adequately describe or capture. How surreal the feeling of looking out at the water and being able to glide through the sand independently.  Without worry about becoming trapped in the sand. Or waiting for another person to move you from one point to another. But in a single word, it's truly freeing. Beyond that, it was also quite emotional for multiple reasons.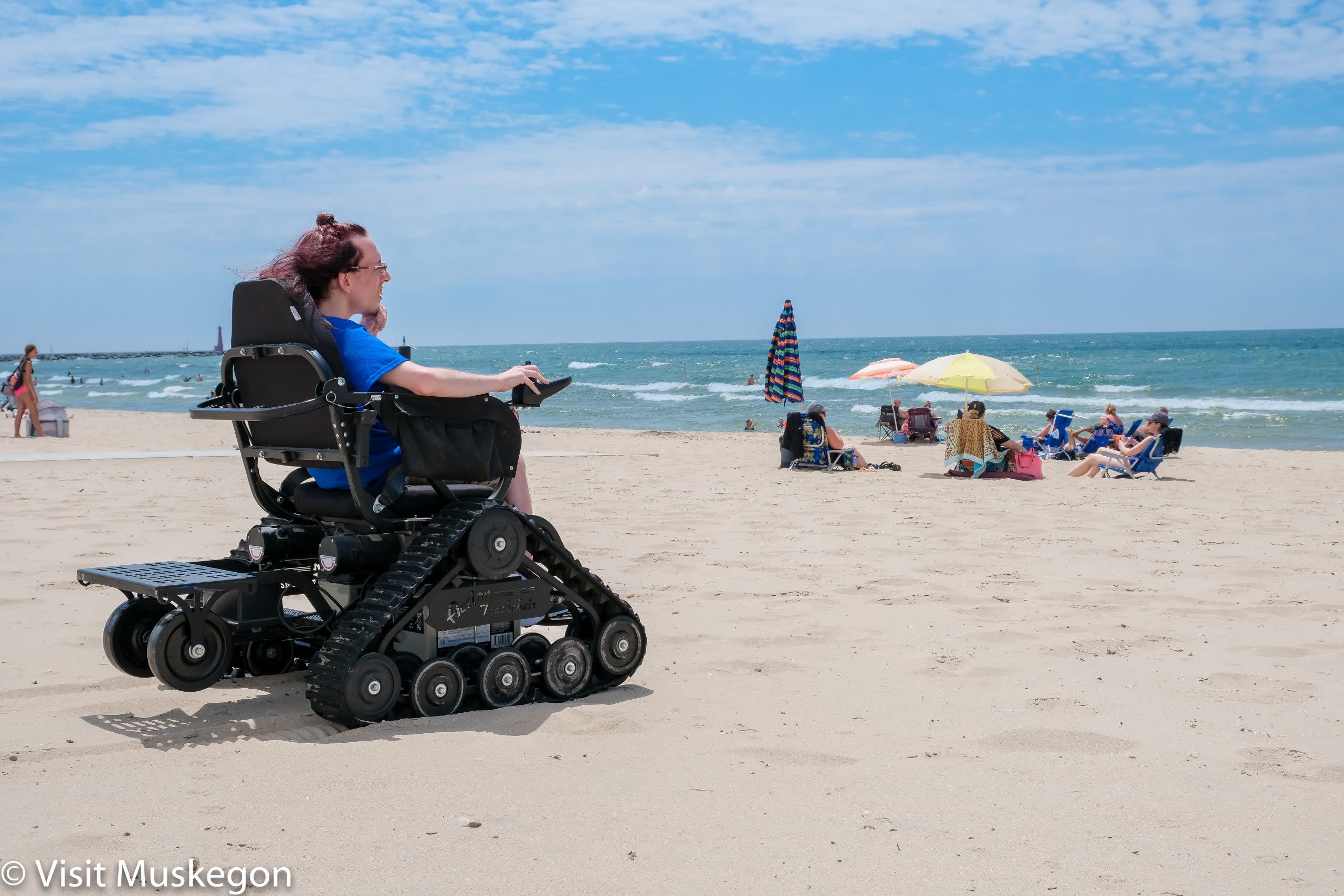 The first person that I couldn't help but think about was my mom. My Mom was my original lifelong Disability Advocate. She absolutely loved sitting at the lake watching the water from our car. We were never able to leave the vehicle due to inaccessibility at the beach. We unfortunately lost her in 2020 after an 18-month long battle with Lung Cancer. But somehow, I felt connected to her. as I knew she was enjoying the view with me. And hopefully she was looking over my entire journey with pride.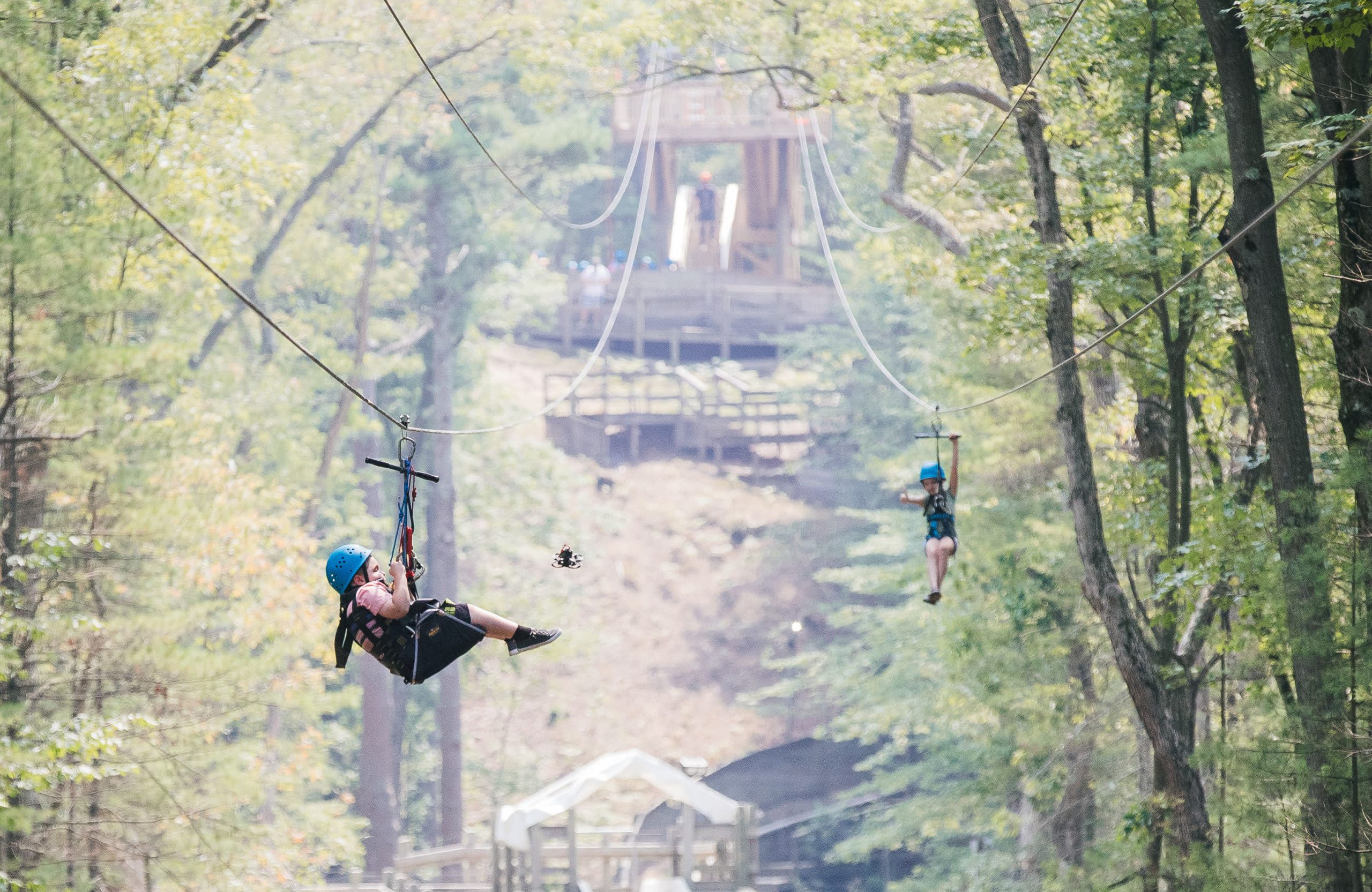 Adaptive Zip-line at Muskegon Luge Adventure Sports Park. Click Image for information on Adaptive Sports Available at Muskegon Luge Adventure Sports Park 
Photo Courtesy of Muskegon Luge Adventure Sports Park.
Beyond my own journey, I feel extraordinarily blessed to participate in a day of this magnitude. As I know firsthand how this equipment will open up a whole new world for people with disabilities. The ability to freely explore and navigate beaches, trails, and other terrains!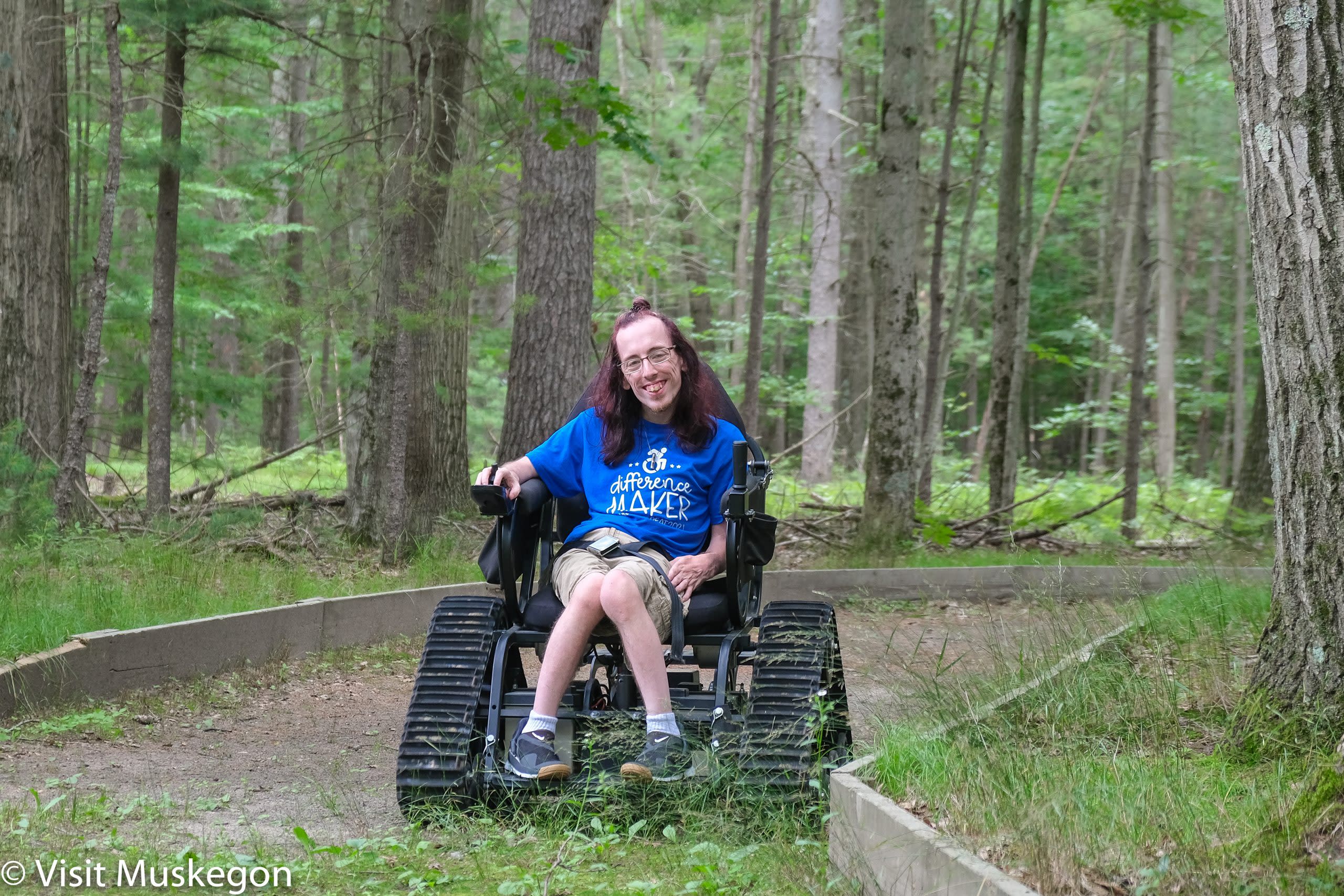 All these were previously too difficult to navigate before such magnificent inventions. It is difficult to encapsulate in words, but it will truly be a catalyst in changing lives. For years to come it will change how people living with disabilities navigate travel.
Thank you allowing myself and future generations the opportunity to experience (as we should be able too) hope, joy, and optimism for the future.
Jeffrey VanDyke Graphic Design Specialist Disability Network West Michigan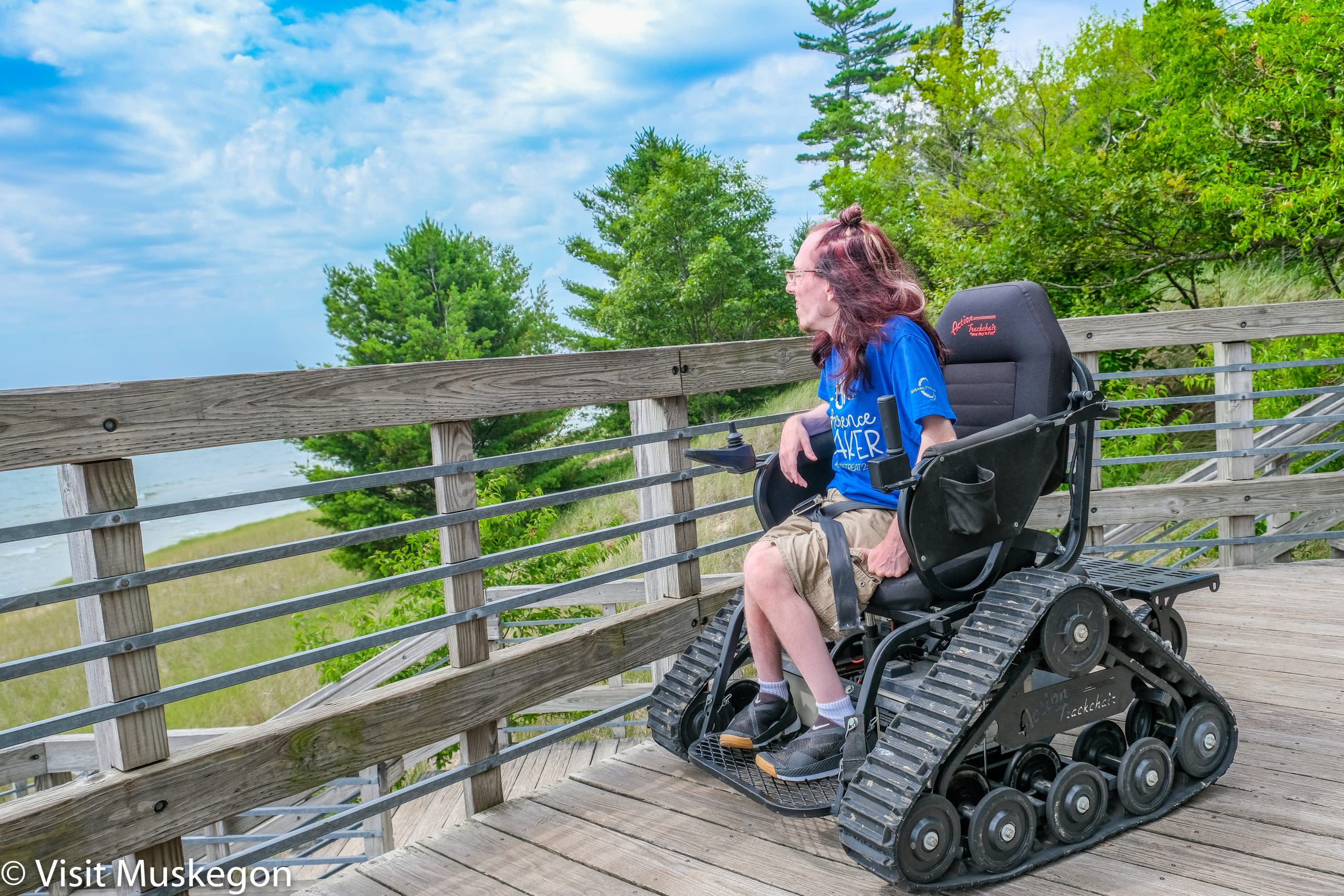 The MobiChair at Muskegon's Pere Marquette beach and the TrackChair and Beach Chair at Muskegon State Park are all free to use. These accessible options ensure that everyone can enjoy the great outdoors. Inclusive of those with mobility challenges.
The MobiChair allows individuals access to the beach and water. It features large, rubberized wheels that can traverse sandy surfaces. The MobiChair can be reserved by calling the Muskegon Department of Public Works at (231) 724-4100. When available, the wheelchair can also be checked out at the Beach Cove concession stand.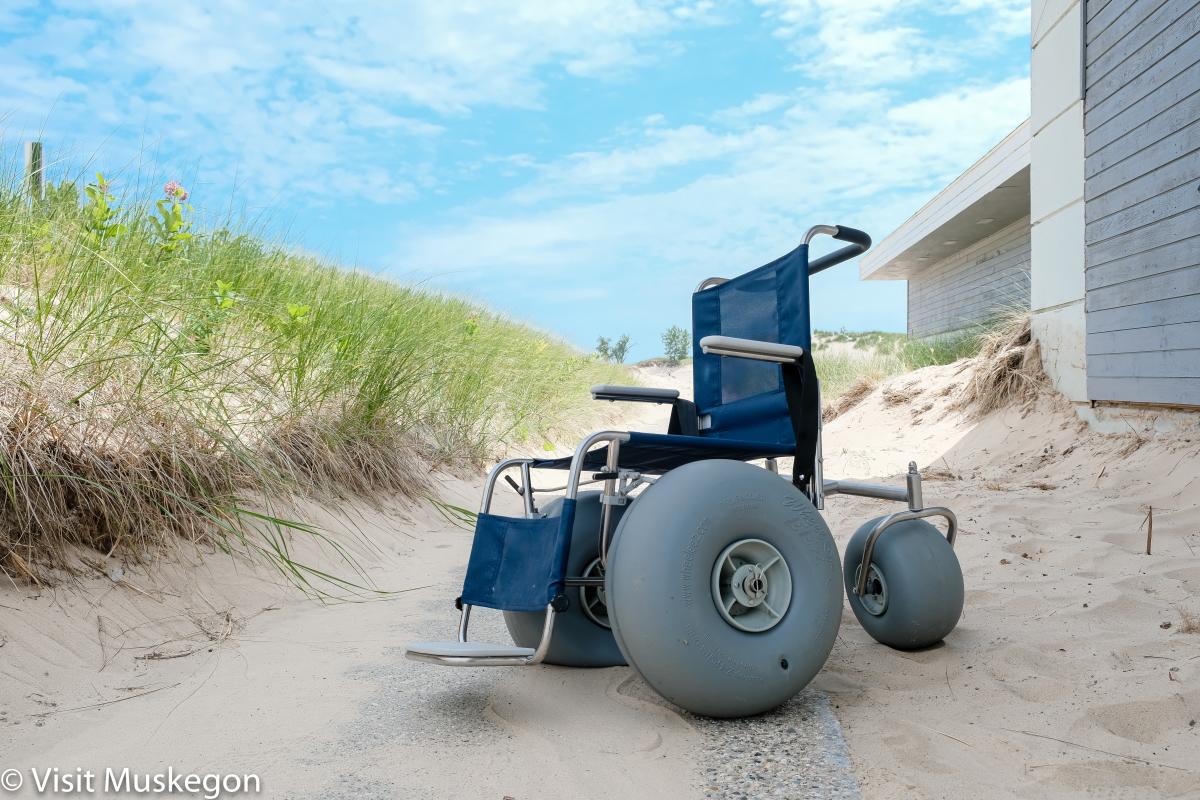 A similar Beach Chair is available at Muskegon State Park Beach. The TrackChair is a similar device designed for off-road use. Using tracks instead of wheels it can navigate rugged terrain. Guests can explore trails, uneven surfaces - and the beach. The TrackChair and Beach Chair may be reserved by contacting the park office during business hours (Monday – Friday from 8 a.m. to 4:30 p.m.) 231-744-3480
All are available to visitors on a first-come, first-served basis. There are no fees required to use these devices. They are provided to ensure equal access to recreational opportunities for all individuals.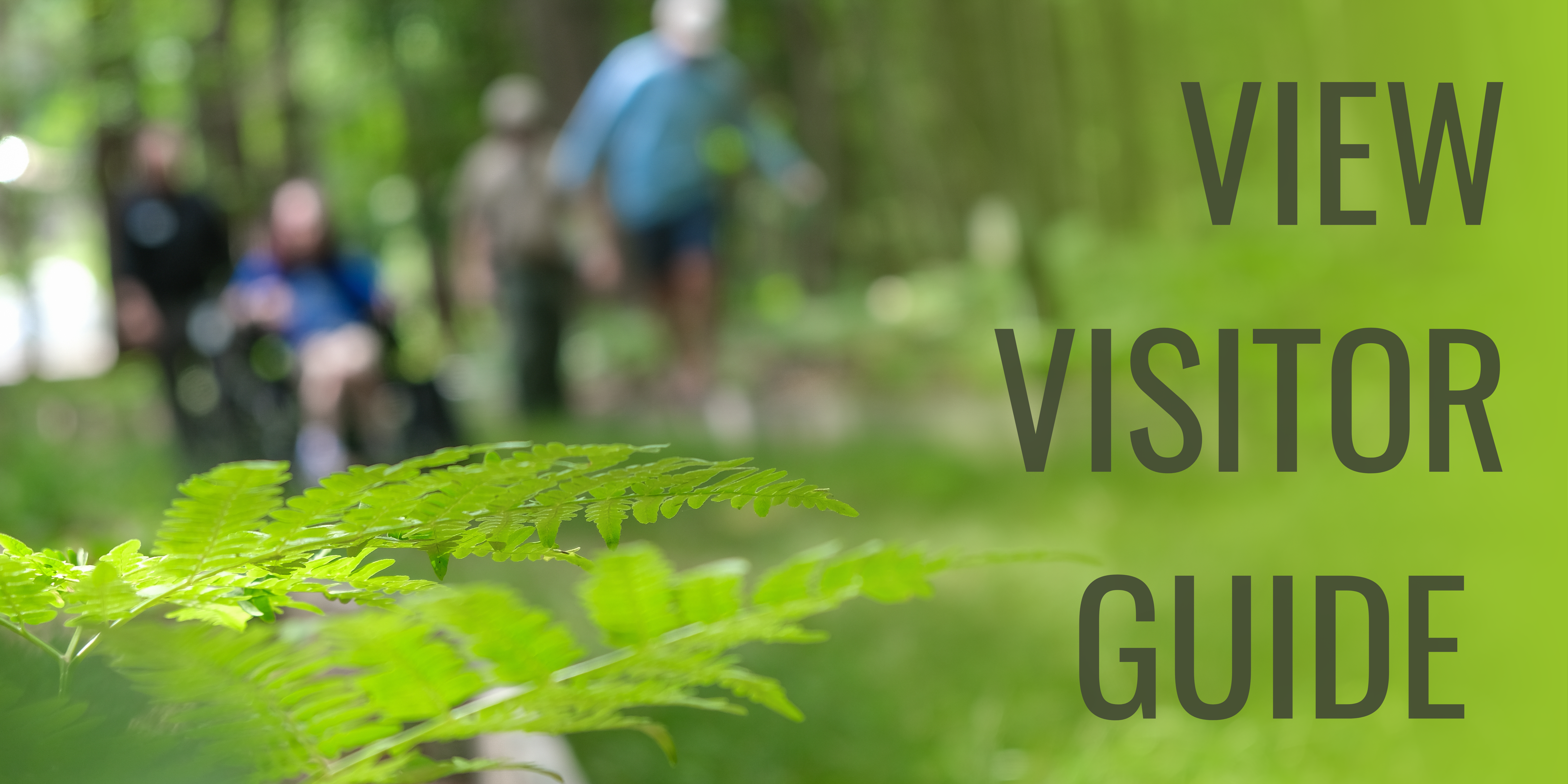 I wish for a world that views disability, mental or physical, not as a hindrance but as unique attributes that can be seen as powerful assets if given the right opportunities."  ~ Oliver Sacks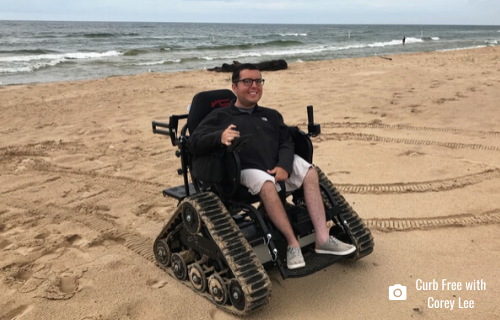 Read the National Geographic article "Here are the most wheelchair-friendly beaches in the U.S." by Curb Free with Corey Lee