Each October since 1995, members of the International Buster Keaton Society have gathered in Buster's "home away from home" Muskegon, Michigan.
The Society was formed by a few ladies in New Jersey who wanted to celebrate the 100th anniversary of Keaton's birthday. They started a little fan club, called the Damfinos; named for the boat in Buster's 1921 short film "The Boat".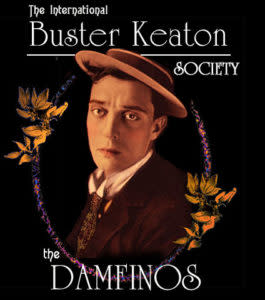 The Society is a worldwide, membership-based organization. Members receive "The Keaton Chronicle" (published quarterly), updates on where Keaton films will be showing, when they air on television, and discounts on merchandise and the Damfino Convention.
The very first Damfino Convention took place in 1995. That year 46 Damfinos, including Eleanor Keaton - Buster's third wife - came to Muskegon to celebrate the 100th birthday of the legendary cinema star. Attendance in 2017 was 115, with visitors coming from 26 states and internationally from Spain, the UK, Germany and Canada. Guests that year included Buster's granddaughter and daughter-in-law. Past years have also included visitors from France and New Zealand.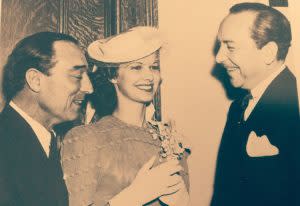 Buster's third (and last) wife attended the first three conventions and returned in 1997 to help dedicate the Michigan historical marker located in Bluffton. In 2010 Keaton's granddaughter and daughter-in-law came to unveil the statue of Buster, which is located outside the Frauenthal Theater, and is dedicated to the Damfinos.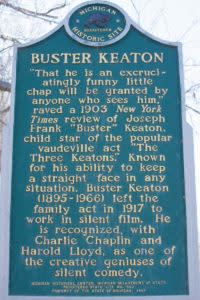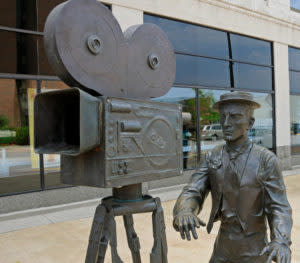 Some convention goers refer to the annual trip to Muskegon as a Damfamily Reunion. Hence, a "Thanksgiving-style" dinner event is part of the weekend for those attending the convention, allowing them to celebrate his birthday, and to give "Thanks" for the laughter he gave the world. For several years, the group played a baseball game on the field that Buster and other members of the Actors' Colony used during their summers in Muskegon.
The convention in Muskegon is always held in early October, as Buster was born on October 4, 1895. Muskegon was chosen as the site of the convention because, while Buster wasn't born here, he did consider Muskegon his "hometown". In his autobiography, Buster wrote "The best summers of my life were spent in the cottage Pop had built on Lake Muskegon." Buster last visited Muskegon in 1949 and died 1966.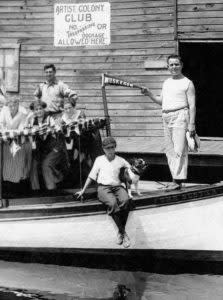 His connection to Muskegon began when he was a youngster. He spent his childhood performing with his vaudeville family in a travelling act, honing his pratfall antics at an extremely young age. The Keaton family spent their summers vacationing in Muskegon with other show business friends in an environment they dubbed "The Actors' Colony." Buster's father, Joseph, who once toured with Harry Houdini in a traveling medicine show, helped establish this close-knit group. The colony was situated in Muskegon's Bluffton neighborhood which is nestled between Lake Michigan and Muskegon Lake...and still maintains an artistic nature.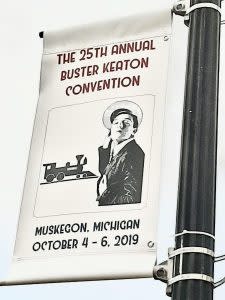 Everything kicks off right here at the Union Depot, home to Visit Muskegon. We proudly play host to the Damfinos Registration, Reception and Announcements. It is poetic that the Damfinos begin their celebration at the very train station that Keaton's family would have arrived at for their summer trips. Guests will also be greeted by our life size, and very life like, Buster Keaton. Our Buster is always on display in our Visitors Center, and you are welcome to stop by for a selfie with him.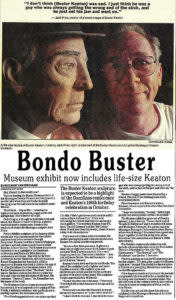 The Damfinos spend two days being treated to rare movie screenings, round table discussions, an auction, presentations on Buster's career and private life...and take a guided tour of the neighborhood where he played as a boy.
The public is invited to attend Saturday's Film Festival at the Frauenthal, a fully restored historic motion picture palace that originally opened in 1930. More info HERE
Films screenings at the Frauenthal are accompanied by Chicago's internationally known organist, Dennis Scott, on a 1927 Barton Theater Organ. The organ was was built by the Wangerin Organ Company to accompany silent films and had a loving restoration done in 1960. When ready for use, the organ rises on a platform from beneath the orchestra pit!