The newest sculpture "Celebrating Muskegon" arrives at Pere Marquette Beach.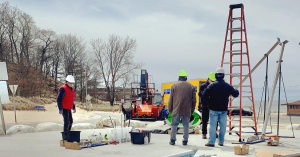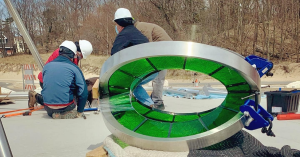 Workers install the new sculpture "Celebrating Muskegon"
Designed by artists John Littleton and Kate Vogel of North Carolina, "Celebrating Muskegon" pays tribute to the character and resiliency of the people and communities of Muskegon.
A strong framework of stainless steel, formed to represent Muskegon's industrial past, lifts circular steel bands to the sky. The circles are filled with brightly colored panes of thick, cast glass and programmable LED lighting.  The programming allows the illumination to be motion activated from dusk to dawn or to be programmed with a lighting sequence.
The rich greens and blues symbolize Muskegon's natural attributes and resources; green for our forests and flora, blues for our rivers, lakes and sky. All this is set against the stunning, natural backdrop of Lake Michigan. Located in the center of Pere Marquette Park's roundabout, the sculpture weighs over two tons, has a 30' x 35' footprint, and a total height of 22'.
Muskegon's dedication to the arts is reflected by a long history of public art - and our story is still being written, thanks to the Muskegon City Public Art Initiative.  Following a fundraising campaign through Patronicity, more than 100 donors raised $51,600 in 2020. Funding was also provided by the Michigan Economic Development Corporation (MEDC) and a private underwriter.
Judy Hayner poses with City Built on Timber
Led by Judy Hayner, former executive director of the Muskegon Museum of Art, the Muskegon City Public Art Initiative (MCPAI) was launched in July 2018. Their goal was to bring ten new "significant works of art to the public art collection in the City of Muskegon". The goal received a spark with a $250,000 commitment by a private underwriter, pledging $25,000 per work of art. The new sculpture is the third installation following "Moxie the Mastodon" at the Lakeshore Muskegon Center and "City Built on Timber" at Muskegon County's Heritage Landing.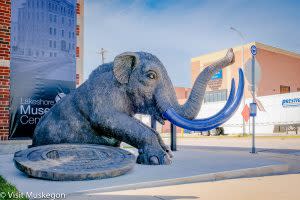 Moxie the Mastodon
Learn about Muskegon County's Outdoor Sculptures Here: Take a Walk and Take In Outdoor Art!