Get Your Beverage To Go…Outside!
Cheers to Muskegon County having not one, but THREE Social Districts!
What exactly is a Social District?
A Social District is a designated area that allows patrons to purchase an alcoholic beverage in a specially marked to-go cup. The beverage can then travel outdoors with the consumer.
Rules apply such as:
Drinks must be purchased from a participating business
A beverage purchased as a Social District drink must be consumed outdoors
The beverage may not be brought into another establishment
To-Go cocktails must remain in the designated area
Where are the Social Districts?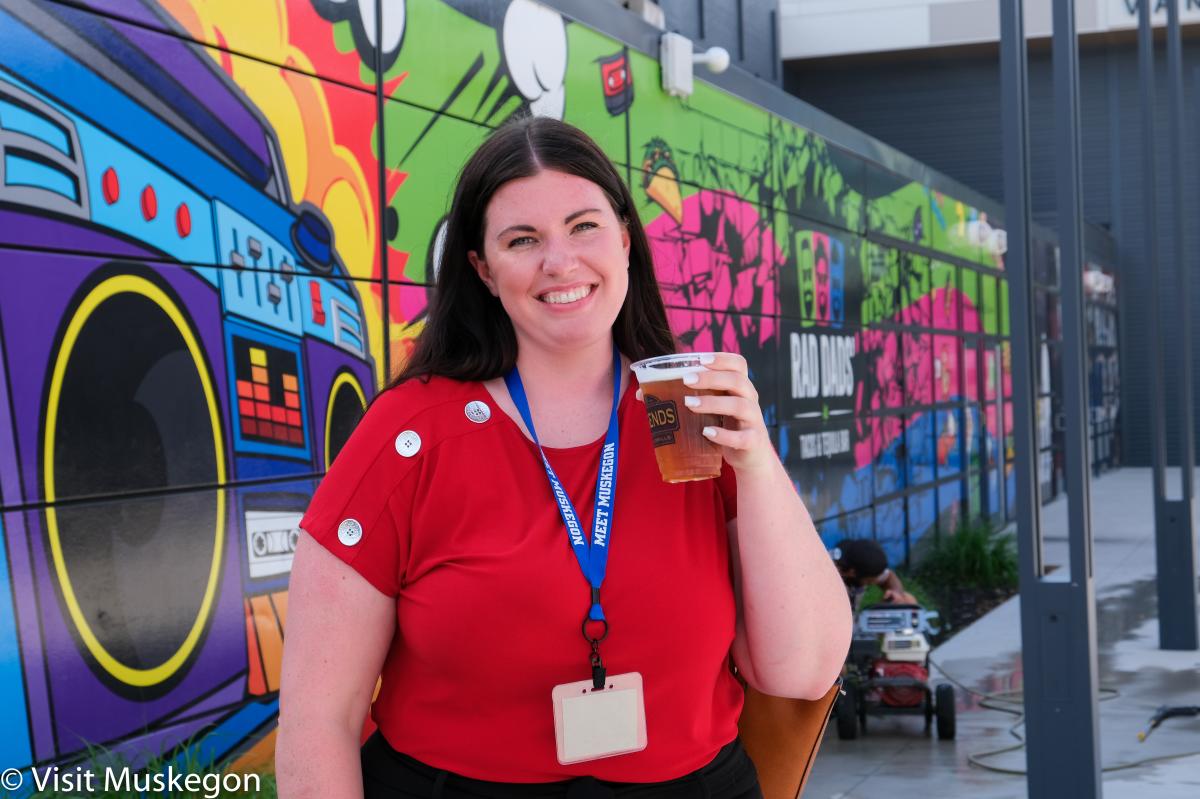 Downtown Muskegon
The Downtown Muskegon Social District stretches along Western Avenue from Seventh to Pine St. It extends one block in both directions along Third St leading to Midtown.  At the north end (known as Northtown) it stretches again along Second Ave, Jefferson, Terrace and Pine Streets.
Downtown Muskegon Participating Businesses Include:
18th Amendment
794 Kitchen and Bar
Burl and Sprig
Capone's Speakeasy
Carlisles
Courses (Culinary Institute of Michigan)
Dr. Rolf's Barbeque
Legends Bar and Grille
Muskegon Farmers Market
Nipote's Italian Kitchen
No Name Saloon
Rad Dad's Taco's and Tequila
Rake Beer Project
Topshelf Pizza
Unruly Brewing
Walkers, An American Brassiere 
Click to View Downtown Muskegon Social District Map
Strolling along Western Ave within the Social District visitors will find shopping, dining, outdoor art installations, open seating areas, museums, a view of the USS LST 393, a gazebo set in a garden, new and historic architecture, a splash pad that is illuminated in the evening and two "sandboxes".
One sandbox is tucked away behind the Western Market Chalets. It is filled with hammocks, seating and sand games. The games are a beach-sand variation on lawn games – such as "sand bowling"! The Social Sandbox is found on the corner of Western Avenue and 2nd Street. More outdoor seating is found here beneath a canopy of sun-sails and strung lights. Most weekend evenings one can find live music, kick off their shoes and dance in the sand…downtown! That's pretty cool.
The Downtown Muskegon Social District is open year-round, 7 days a week from 11 am – 11 pm.
Lakeside Business District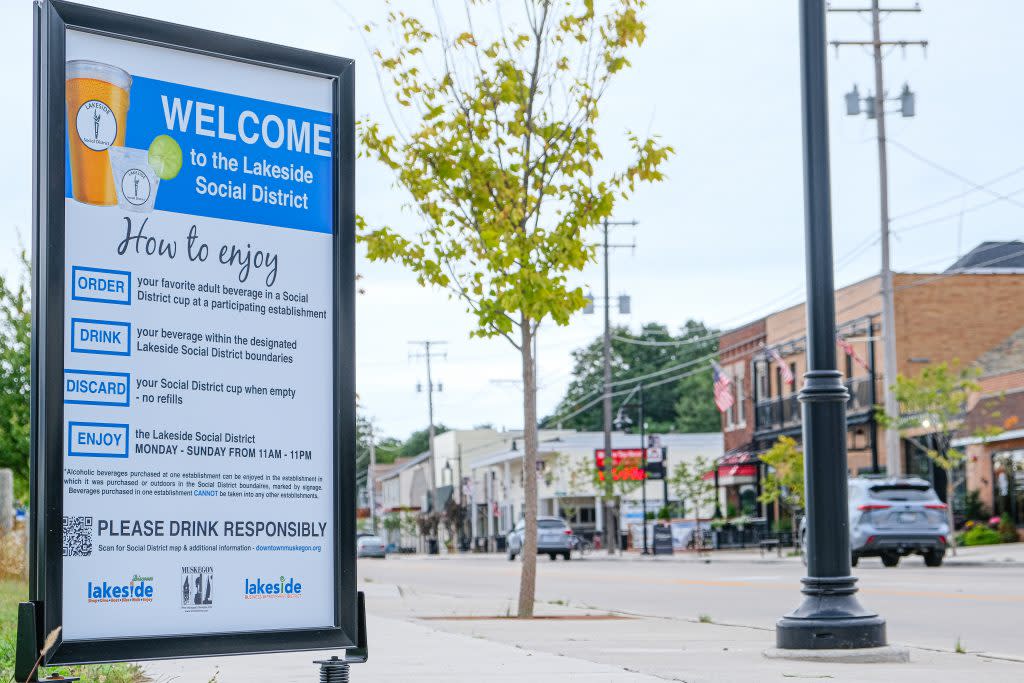 The new Lakeside Social District opened Labor Day weekend of 2021. This area stretches from Moon to Addison Street on the north side of Lakeshore Drive. Some sections on the south side of Lakeshore Drive are also included.
Lakeside Participating Businesses Include:
Marine Tap Room
Wonderland Distillery (Named #2 in the 2021 "Best New Craft Distillery" poll by USA Today!)
Click to View Lakeside Social District Map
While this is a smaller area to roam, visitors will find it filled with lovely, local, lake-side (hence the name) boutique shopping and casual dining.  Those options ranges from pizza, grab-n-go deli style and locally sourced plates.
Bring your beverage to the Lakeside Pocket Park; a cozy little garden nestled next to Wonderland Distillery. It invites the passerby to rest among the colorful blooms and take in the view of Muskegon Lake. You may see the Lake Express Ferry sail by!
The Lakeside Social District is open year-round, 7 days a week from 11 am – 11 pm.
City of Whitehall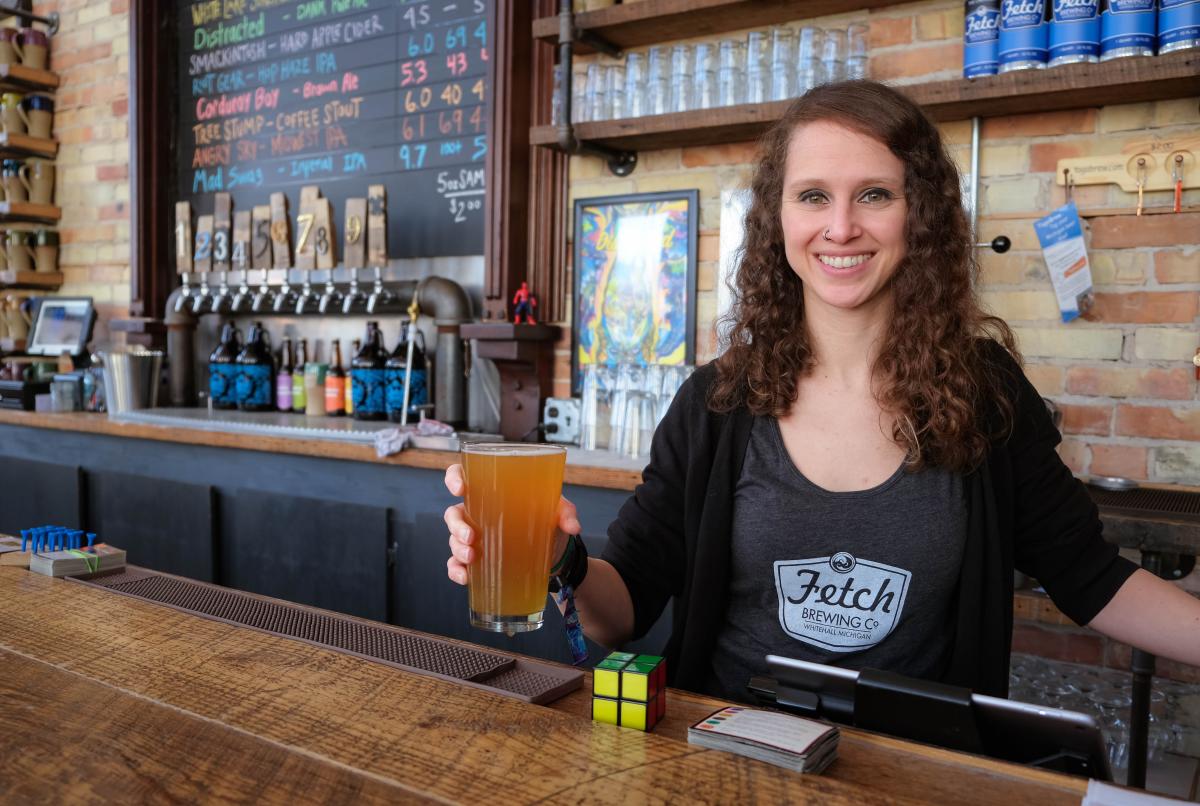 The new City of Whitehall Social District opened in July of 2022. This area stretches from First to Mears Street along Colby, then follows Mears Street to the "The Commons" atop Hanson Hill (directly behind Fetch Brewing Company and next to Mylan's Restaurant).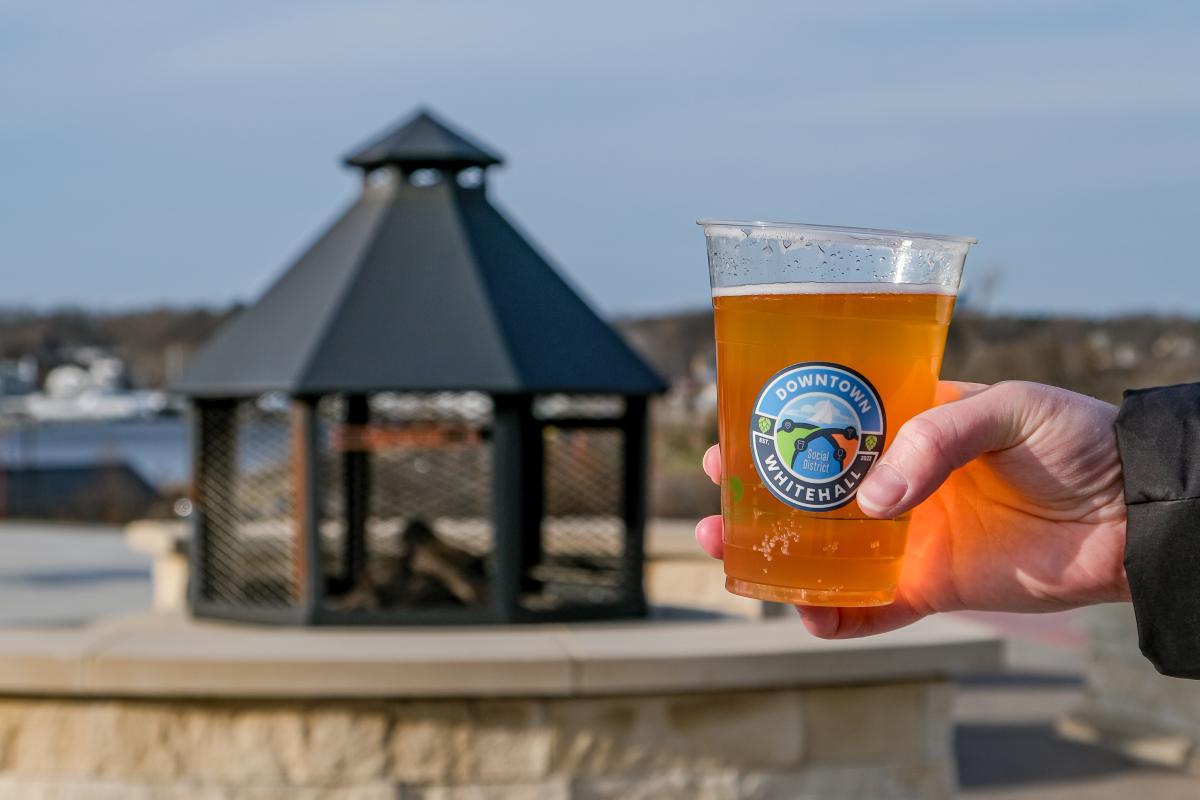 Visitors can get a great view of White Lake from here and gather around a gorgeous permanent fire pit with circular seating. From here take a picturesque walk to boutique shops, a brewery, restaurants, bike trail, shoreline, the World's Largest Weather Vane and catch a show at The Playhouse at White Lake! Or jump in the car or on the bike trail! Michigan's Adventure and Muskegon Luge Adventure Sports Park are also nearby!
Whitehall Participating Businesses Include:
Fetch Brewing Co.
Mylan's Waterfront Grille
Pub 111
Click to View White Lake Social District Map