March is around the corner and we love how Muskegon goes all Irish all month long!
There are more varied events for all tastes and ages than you can shake a shillelagh at!
"County Muskegon" is teeming with Irish and Celtic themed culture, activities, music and fun. We'd like to highlight some of them here for you.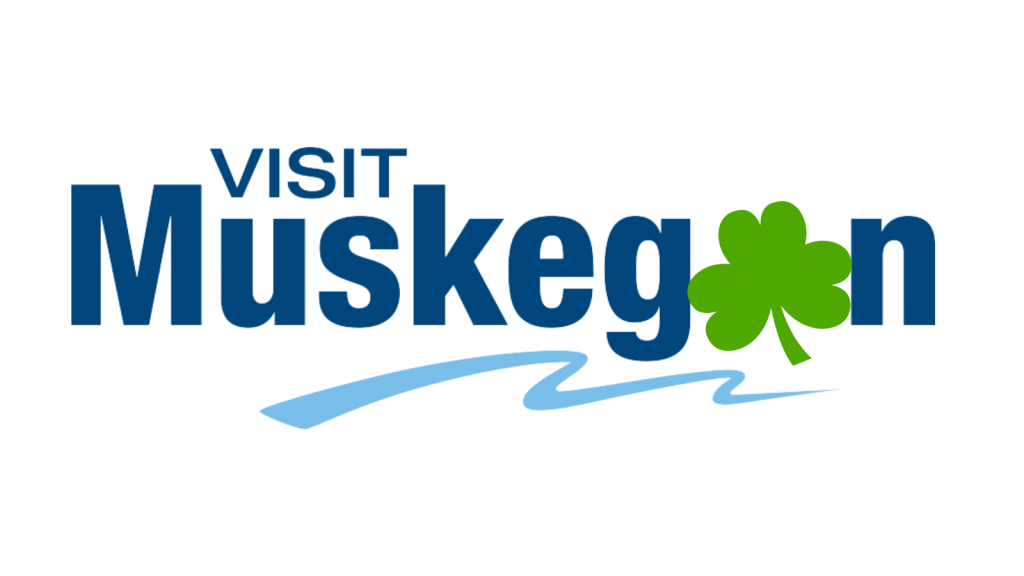 March 16
Get Ready to Tap Your Toes!
Uneven Ground ushers in St. Patrick's Day with a night of vibrant and traditional Celtic music at Norton Shores Library. This promises to be an engaging performance filled with vocals, fiddle, tin whistle, guitar, mandolin, and bodhran. More Info HERE
March 17
Raise the Flag, Raise the Roof
On St. Patrick's Day proper, the Muskegon Irish American Society/Michigan Irish American Hall of Fame will conduct their 50th Annual Raising of the Irish Flag! Location to be determined for the brief ceremony and flag raising. More Info HERE 
Watch the 2021 Flag Raising on TikTok. 
Get Jack'd and Do a Jig
The Muskegon Lumberjacks hockey team hits the ice against Team USA U18 at Trinity Health Arena. And, not just any ice - GREEN ice! They will also celebrate St. Patrick's Day with green beer and specialty St. Paddy's Day-themed jerseys, which will be auctioned off after the game.. More Info HERE
Go Ahead, Get Unruly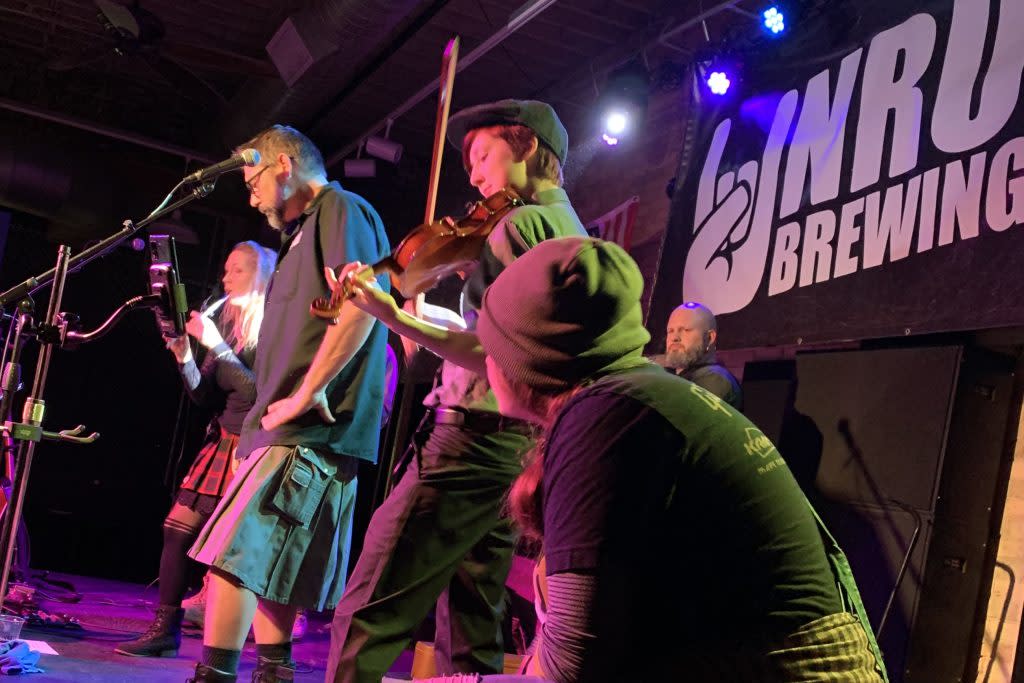 Unruly Brewing is "Dublin" your fun this St. Patrick's Day weekend!  The craic begins Friday at 5:30 pm with live music from Hooligan Jack and The Barley Saints. More Info HERE
March 18
Get a Running Start 
Saturday morning gets a "running" start at 10 am with Run Muskegon's Shamrock Shuffle, this festive 5K encourages participants to dress for the holiday - and awards prizes for the best costumes. Starts and ends at The Brewer's Lounge at Pigeon Hill. 10:00 am. More info HERE
Unruly Music, Irish Dancers and Craic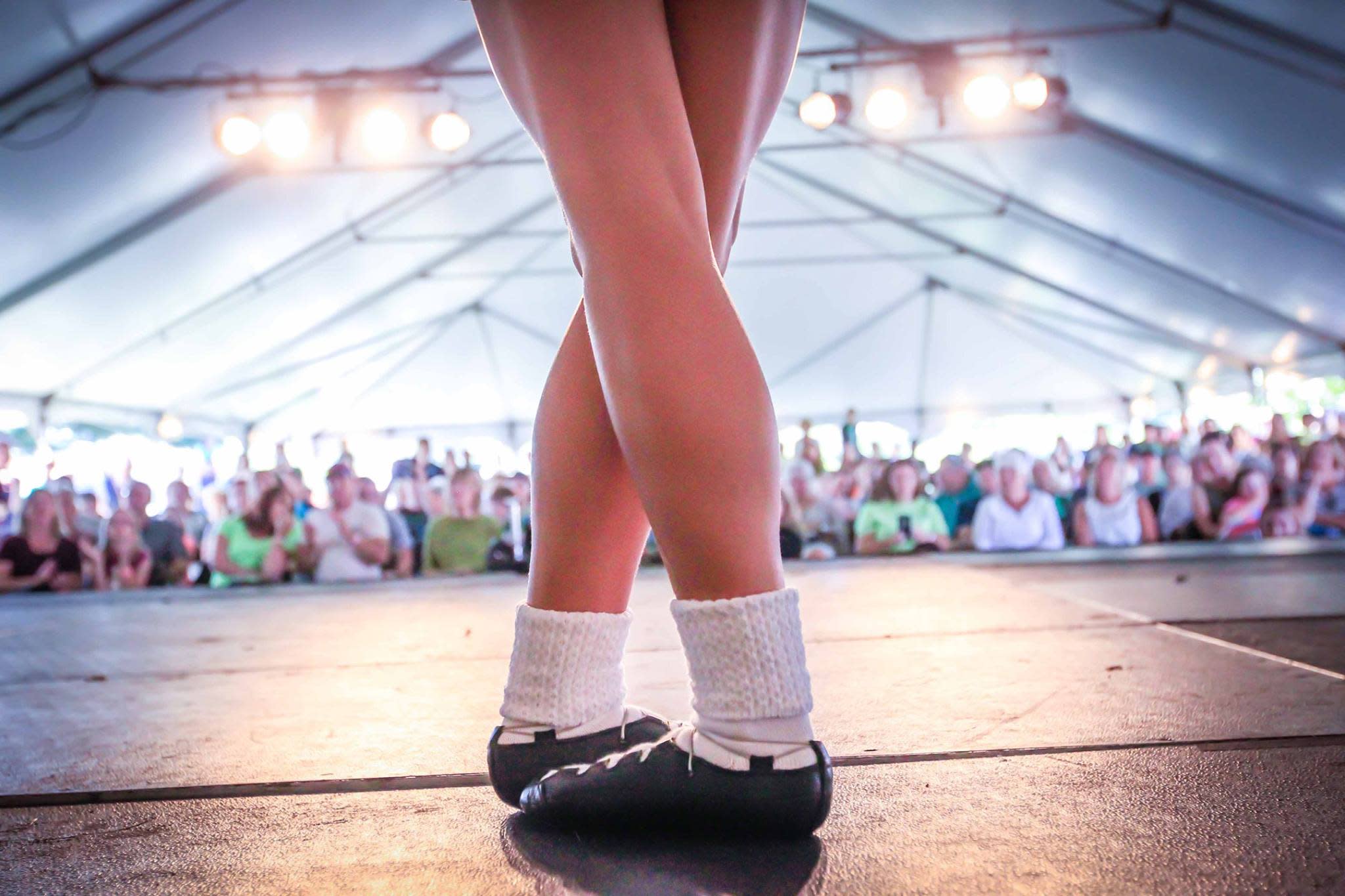 Photo: Tim Reilly
The craic begins at 9 am at Unruly Brewing for a "St. Patrick's Parade Pre-Party". Throughout the day there will be and Irish DJ keeping the spirit going and live performances from Mona Shores Fiddlers, Whorled and The Barley Saints. Also performing are Ardan Academy of Irish Dance. These dancers vie in state and national Feis competitions; including the Michigan Feis that takes place every September right here in Muskegon. They send qualifying dancers to the Mid-American and international Oireachtas each year. Come be amazed at their skills as they kick up their. Free, More Info HERE.
Go on a Green Goose Chase!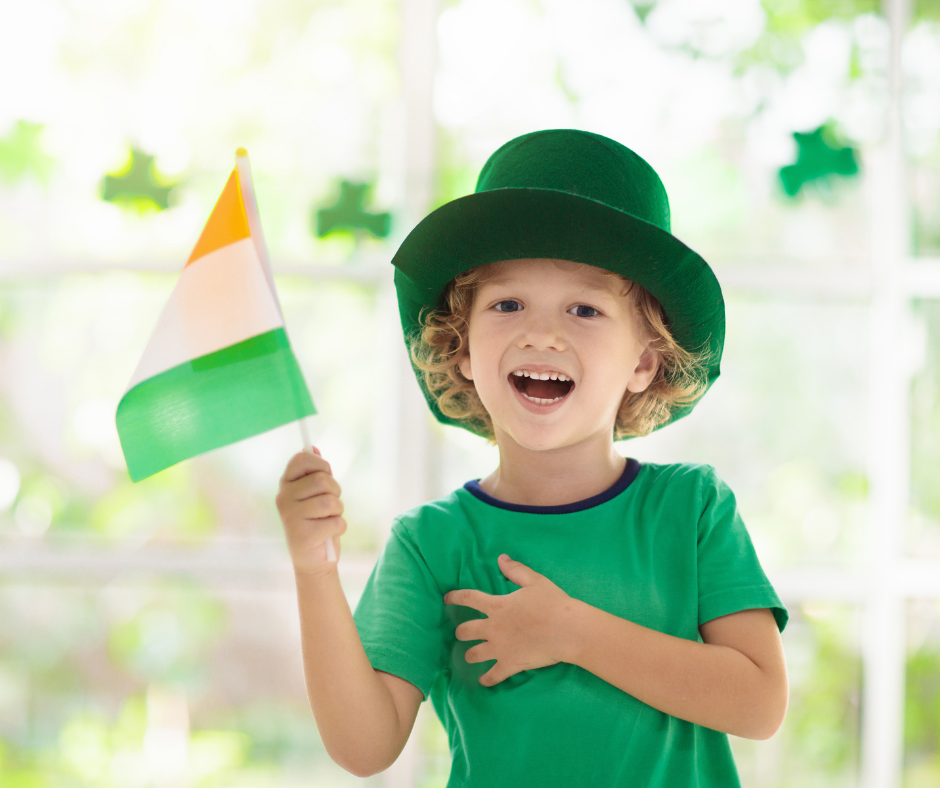 The third annual Go Green! Scavenger Hunt is presented by Michigan State University and Muskegon 4-H. This free event will have individuals or teams searching the downtown Muskegon area to complete various missions. Missions may be trivia, photo or video, or riddle based and will some Irish history related to Muskegon. This scavenger hunt uses a free, downloadable app called GooseChase. Free, 9:00 am - 5:00 pm. More Info HERE
Look for Irish Treasures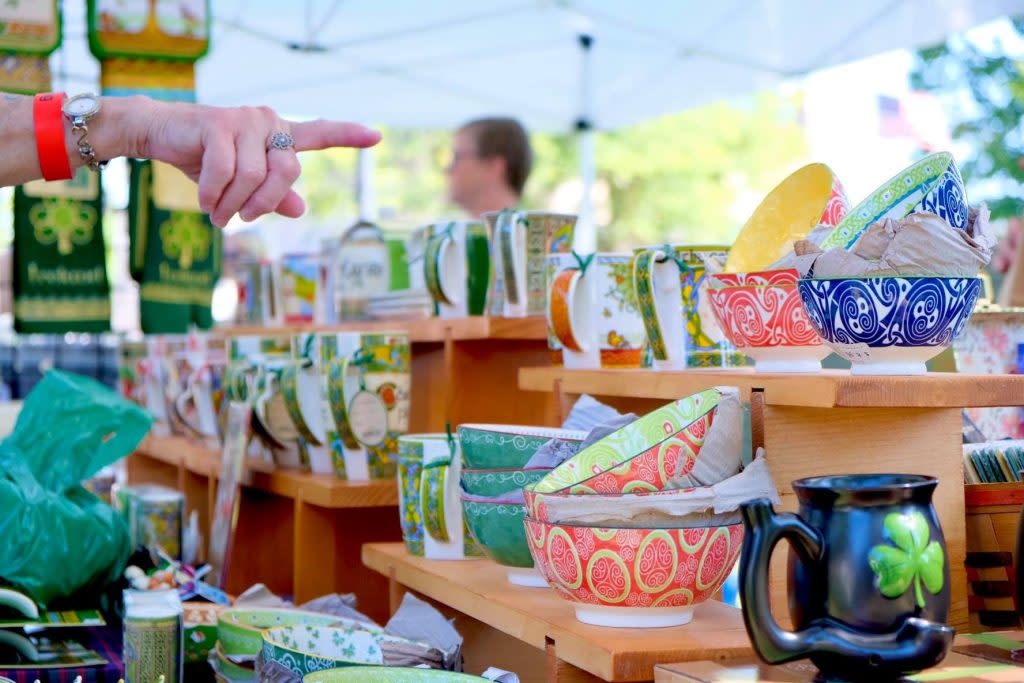 The Michigan Makers Market returns VanDyk Mortgage Convention Center. This indoor shopping event is presented by the Lakeshore Art Festival and will feature 80-100 craft and fine art exhibitors from the state of Michigan. 9:00 am - 5:00 pm. More Info HERE
Gobble Green Eggs and Ham
Take the wee ones for a Green Eggs & Ham Breakfast at the Greater Muskegon Woman's Club! The ladies are celebrating Reading Month, Dr. Seuss' birthday and the whole green theme with a delicious breakfast that includes a free Dr. Seuss book and visit from a Dr. Seuss' character. And you'll be finished in time for the St. Patrick's parade right out their back door. 10:00 am More Info HERE
Everyone Loves a Parade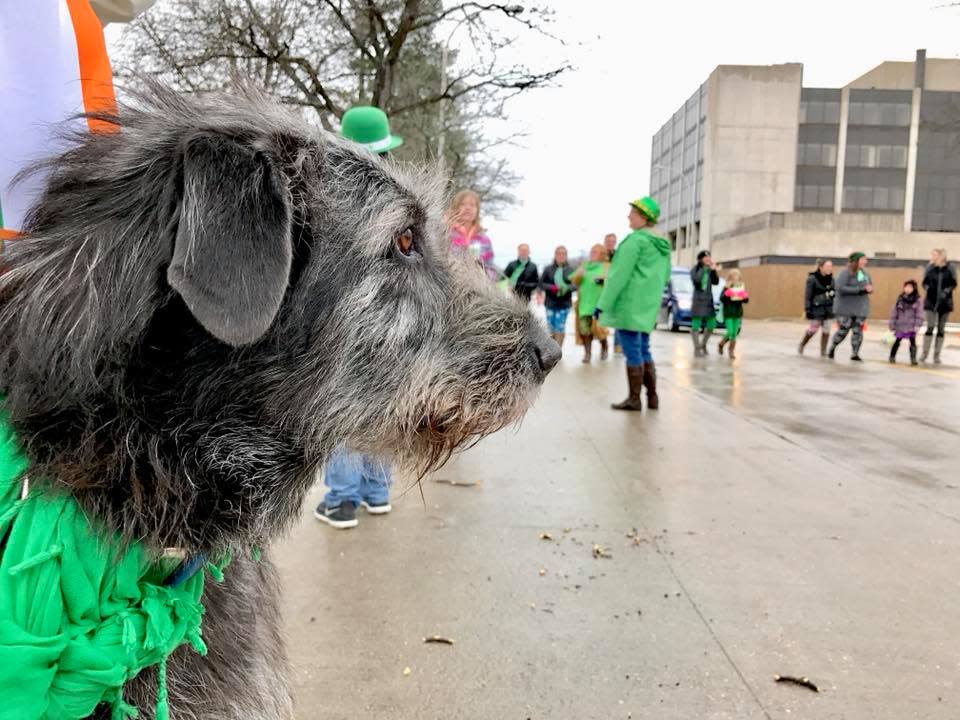 Be sure to finish your breakfast or run by 11:00 am! This is when the 10th Annual Muskegon St. Patrick's Day Parade is presented by the Greater Muskegon Jaycees. The fun, family-oriented parade marches in down Western Avenue from 6th to 2nd Street in downtown Muskegon. Entry fees to participate in the parade are non-perishable food and pantry items - and spectators are encouraged to bring them too! Volunteers will push shopping carts along the parade route collecting the items. Or, look for collection barrels located along the parade route. So, grab some canned goods and get gussied up in your green garb! Watch the floats, marching bands, dogs, live music, catch some candy and cheer for this year's Grand Marshall. 11:00 am.  More Info HERE
That's No Blarney
Make a wish and kiss the Muskegon version of The Blarney Stone! Superior Monument are bringing their version of the famous limestone landmark. Seek it out near the Olthoff Stage and see if you can get the gift o' gab. 11:00 am - 4 pm
Set Up Camp for the Day
After the Muskegon St. Patrick's Day Parade, spend the day "camped out" on right on Western Ave during "Shamrockin' in you Shanty"! Grab a drink in the social district and bring it back to "camp". There's a contest, soo deck out your shanty! Judges will select their favorites to win prize packages from local businesses and organizations. Food is allowed (or grab a bite downtown) but alcoholic beverages must be purchased at a participating establishment. 12:00 pm - 4:00 pm, $15. More Info HERE
March 12 12:00 - 4:00 pm
The Pipes, the Pipes are Calling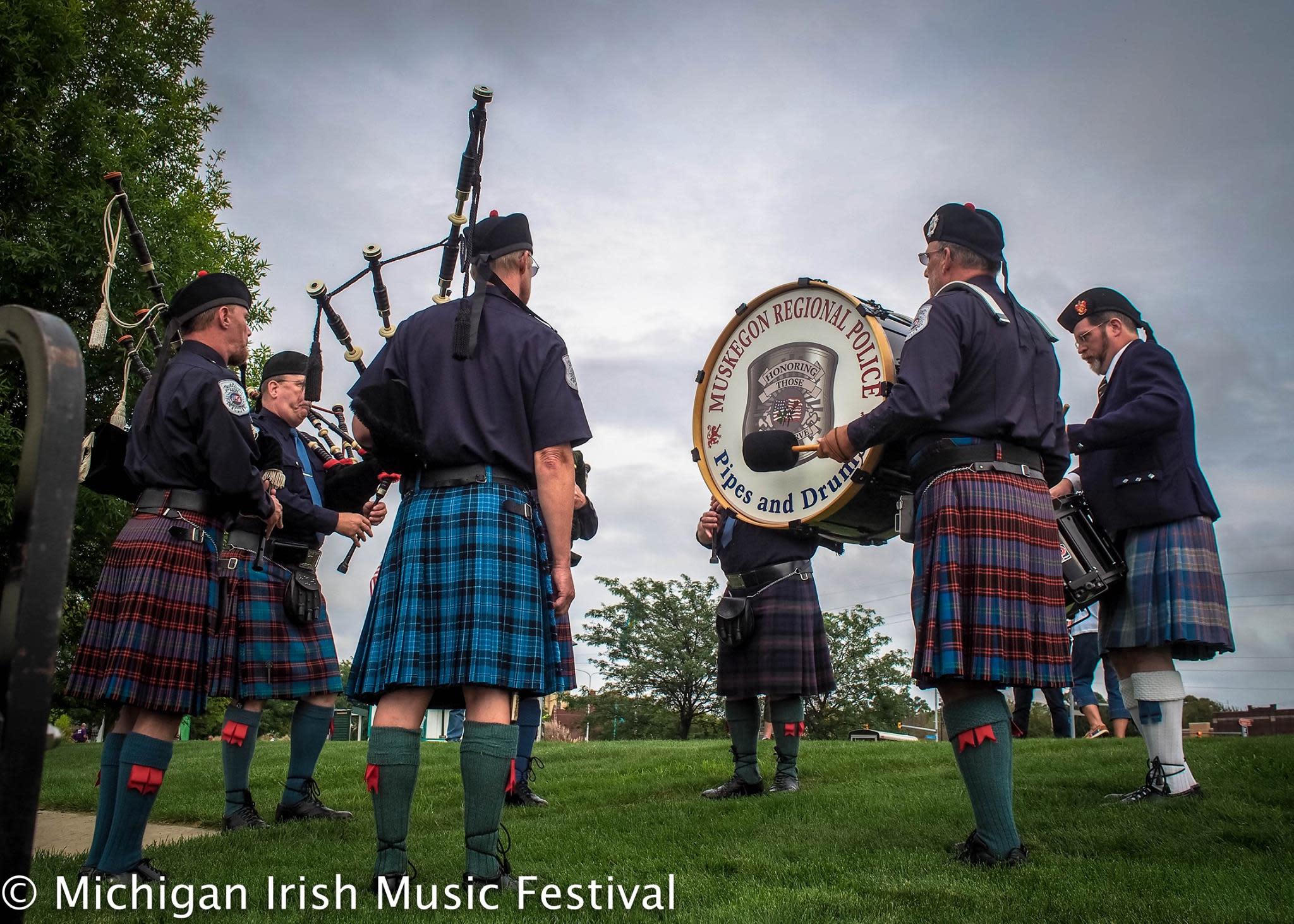 The Muskegon Regional Police Pipes and Drums invite you to join them for a St. Patrick's Day Pub Crawl  throughout Downtown Muskegon's Social District. Grab a brew or beverage and celebrate to the sound of bagpipes and drums! (Watch our TikTok) 1:00 pm - 4:00 pm, More Info HERE
Ongoing
See the Book of Kells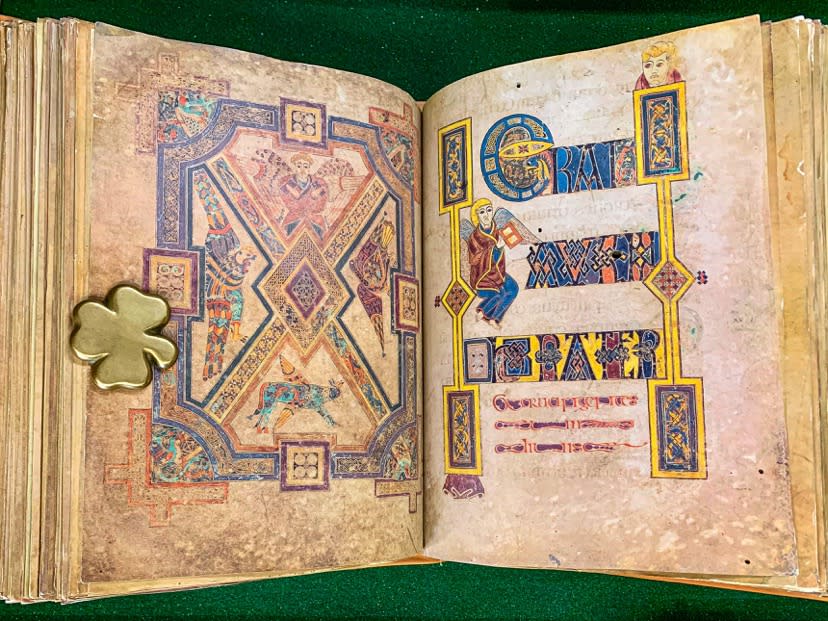 A MUST see is the Hackley Public Library's rare copy of "Book of Kells". Only 1,480 facsimiles of this breathtaking illuminated manuscript exist in the world. The original, housed in Trinity College Dublin, is widely regarded as Ireland's finest national treasure. As far as we know, ours and the copy at Washington Centerville Library are the only two available for public viewing in a library. You can learn more about this treasure in this Hackley Library Video HERE 
Try MI Irish Stout!
Muskegon local craft brewery; Pigeon Hill Brewing Company  invites you to "Hop" in to the Brewer's Lounge at Pigeon Hill and try a pint of their MI Irish Stout; the official stout of the Michigan Irish Music Festival! If you love it (and you will!) you can find cans to purchase in select stores while supplies last.
Dig Into the Roots 
Find out why Muskegon has such deep Irish roots; visit the Muskegon Museum of History and Science "Voices of Muskegon" display which shares the story of the Irish diaspora to the West Michigan area. Listen to the Muskegon History and Beyond podcast on the Irish Diaspora to Muskegon HERE
See the Home of Our Most Famous Irish American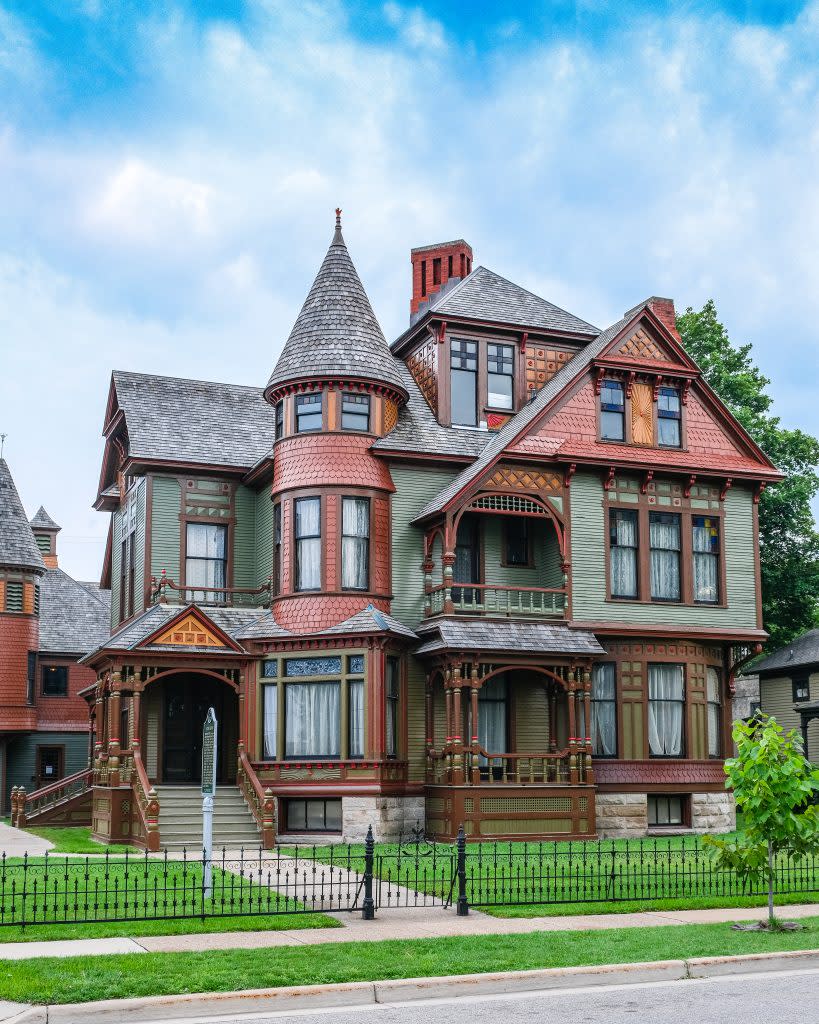 The Hume House of the Hackley and Hume Historic Site was home to lumber baron Thomas Hume. Thomas was very proud of his Irish ancestry. While tours do not begin until May, you can still wander the grounds and take in the marvel of these two Queen Anne style mansions, located in Downtown Muskegon. In the meantime, learn more about Thomas Hume HERE, in this Lakeshore Museum Center video.
Muskegon Sounds Like Ireland!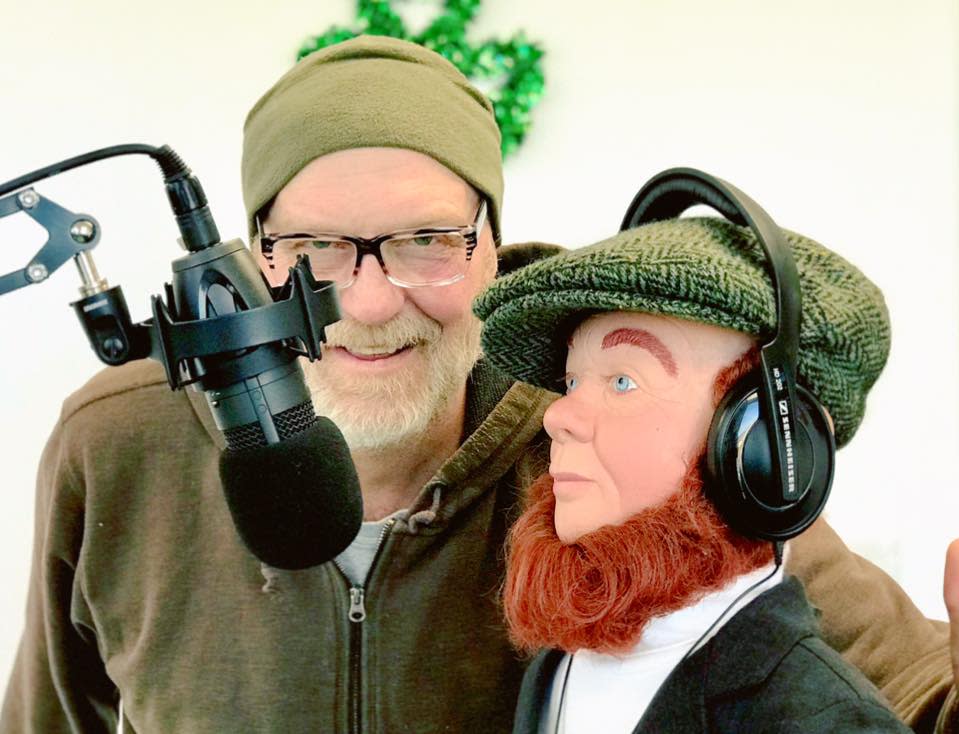 Did you know there is a Muskegon radio station that hosts an Irish music program? The show is hosted by "Voice of the Michigan Irish Music Festival" Bill Marshall and is "jammers" full of jams to get you in the mood for March! Tune in to Muskegon 100.9 FM from 5-7 pm EST on Thursdays. Good news, you don't have to be in Muskegon to listen to "Sounds Like Ireland"! Streaming is available HERE.
Information for all these events, and many more, can be found on our Calendar of Events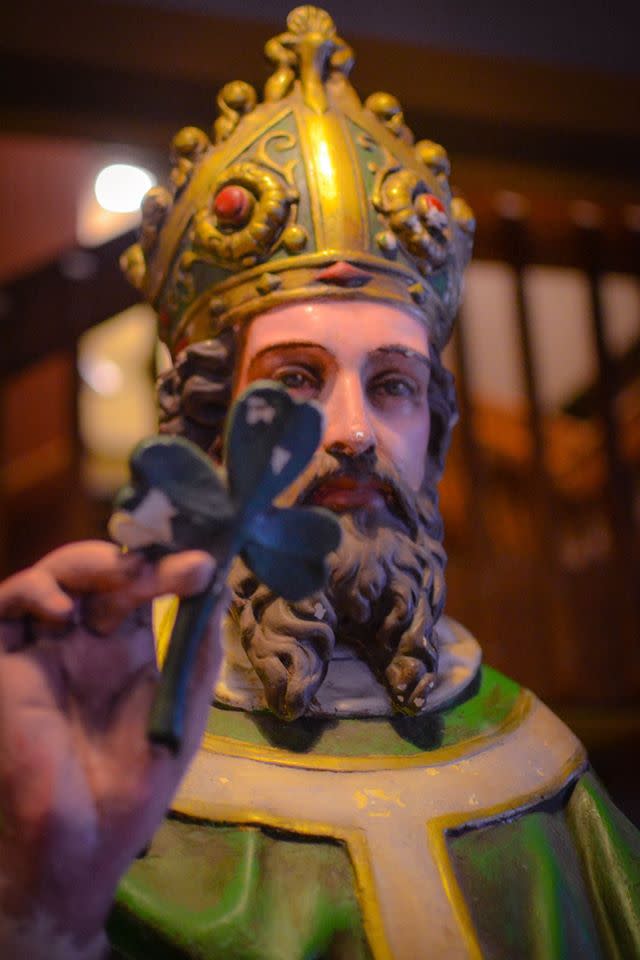 "Lá fhéile Pádraig sona dhuit!" Visit Muskegon wishes you a happy and safe St. Patrick's celebration and would LOVE to see your photos on social media!
Share your shenanigans with the hashtags #visitmuskegon and #watchmUSkeGOnIRISH