In 1918, on the 11th hour, of the 11th day, of the 11th month, "The Great War" came to an end. The "war to end all wars" was one of the most destructive wars in modern history. The conflict resulted in the death of more than 16 million soldiers and civilians. One year later Veterans Day originated as "Armistice Day" marking the first anniversary of the end of World War I.
In 1926 Congress passed a resolution to observe Armistice annually, which became a national holiday in 1938. In 1954 the annual observance was renamed "Veterans Day" by President Dwight D. Eisenhower.
Muskegon County is proud to honor those who have served our country, whether living or gone. Visit us and take a walking tour of these Military, Monument and Memorial sites:
Civil War Monuments in Hackley Park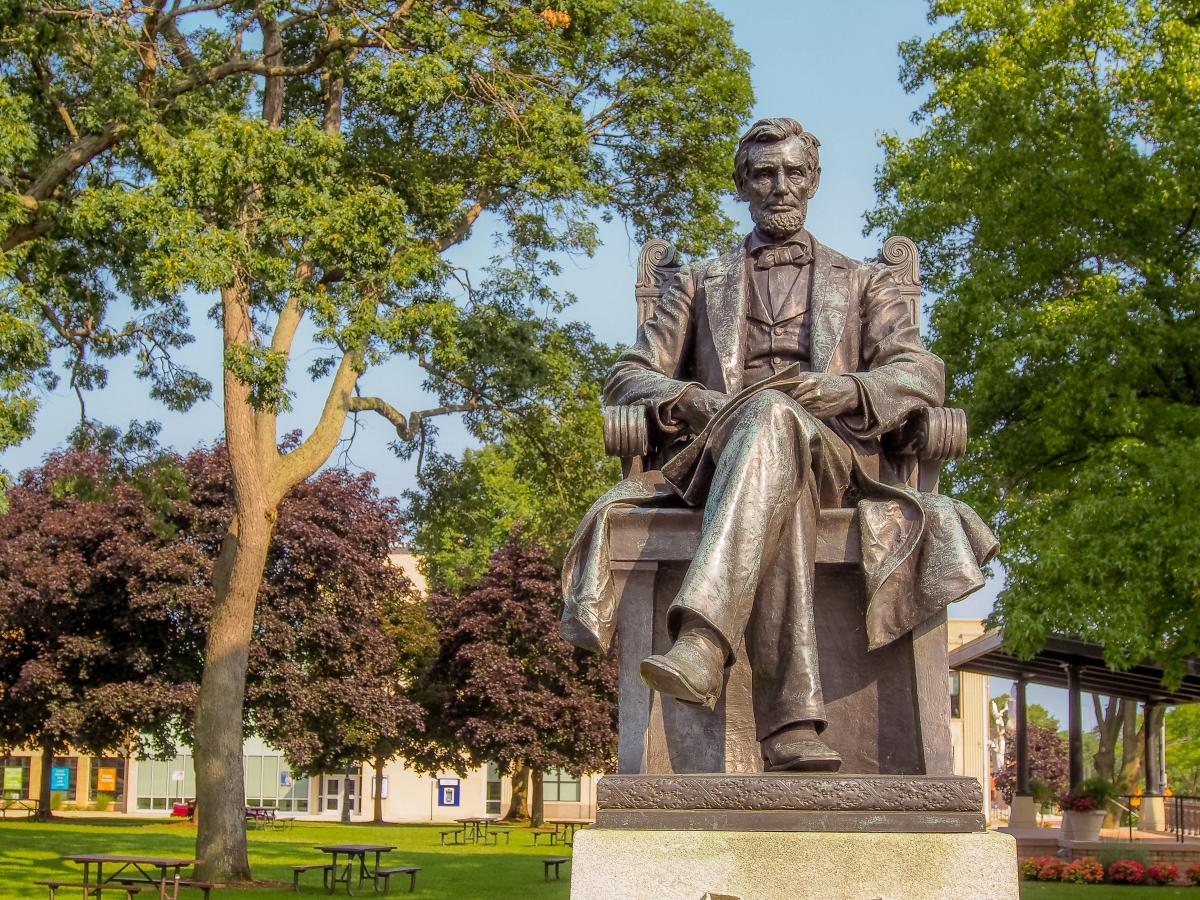 Standing on each of the park's four outside corners are large bronze statues of Civil War heroes: President Abraham Lincoln and David Farragut by artist Charles H. Niehaus and General Ulysses S. Grant and William Tecumseh Sherman by Artist J. Massey Rhind.
Address: 350 W Webster Ave, Muskegon, MI 49440
Sailors and Soldiers Monument in Hackley Park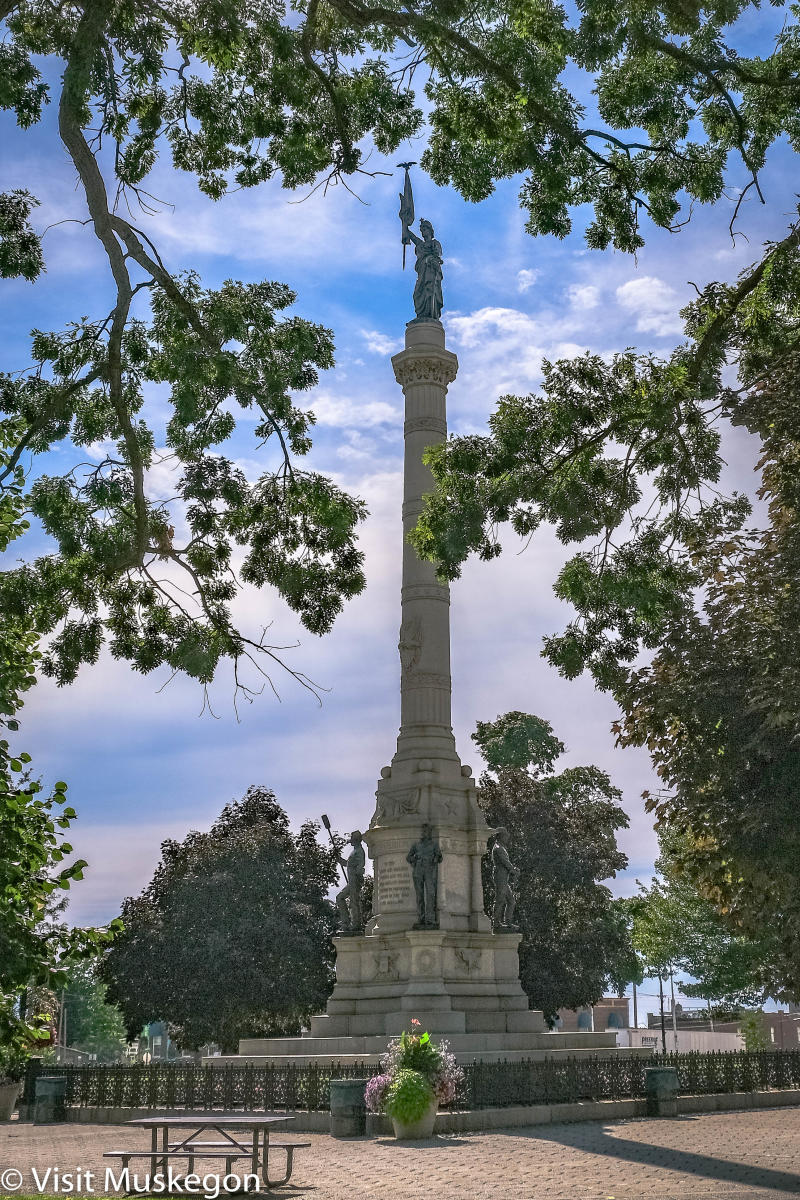 "Not conquest but peace and a united people. To the soldiers and sailors who fought, and to all patriotic men and women who helped to preserve our nation in the War of the Rebellion."
Standing guard in the center of Hackley Park is the Sailors and Soldiers Monument. Beautiful, bronze "Victory" graces a cylinder of granite that reaches 75 feet to the sky. Around the base, four statues represent Infantry, Artillery, Cavalry, & Navy. It was created by sculptor Joseph Carabelli and gifted to the city by Charles Hackley on May 30, 1892.
Address: 350 W Webster Ave, Muskegon, MI 49440
Statue of General Philip Kearny at the Corner of Peck and Terrace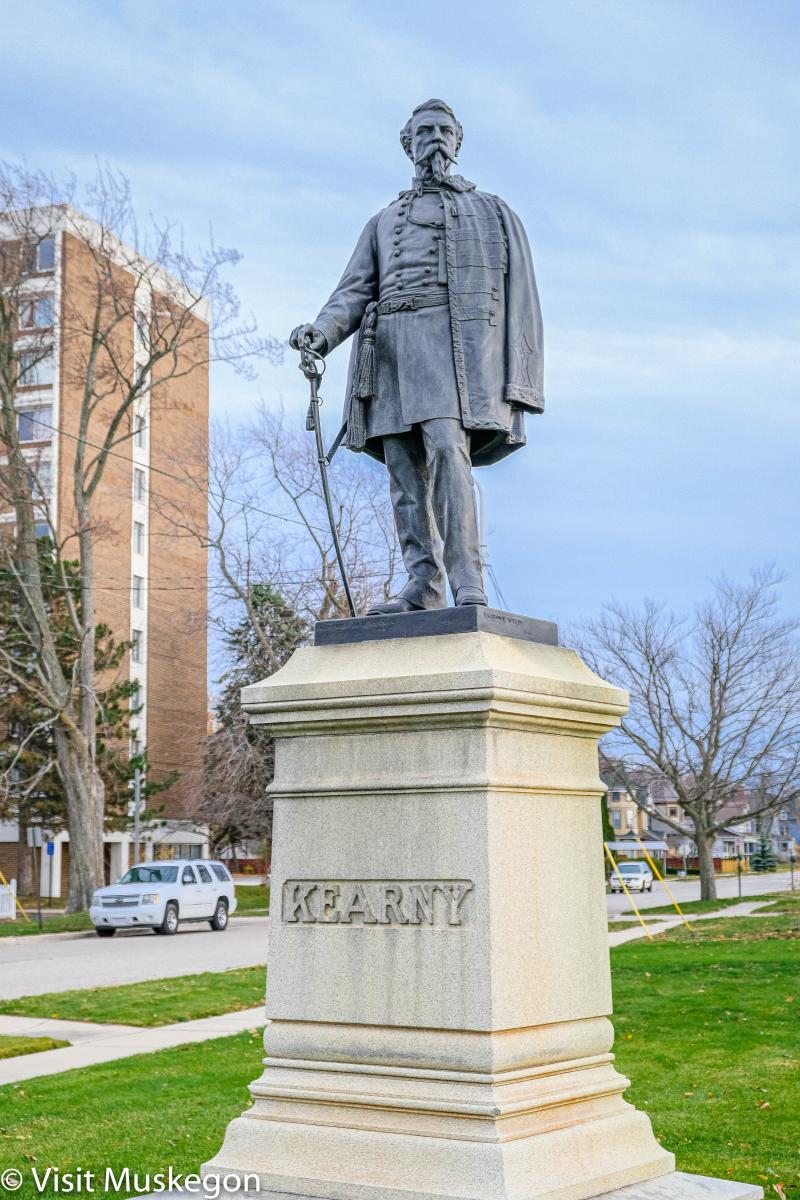 Nicknamed "The One-Armed Devil." Philip Kearny Jr. was a United States Army officer, notable for his leadership in the Mexican American War and American Civil War. Read more about Kearny and the beautiful Kearny Memorial Park and Fountain HERE
Address: Corner of Peck and Terrace in Downtown Muskegon
USS LST 393 Veterans Museum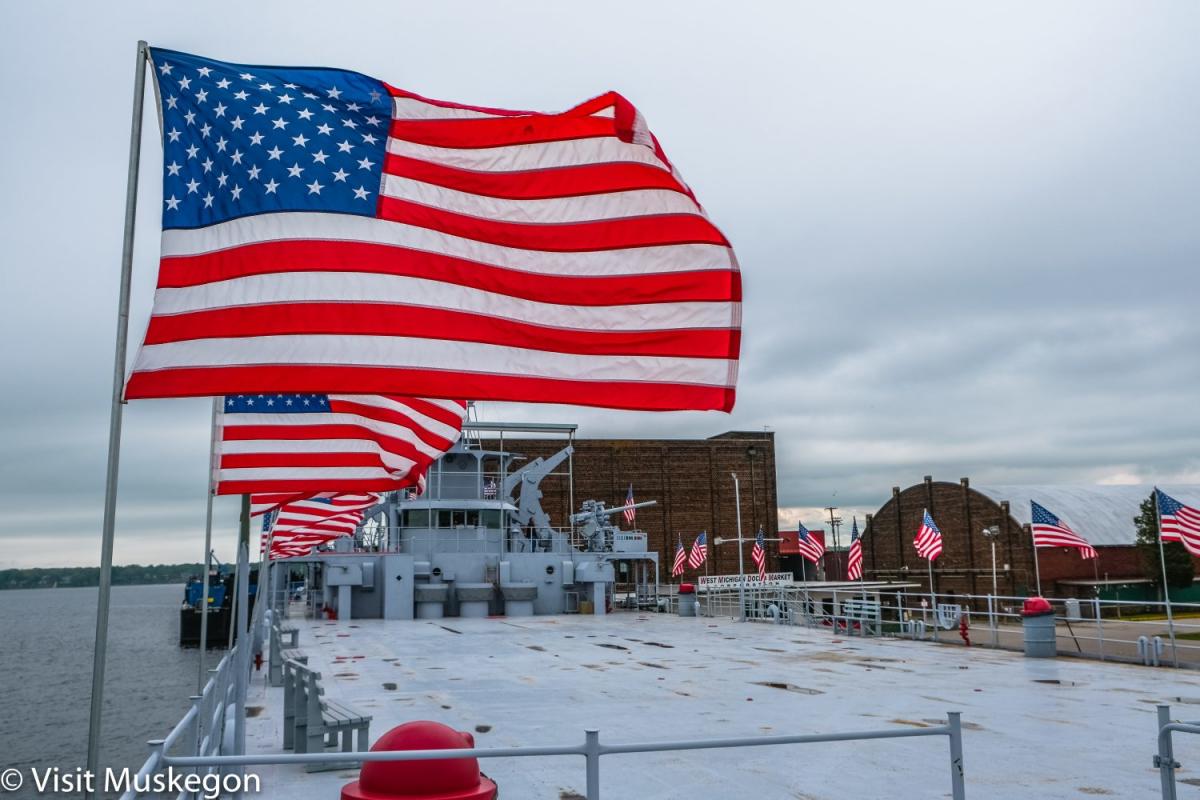 While not open for tours during winter, visitors can still and marvel at the exterior of the USS LST 393 Veterans Museum. Bike or walk along the Lakeshore Trail, or park at the Mart Dock to view her and the "Boogie Woogie Bugle Boy" sculpture. She is one of only two LSTs to survive in their original configuration. During her service she won battle stars for the Sicilian occupation, Salerno landings, and the Invasion of Normandy. The LST 393 made 75 voyages to foreign shores and was one of the only LSTs to be equipped with an airplane. The USS LST 393 is open for seasonal for tours between May and September.
Address: 560 Mart St, Muskegon, MI 49440
Boogie Woogie Bugle Boy at the Mart Dock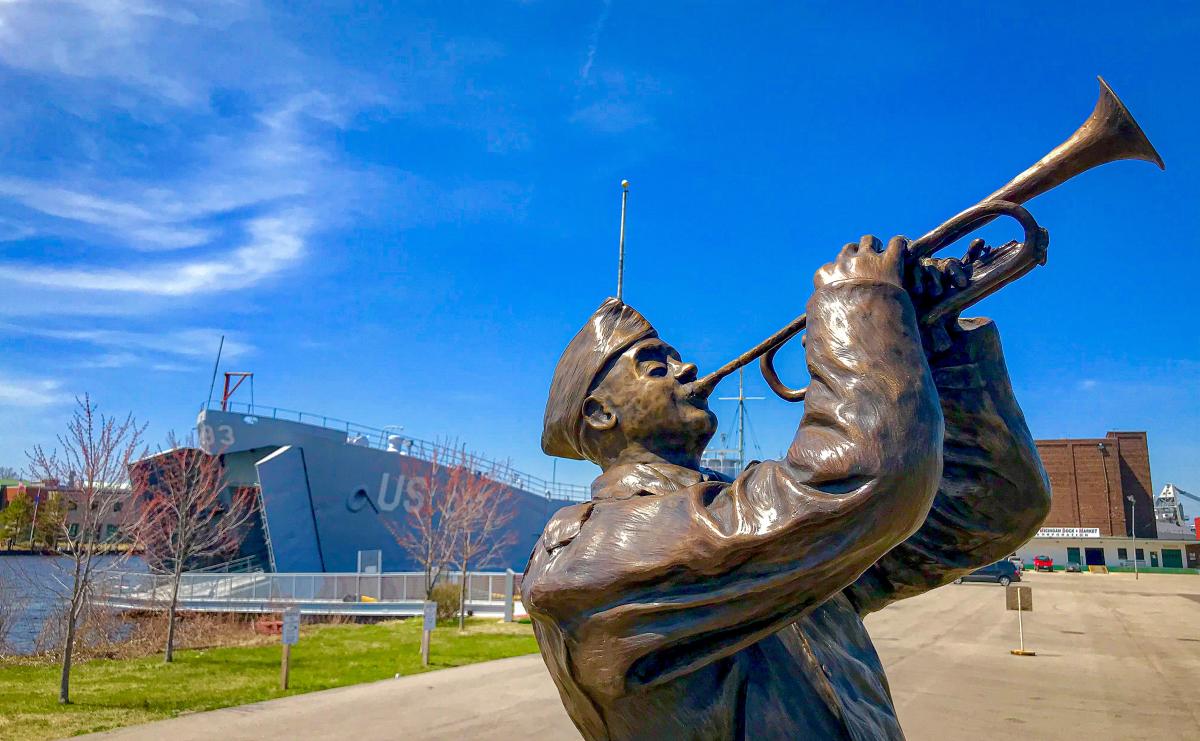 "Boogie Woogie Bugle Boy" by sculptor Ari Norris is located near the bow of the USS LST 393 Veterans Museum. The statue represents Muskegon-born Clarence Zylman, the famed Boogie Woogie Bugler of World War II and topic of the famous Andrews Sisters song, later re-recorded by Bette Midler.
Address: 560 Mart St, Muskegon, MI 49440
USS Silversides Submarine Museum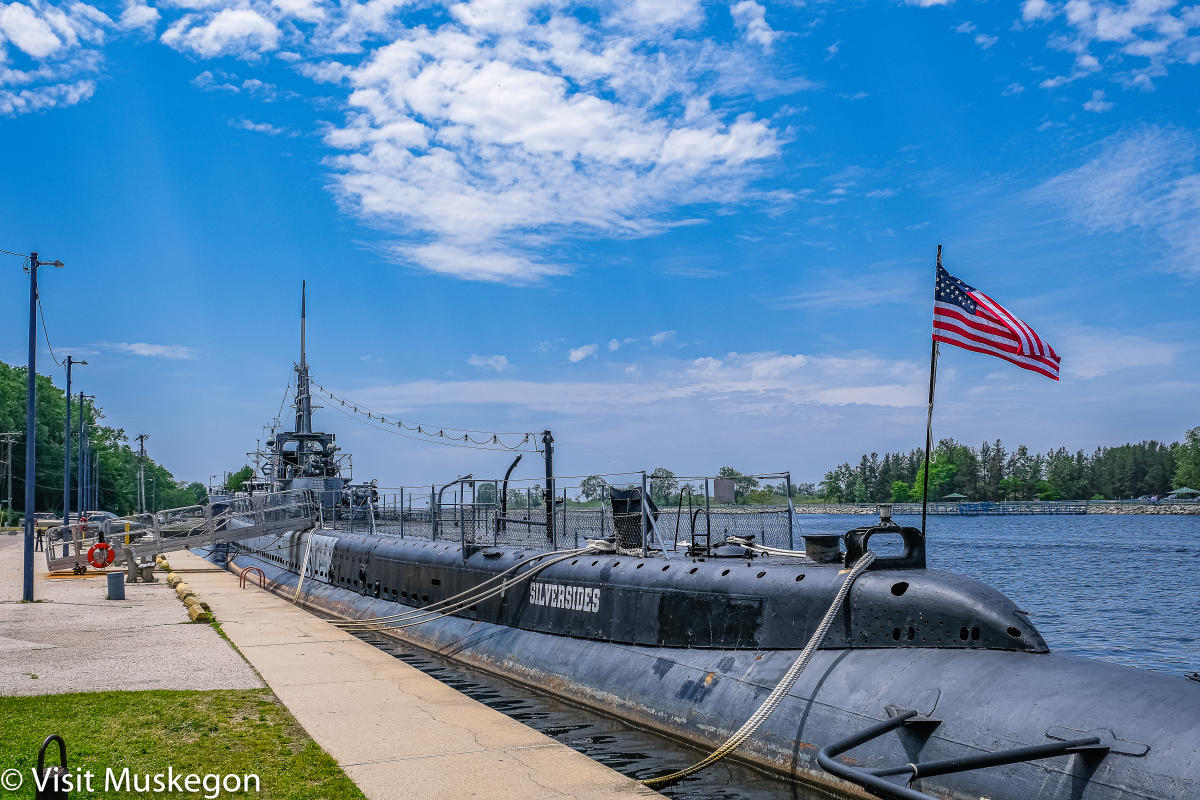 The USS Silversides is a historic Gato class submarine. During her service, she received 12 battle stars and was awarded a Presidential Unit Citation for cumulative action over four patrols. She is credited with sinking 23 ships – the third-most of any allied World War II submarine!
Tours are available year-round. Hours are 10:00 am – 5:30 pm, Sunday through Saturday. Your combination ticket includes a tour of the Submarine, Cutter and Indoor Museum! 
Address: 1346 Bluff St, Muskegon, MI 49441
Veteran's Memorial Park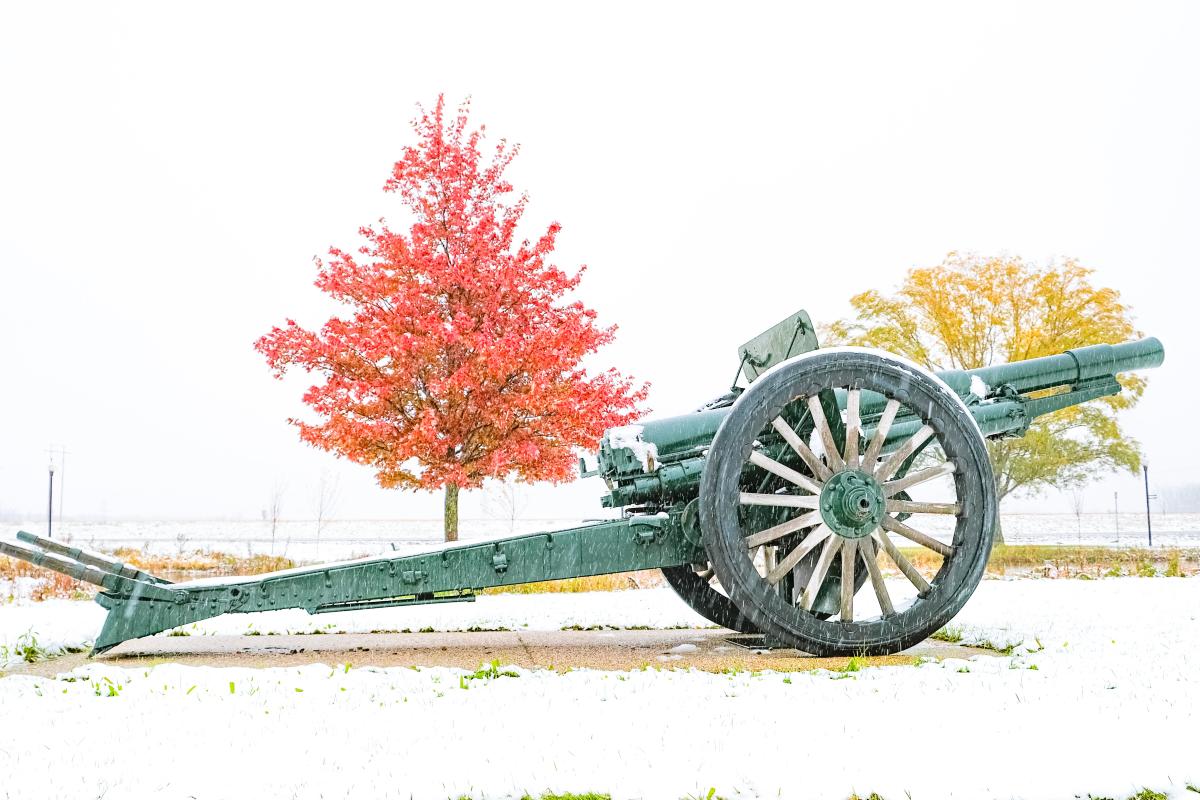 Located on the Causeway at the East End of Muskegon Lake is" Veterans Memorial Park". This 50-acre park contains a lagoon and small island which can be reached by 2 footbridges.
The park boasts several war memorials, a large fountain on the South end and a Vietnam Memorial to the North. It was originally built in 1928 and formally dedicated on November 11, 1934. Read more about Veteran's Memorial Park and its many monuments HERE
Address: M. Causeway, Muskegon, MI 49445
Vietnam War Memorial "Final Approach" Hidden Cove Park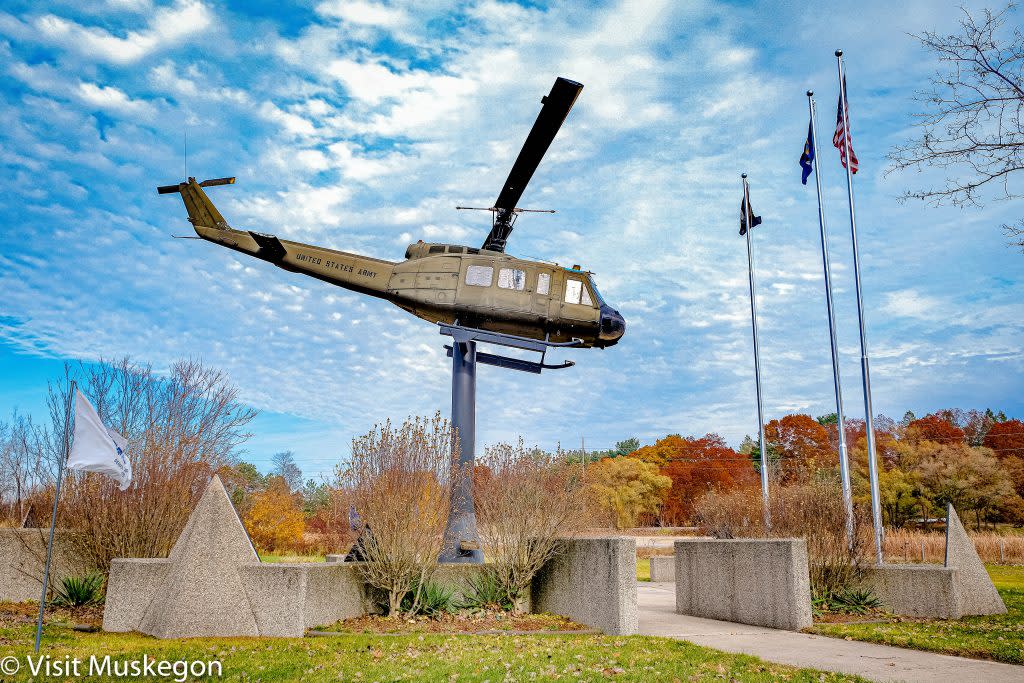 Tucked inside Hidden Cove Park, a 20-acre park located on Mona Lake in Norton Shores, is the Vietnam War Memorial "Final Approach". Rising above the park, surrounded by flags, benches and plaques is a UH-1D helicopter, a combat veteran of the Vietnam War. Read more HERE
Address: 3941 Grand Haven Rd, Norton Shores, MI 49441
The soldier above all others prays for peace, for it is the soldier who must suffer and bear the deepest wounds and scars of war.
~ Douglas MacArthur