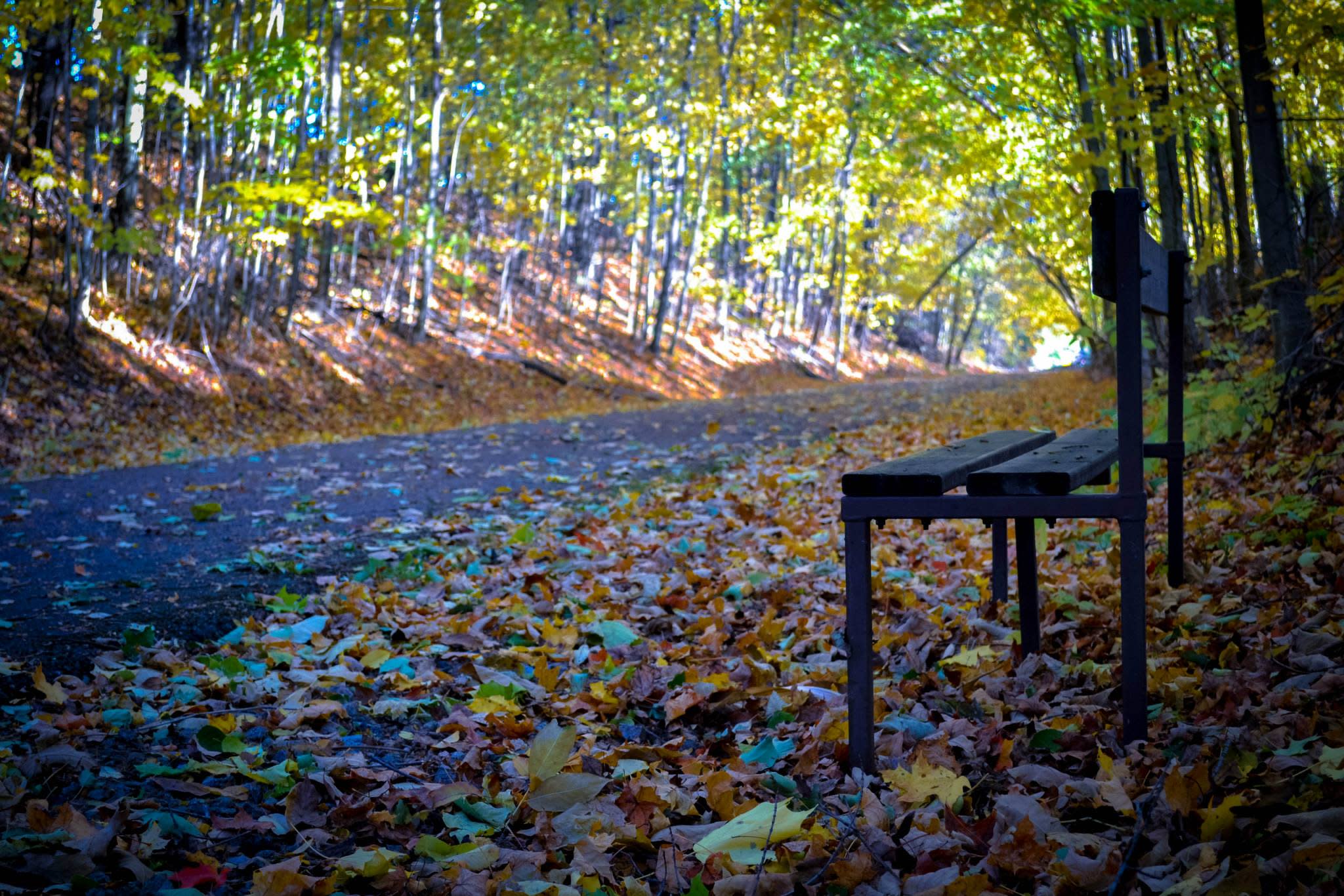 Looking for space to enjoy the great outdoors, breathe in some fresh air and delight in the scenery? Muskegon County has an abundance of nature suited to your desires. According to the Muskegon Area-Wide Plan, we have 337,088 acres of land in Muskegon County. Of that, nearly 162,200 acres (48 percent) is forested. An additional 27 percent is for agricultural or open space use.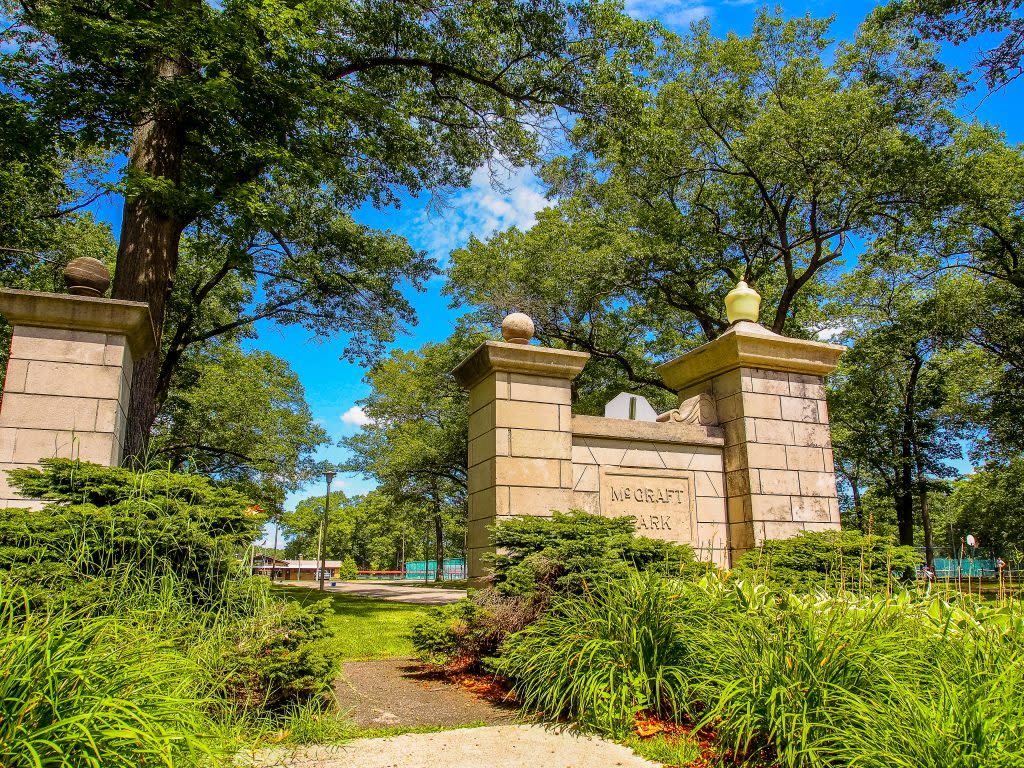 All this outdoor area makes it easy to head outside for fresh air and fantastic views, while still practicing social distancing. There's plenty of room at our three state parks, seven county parks, 34 City of Muskegon Parks , 8 City of Norton Shores Parks, 7 Public Parks in the White Lake Area and dozens more throughout the County.
Solitude in State Parks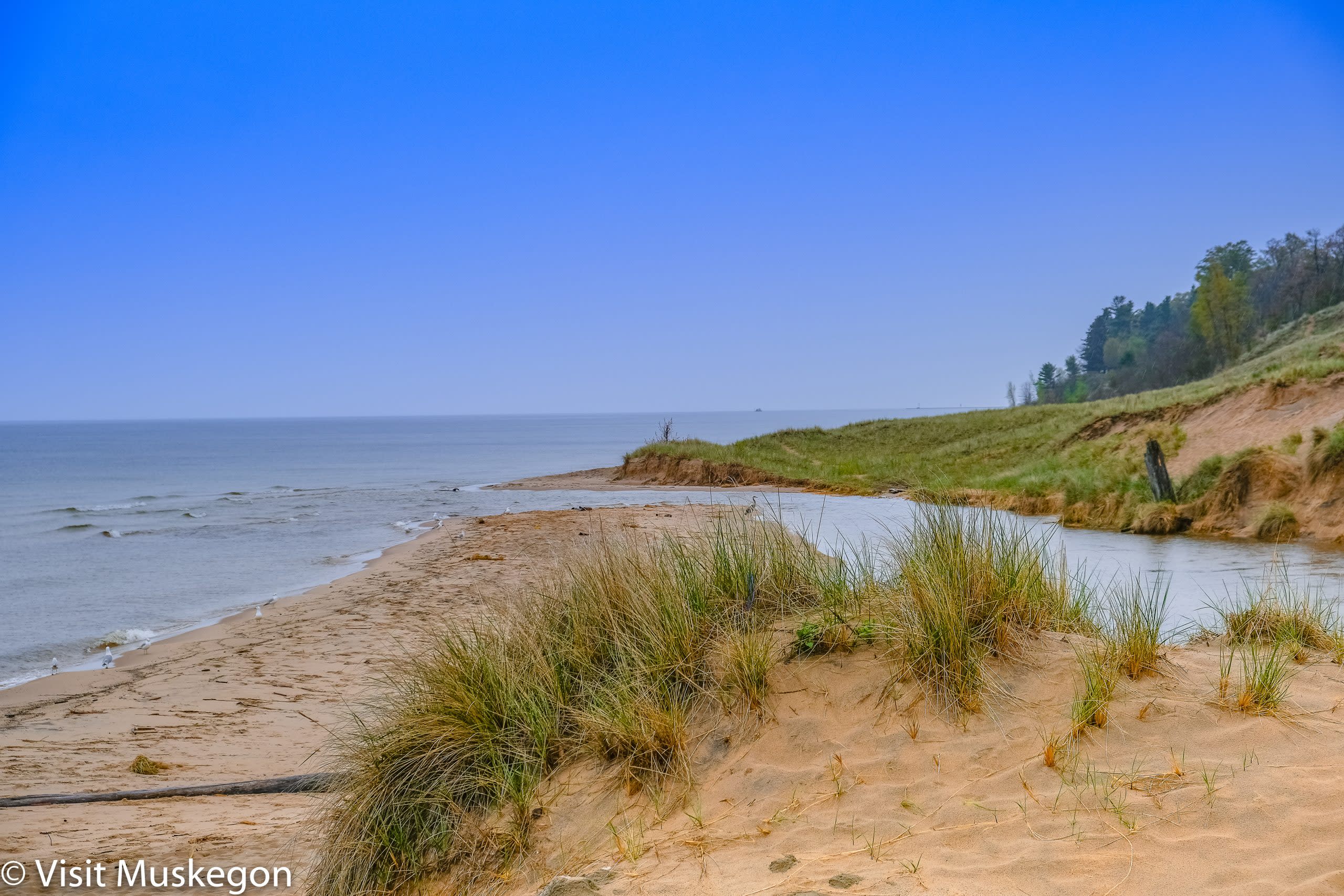 Our three state parks include:
Duck Lake State Park - 728 acres stretching from the northern shore of Duck Lake to Lake Michigan. A paved path provides a pleasant stroll through the woods and along the Duck Lake shoreline.
Hoffmaster State Park - The state park includes 1,200 acres of land featuring forest-covered dunes along three miles of Lake Michigan shoreline. There are 10 miles of scenic hiking trails.
Muskegon State Park -  The park's 1,233 acres include two miles of Lake Michigan and one mile of Muskegon Lake beach. The park offers twelve miles of hiking trails.
A Country Mile in County Parks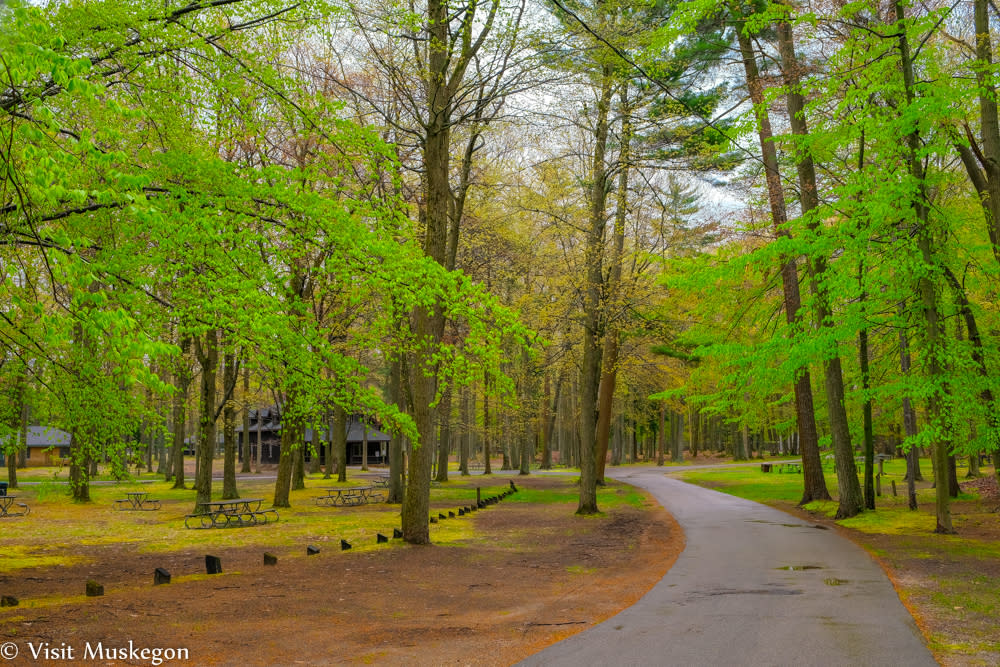 Muskegon County Parks Department offers seven pleasant park options. The parks are located along Lake Michigan, inland lakes and picturesque waterways. These seven County Parks include:
Blue Lake County Park - This 25-acre park boasts nearly 600 feet of water frontage along the southeast shore of Big Blue Lake.
Dune Harbor Park Muskegon County - The new 214 acre Park had a "soft opening" in March of 2022. Visitors can explore over 2 miles of trails through forested dunes, containing many native plants and species; making it a future favorite for birders.  An inland lake offers kayaking, paddle sports and fishing.
Meinert Park - The 182 acre park provides rolling dunes and scenic overlooks offering  spectacular views of Little Flower Creek and the Lake Michigan shoreline. Visitors can climb a trail to the top of a dune for a panoramic view of lake Michigan and the surrounding countryside.
Moore Park - This Park is 36 acres of hills, woodlands, wetlands and grassy open areas with a 1,500-foot shoreline along Half Moon Lake.
Patterson Park - Enjoy walking the riverbank on 28 acres of river flood plain with overlook decks and wooded and open areas.
Pioneer Park - 145 acres boasting overlook decks and stair access that guides you to over 2,000 feet of beach frontage.
Twin Lake Park - 15 acre park with 800 feet of Twin Lake water frontage.
Room to Breath on the Beach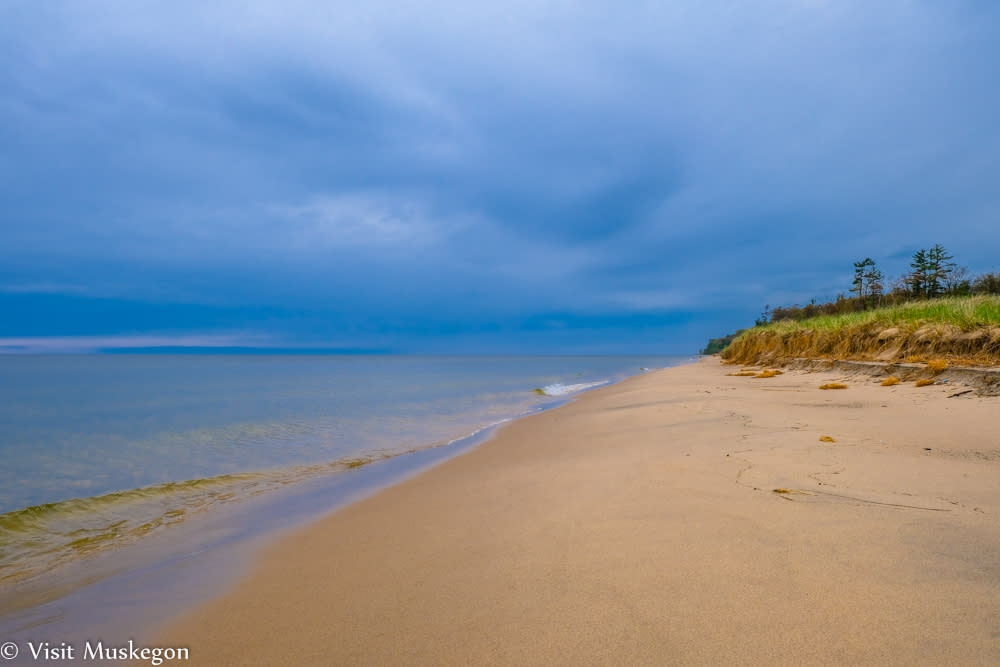 Muskegon's Lake Michigan shoreline features 26 miles of beach, including nationally-certified clean beach; Pere Marquette Park. Lake Michigan Beaches: Flower Creek Dunes Nature Preserve - Accessible only by walking 1/4 mile north along the beach from Meinert County Park. 31 acres of unspoiled dune habitat along the lakeshore. The John J. Helstrom Dune Ridge Trail provides a safe way to access the steep dunes, leading to an overlook with panoramic views of Lake Michigan and the surrounding dunes.  Lake Harbor Park - Lake Harbor Park is a 189 acre park located on Lake Harbor Road, just north of the Mona Lake Channel. The park has over 4000 feet on Lake       Michigan, 2000 feet on the Mona Lake Channel and 1500 feet on Mona Lake. The park can be accessed by foot, bike, car or boat. Medbery Park - 600 feet of Lake Michigan shoreline north of the White Lake Channel, small picnic area, restrooms (no running water), a beach volleyball court (bring your own net) and park benches along the channel to sit and enjoy the view.  Of course, you can fish from any place along the channel.  Medbery Park and the White Lake Channel are handicap accessible. Meinert Park - 82 acres with rolling dunes, including a large parabolic dune and scenic overlooks providing spectacular views of Little Flower Creek and the Lake Michigan shoreline. Visitors can climb the unimproved trail to the top of a dune for a panoramic view of lake Michigan and the surrounding countryside. Daily: $ 5.00 Pere Marquette Park - Pioneer County Park - 145-acre Muskegon County park is located in Laketon Township on Scenic Drive on the Lake Michigan shoreline.  It features a swimming beach, picnicking, 213 campsites, parking fee of $5.00 Duck Lake State Park - 728-acre day-use park, located in Muskegon County. Featuring a towering sand dune, the park stretches from the northern shore of Duck Lake to Lake Michigan. parking fee of $11.00 Kruse Park - one mile of Lake Michigan beach. off-leash dog beach along the northern part of the park. Nature trails, playground, basketball court and restrooms. Muskegon State Park - Muskegon State Park is home three miles of breathtaking shoreline (two miles along Lake Michigan and one mile on Muskegon Lake PJ Hoffmaster State Park - P.J. Hoffmaster State Park features over three miles of Lake Michigan shoreline, a 297-site modern campground (some sites with 50 amp service), towering Lake Michigan dunes and the Gillette Visitor Center. Miles of hiking and skiing trails offer stunning views of Lake Michigan and subtle beauty at every turn. One of the main attractions at Hoffmaster State Park is the Dune Climb Stairway leading to the top of a high sand dune where an observation deck offers a panoramic view of the dunes and Lake Michigan.
Inland Lakes provide more beach time opportunities
Beals Wolf Lake and Sunset Beach on Wolf Lake. Both offer boat launches, designated swimming areas and restroom facilities. Sunset Beach Park covers 2.6 acres on the northwest side of the lake. The 6.6-acre Beals Wolf Lake Park offers a ball field and pavilion, in addition to lake access. Blue Lake Park - located on Big Blue Lake north of Muskegon on Nichols Road with nearly 600 feet of frontage along the southeast shore of the Big Blue Lake, this 25-acre park offers swimming, carry-In boat access, fishing, boating, water-skiing and camping. DunnMee Beach -  Harbour Towne Beach on Muskegon Lake -  Horton Park on Bear Lake - This small township park offers access to the relatively shallow waters of Bear Lake. Bear Lake is connected to Muskegon Lake by a recreational channel Maple Grove Park (aka Bathing Beach) on White Lake - covered picnic area, updated restroom facilities, barbeque grills, playground equipment, sand volleyball courts and a paved circular walking path by White Lake, which is also good for roller blades. Mona Lake Park - Moore Park on Half Moon Lake - is 36 acres of hills, woodlands, wetlands and grassy open areas with 1,500-foot shoreline. The lake is a popular attraction for fishing, boating, swimming and picnicking. Padley Park on West Lake - Very cozy and small beach area with parking. Located on West Lake Rd Ross Park on Mona Lake - Ross Park is a 43 acre park located on the south side of Mona Lake. Sandy beach area includes play equipment, a picnic area, a paved walkway and a volleyball area. Twin Lake County Park - Located on Twin Lake north of Muskegon on M-120. Pet Friendly Park, Picnicking, Fishing, Boat Launch, Barrier Free, Playground, Tennis and Volleyball. Daily $5.00 Vander Velde Beach on Bear Lake - Small sandy swimming beach on Bear Lake at the end of Fleming Street. Free parking, and restrooms.
Photo by Curb Free With Cory Lee
No Barriers 
Barrier free access to beaches can be found via walkway ramps at *Kruse Park, Pere Marquette Beach and Muskegon State Park. Muskegon State Park barrier free access  includes passage to Lost Lake. The Gillette Sand Dune Visitor Center features a barrier-free walkway overlooking the valley and dunes. *Please note that the beach at Kruse Park is not accessible at this time in an effort to diminish further erosion. The boardwalk through the dunes remains open. Read the Curb Free with Cory Lee article "Four Wheelchair Friendly Things to Do in Muskegon MI". Cory's trip to Muskegon was included in his article "Five Most Wheelchair-Friendly Beaches in the U.S." published by National Geographic!
Withdraw to a Walking Trail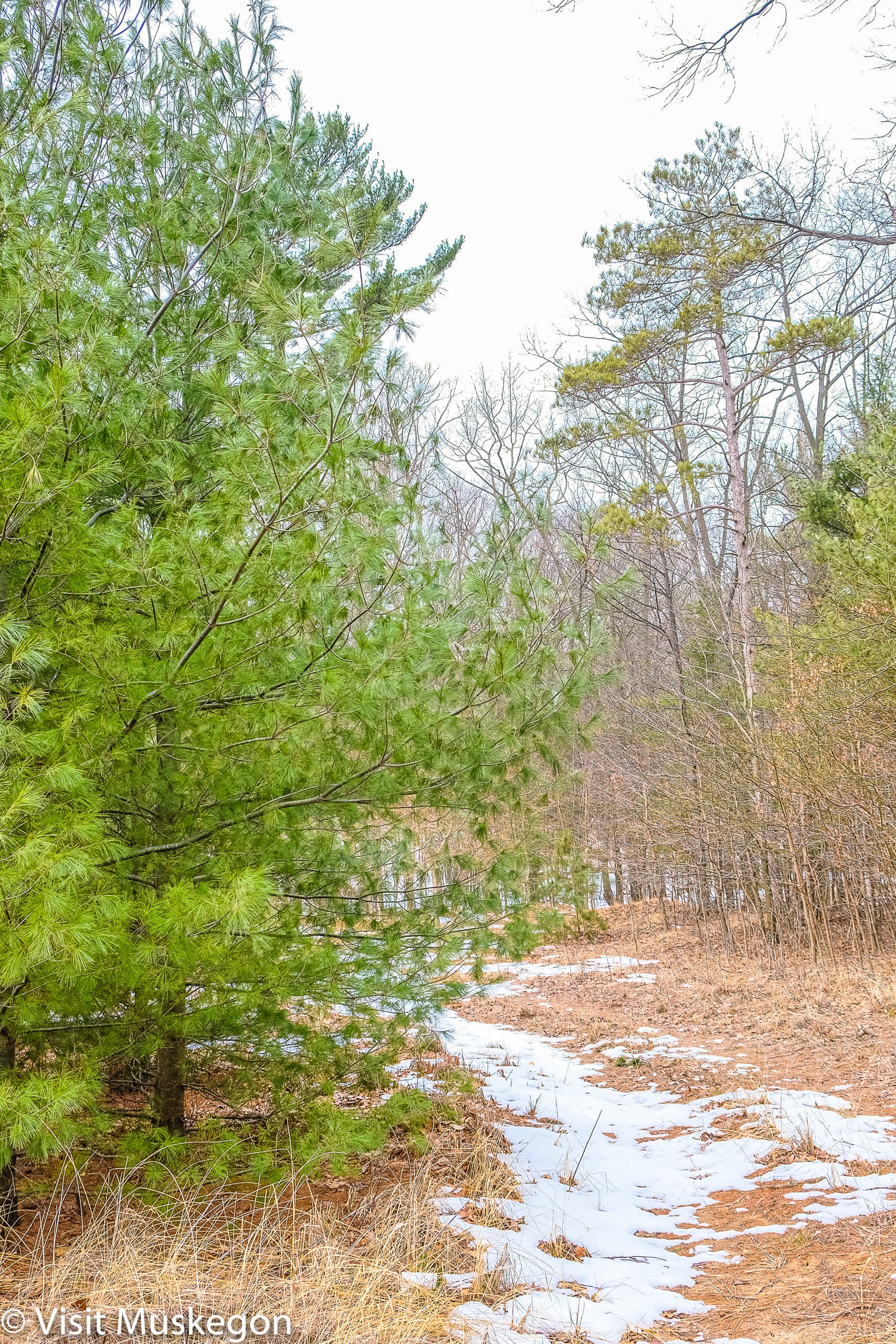 With over 60 miles of natural and paved trails, you will find plenty of solitude and stunning views. The Hart-Montague Trail and Musketawa Trail offer 24 and 26 miles of paved pathways.  Muskegon State Park offers 3 miles of beach and 12 miles of hiking trails. You can find a complete listing of our trails here.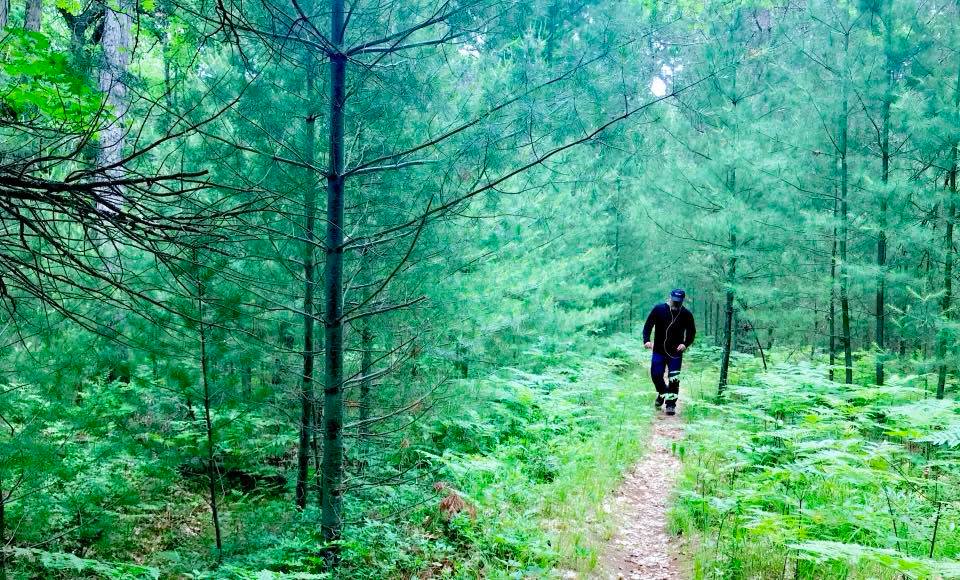 Trail maps are also available for the following trails. Simply click on the name:
City of Muskegon Lakeshore Trail | The Musketawa Trail | Hart-Montague Trail State Park | Black Lake Park I Lakeshore Trail Detour Map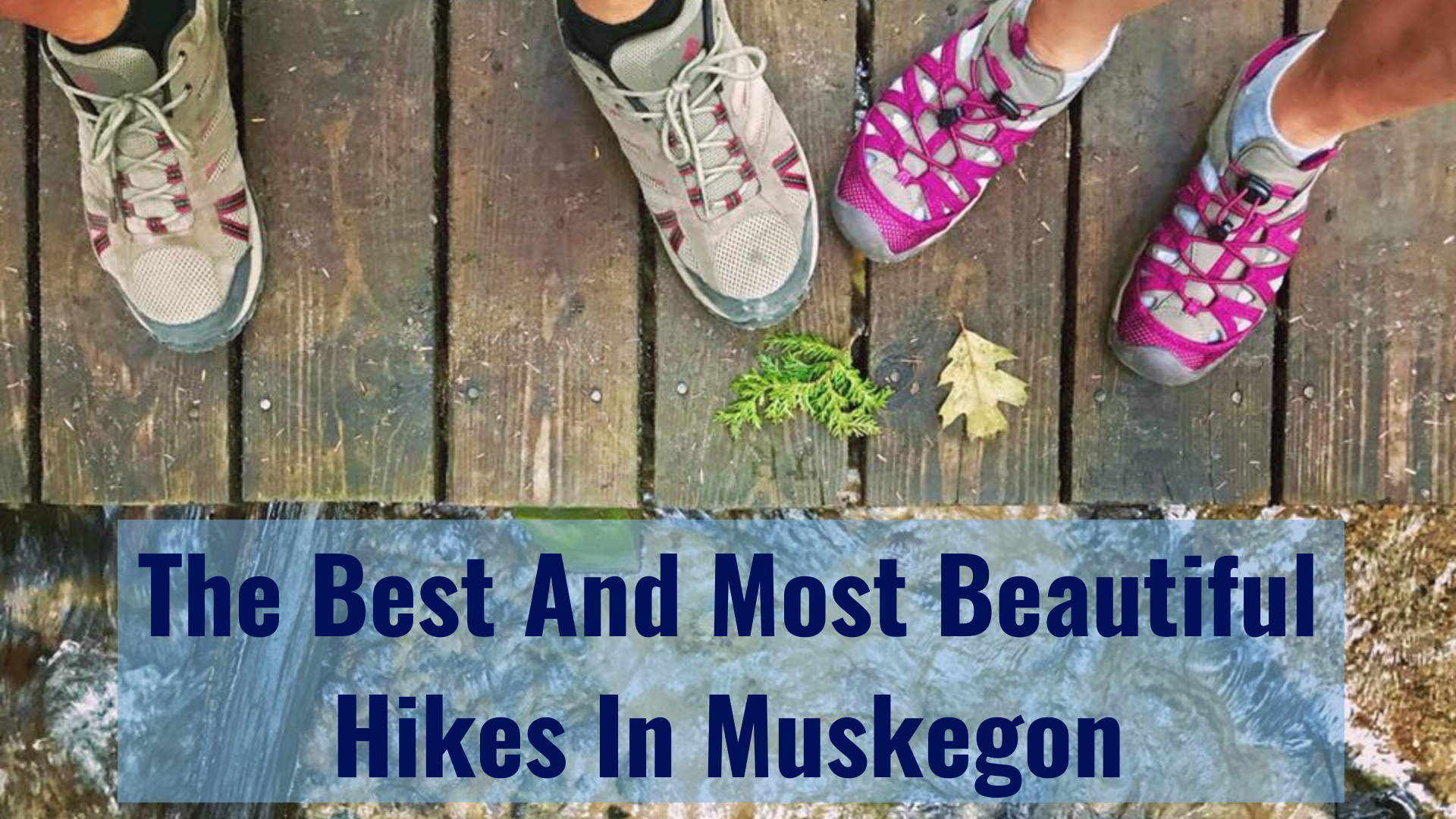 You can also read about "The Best And Most Beautiful Hikes In Muskegon" by clicking here!
Springtime reminder to protect our trails: 
Riding or walking on a muddy trail destroys the surface. It leaves ruts/deep holes, uneven tire and footprints, contributes to erosion and creates a hard-to-fix trail surface. Hint: If you are leaving visible bicycle ruts, deep footprints or hoof tracks the trail is too muddy. Read more DNR tips for Trail Etiquette HERE
Happy Camper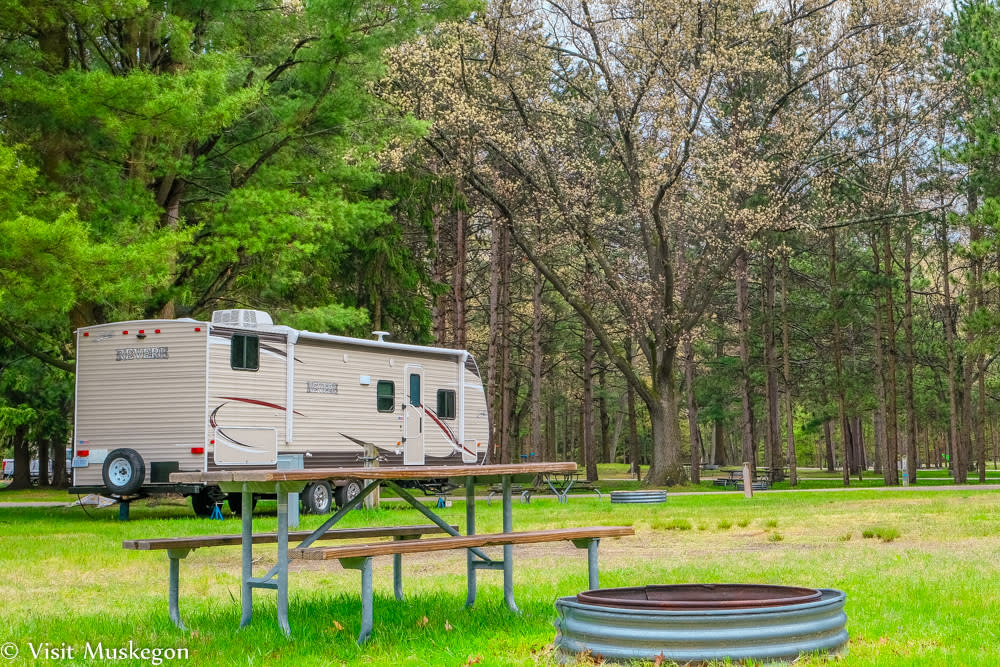 The scenic campgrounds at Pioneer, Meinert, and Blue Lake Parks are open to campers. Don't forget when packing your gear, a mask needs come camping with you. While not required while enjoying the beautiful outdoor setting (unless you are unable to maintain a distance of 6 feet from persons not in your party), a mask IS required while entering any indoor facility located on the grounds. Please assist our County Parks in staying compliant with Executive Order 2020-147.
Campground reservations are available online only at muskegoncountyparks.org. Click here to view the Muskegon County Parks COVID-19 response and requirements.
Wander the Wastewater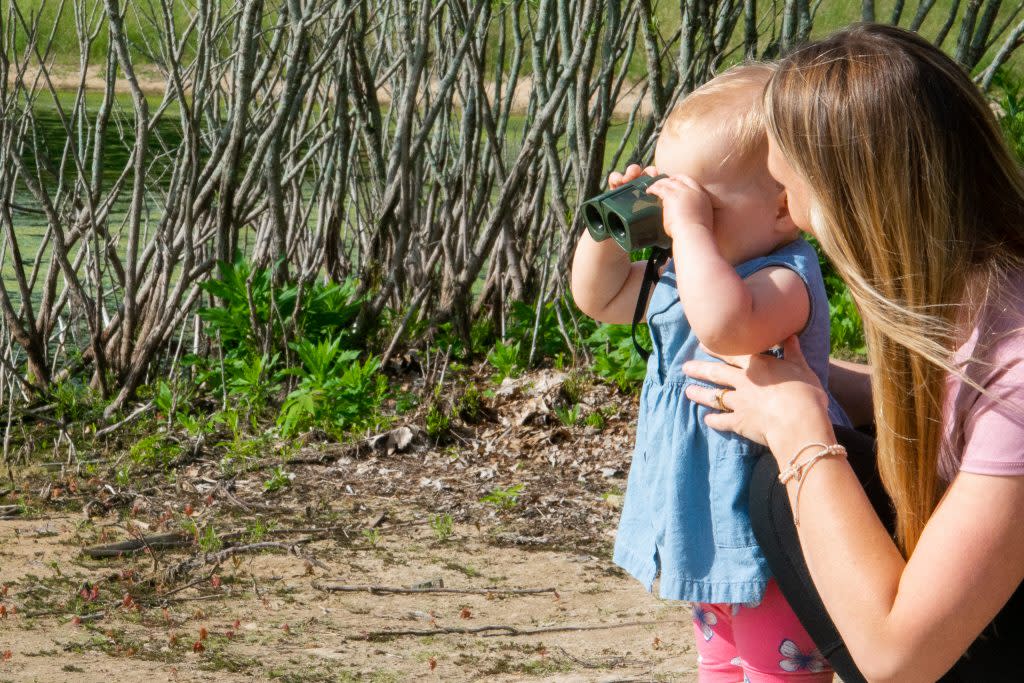 An option that may not have occurred to many is a visit to Muskegon County Wastewater Management System! It is SO massive it has been viewed by orbiting NASA astronauts. The 11,000 acre plant offers recreational opportunities to the public including a Nature Trail and some of the best birding in Michigan!
While visiting and enjoying the trails is free, a visitor pass is required. Passes for a day or weekend may be obtained by calling the office during normal business hours at (231) 724-3440.
Flick a Frisbee at a Disc Golf Course 
Boom Park Disc Golf Course Richards Park, 149 Ottawa St, Muskegon, MI 49442 Named after the Muskegon Log Booming Company, this 10 hole course was designed by Sweet Spot Disc Golf and features a handful of hazards, water and hard-to-hit fairways.
McGraft Park Glen Ave, Muskegon, MI 49441 20 hole course set in 92 acre park
Mullally Park 1478 Horton Rd, Muskegon, MI 49445 9-hole disc golf course on 58 acre park
Reeths Puffer High School 1545 N Roberts Rd, North Muskegon, MI 49445 9 hole practice course on the SE corner of the campus. Not suitable for public play during school hours.
Ross Park 82 Randall Rd, Norton Shores, MI 49441 Newly renovated 20 hole disc golf course
Smith Ryerson Park 650 Wood St, Muskegon, MI 49442 9 holes set around 23 acre park
Whenever leaving your household during this state of emergency, please stay safe, wear your mask and practice safe social distancing ⬅️ 6 feet ➡️