A Short History of Memorial Day
Memorial Day originated in the years following the Civil War and was originally called Decoration Day. In 1920 the poppy became the official flower and symbol. This was due to the popularity of the wartime poem "In Flanders Fields." It became an official federal holiday in 1971.The national holiday was established to honor those who lost their lives while serving in the U.S. armed forces.
A Time of Remembrance...and Travel
The long weekend unofficially ushers in the summer season. It is also a popular weekend to travel. A poll of more than 1,000 people by Vacasa found 31% plan to travel for Memorial Day. 2022 booking data by AAA Travel shows reservations for flights, rental cars, cruises and hotels have increased 122% over 2021! 
If you find yourself visiting the beach-town of Muskegon, Michigan this Memorial Day, below is a list of our many military museums, memorial sites and events.
Civil War Monuments in Hackley Park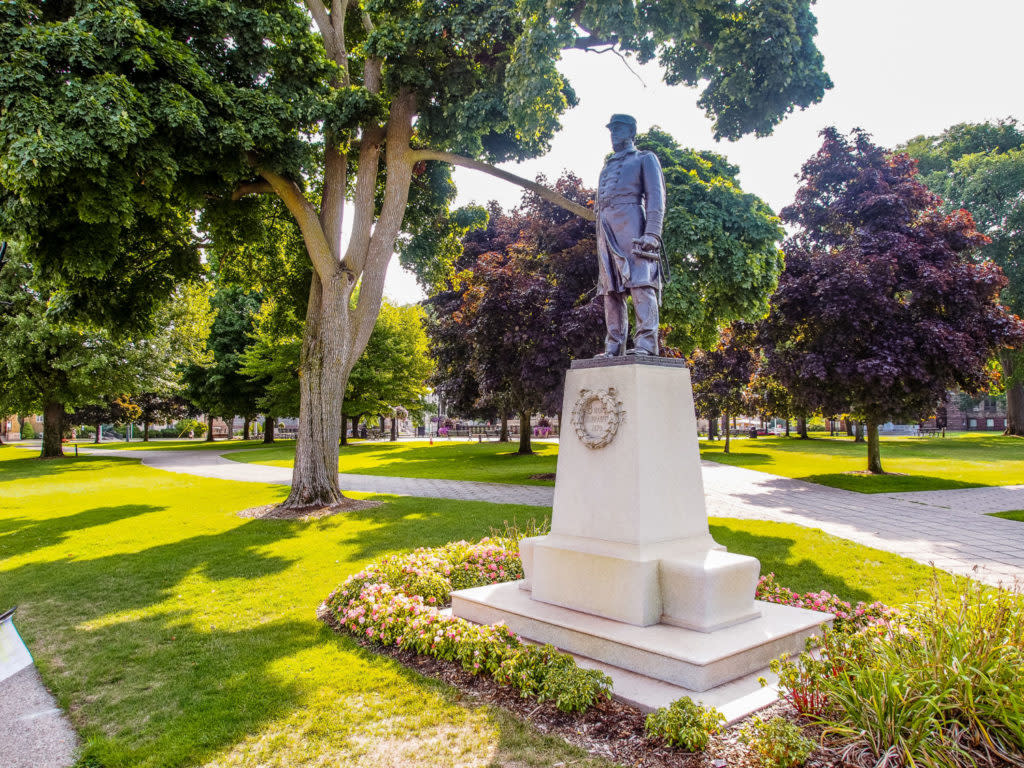 Visit beautiful Hackley Park in Downtown Muskegon. Take a stroll around this National Historic Designated Park and view monuments of General Ulysses S. Grant by Artist J. Massey Rhind, William Tecumseh Sherman also by J. Massey Rhind and David Farragut by Artist Charles Niehaus and the Sailors and Soldiers Monument.
Sailors and Soldiers Monument in Hackley Park  

"Not conquest but peace and a united people. To the soldiers and sailors who fought, and to all patriotic men and women who helped to preserve our nation in the War of the Rebellion."
Standing guard in the center of
Hackley Park
is the Sailors and Soldiers Monument. Beautiful, bronze "Victory" graces a cylinder of granite that reaches 75 feet to the sky. Around the base, four statues represent Infantry, Artillery, Cavalry, & Navy. It was created by sculptor Joseph Carabelli and gifted to the city by Charles Hackley on May 30, 1892.
Address: 350 W Webster Ave, Muskegon, MI 49440
USS LST 393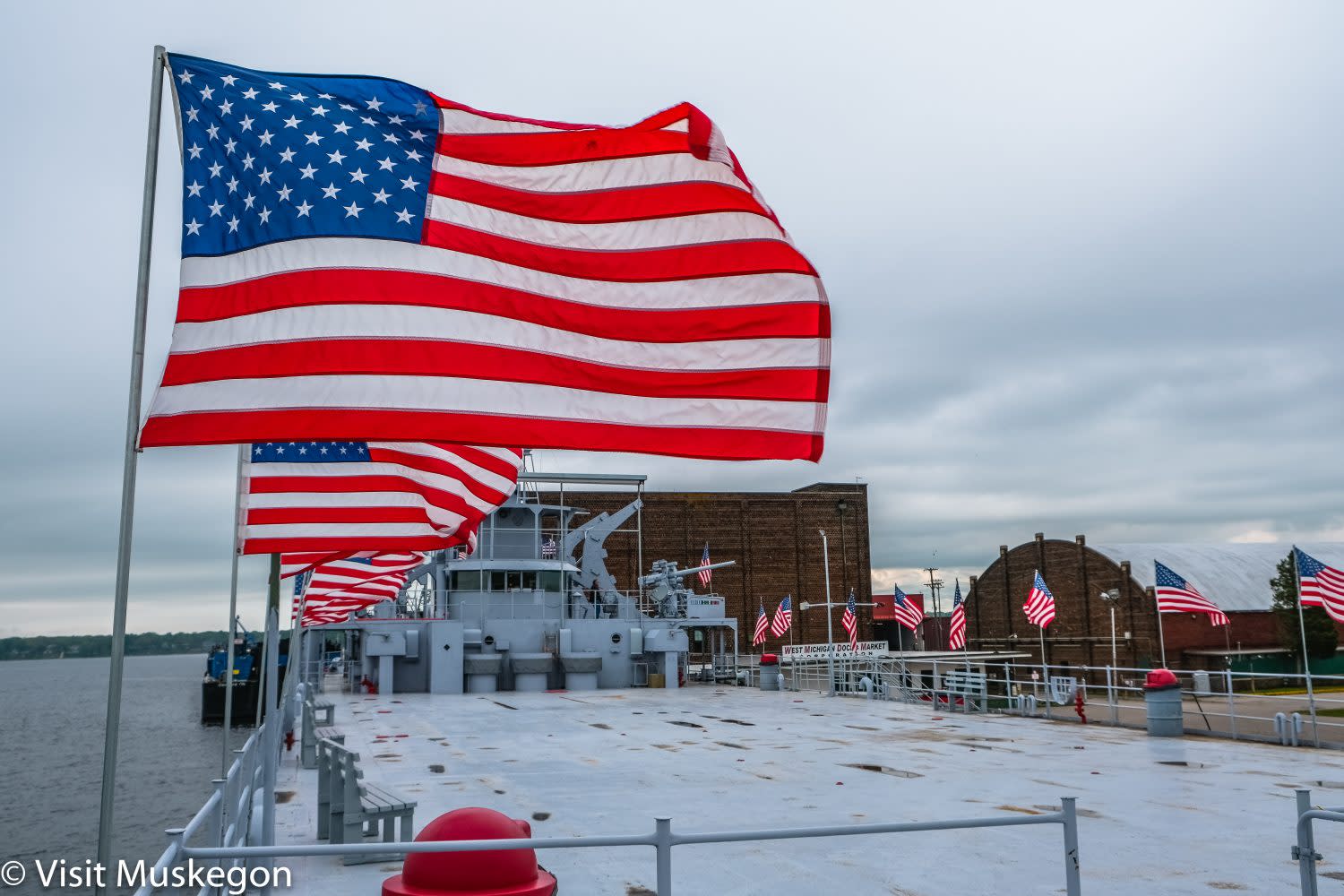 The USS LST 393 Veterans Museum is an LST-1-class tank landing ship originally launched in 1942. She is one of only two LSTs to survive in their original configuration. During her service she won battle stars for the Sicilian occupation, Salerno landings, and the Invasion of Normandy. The LST 393 made 75 voyages to foreign shores and was one of the only LSTs to be equipped with an airplane.
Address: 560 Mart St, Muskegon, MI 49440
"Boogie Woogie Bugle Boy" Sculpture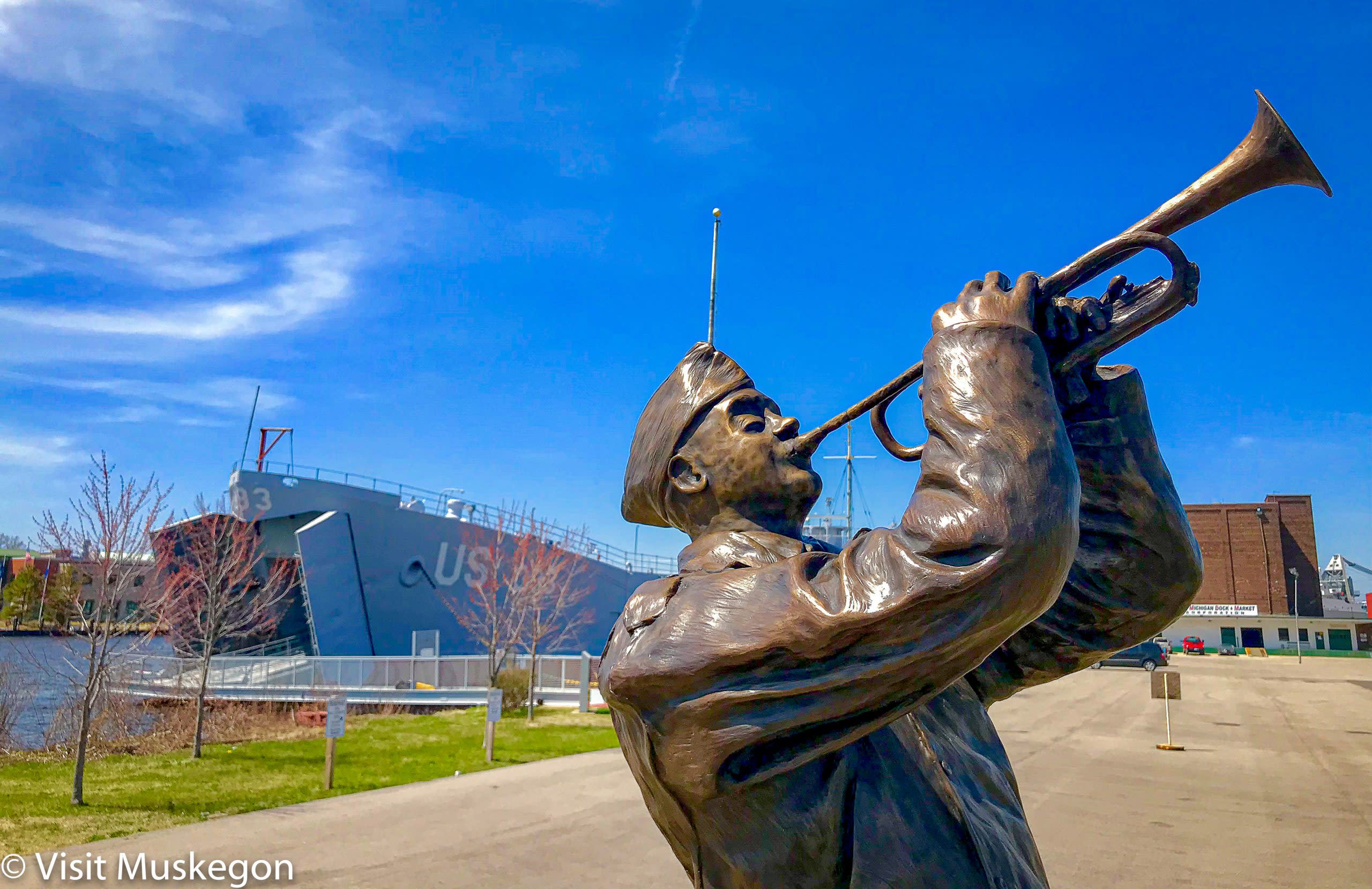 "Boogie Woogie Bugle Boy" by sculptor Ari Norris is located near the bow of the USS LST 393 Veterans Museum. The statue represents Muskegon-born Clarence Zylman, the famed Boogie Woogie Bugler of World War II and topic of the famous The Andrews Sisters song, later re-recorded by Bette Midler.
Address: 560 Mart St, Muskegon, MI 49440
USS Silversides Submarine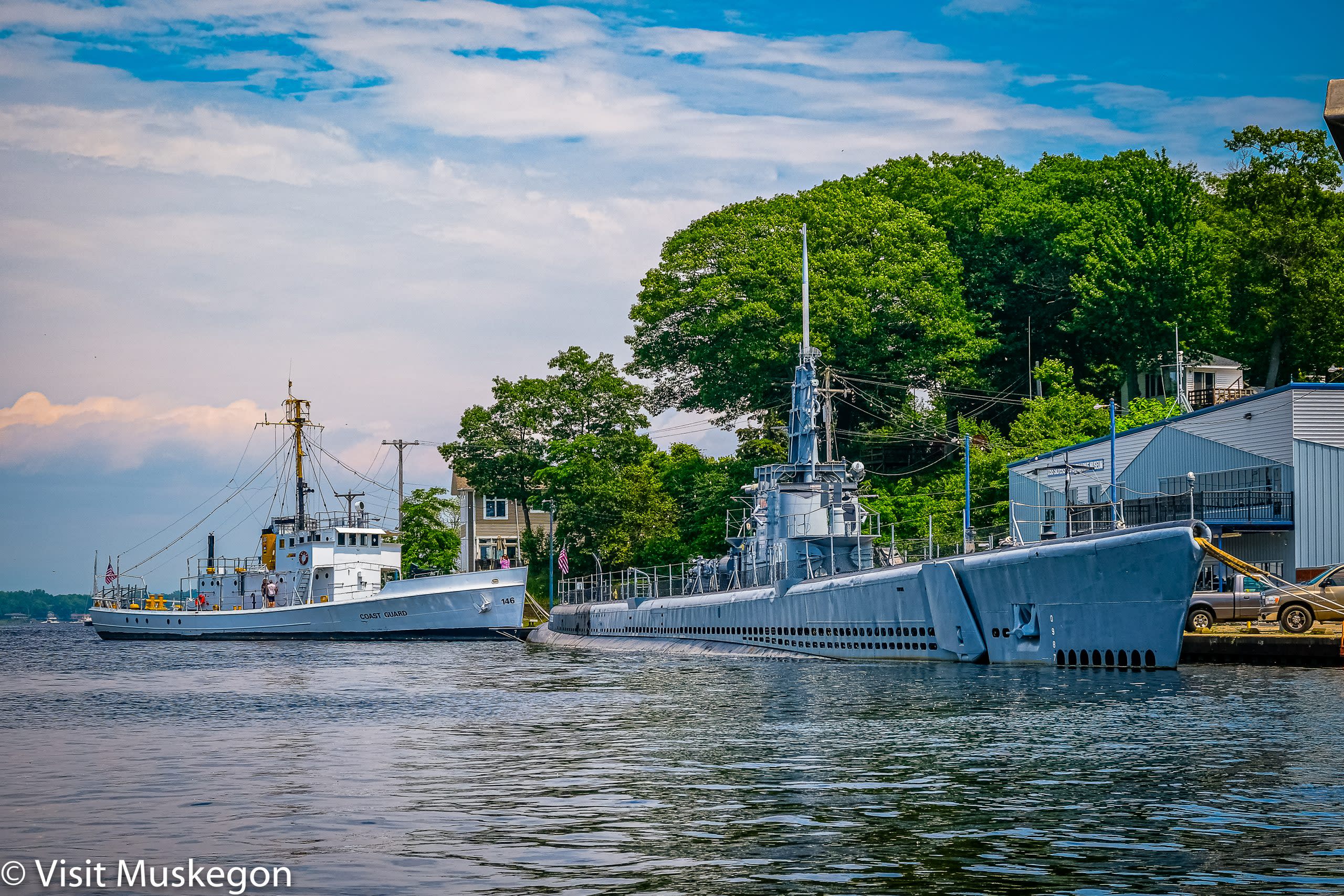 Tour the historic Gato class (built for the US Navy launched between 1941–1943) submarine. During her service, she received 12 battle stars and was awarded a Presidential Unit Citation for cumulative action over four patrols. She is credited with sinking 23 ships – the third-most of any allied World War II submarine! According to JANAC (Joint Army-Navy Assessment Committee) the USS Silversides has the most prolific combat record of any still extant American Submarine.
In her retirement, the Silversides found a home in Muskegon, where she is part of the USS Silverside Museum. Docked in the Muskegon channel, she floats behind the US Coast Guard Cutter McLane, also available to tour. A two-story museum center, filled with historic naval and interactive exhibits, completes the setting.
Address: 1346 Bluff St, Muskegon, MI 49441
Veteran's Memorial Park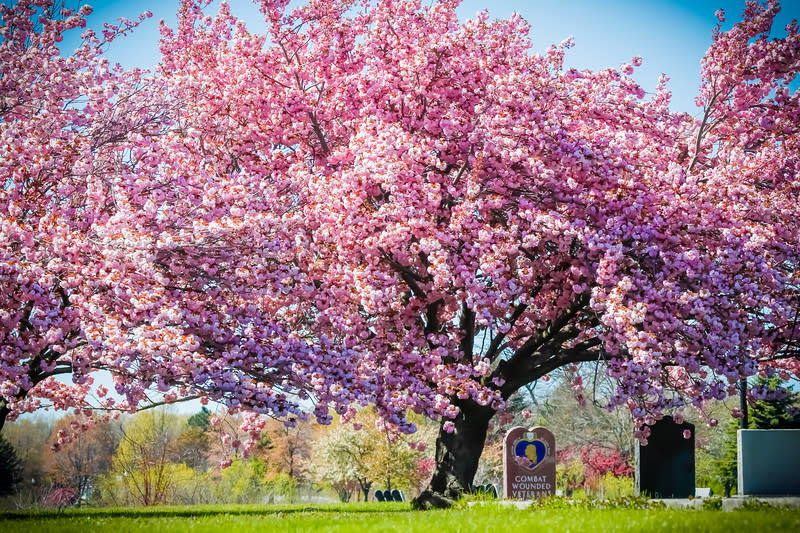 A "Living Memorial to the World War Dead" the historically significant Veterans Memorial Park is located on 50 acres along the "West Michigan Pike". The park contains a lagoon and small island which can be reached by 2 footbridges. There are several war memorials, a large fountain and a Vietnam Memorial. Learn more about this beautiful and historic park HERE
Address: M. Causeway, Muskegon, MI 49445
Vietnam War Memorial "Final Approach"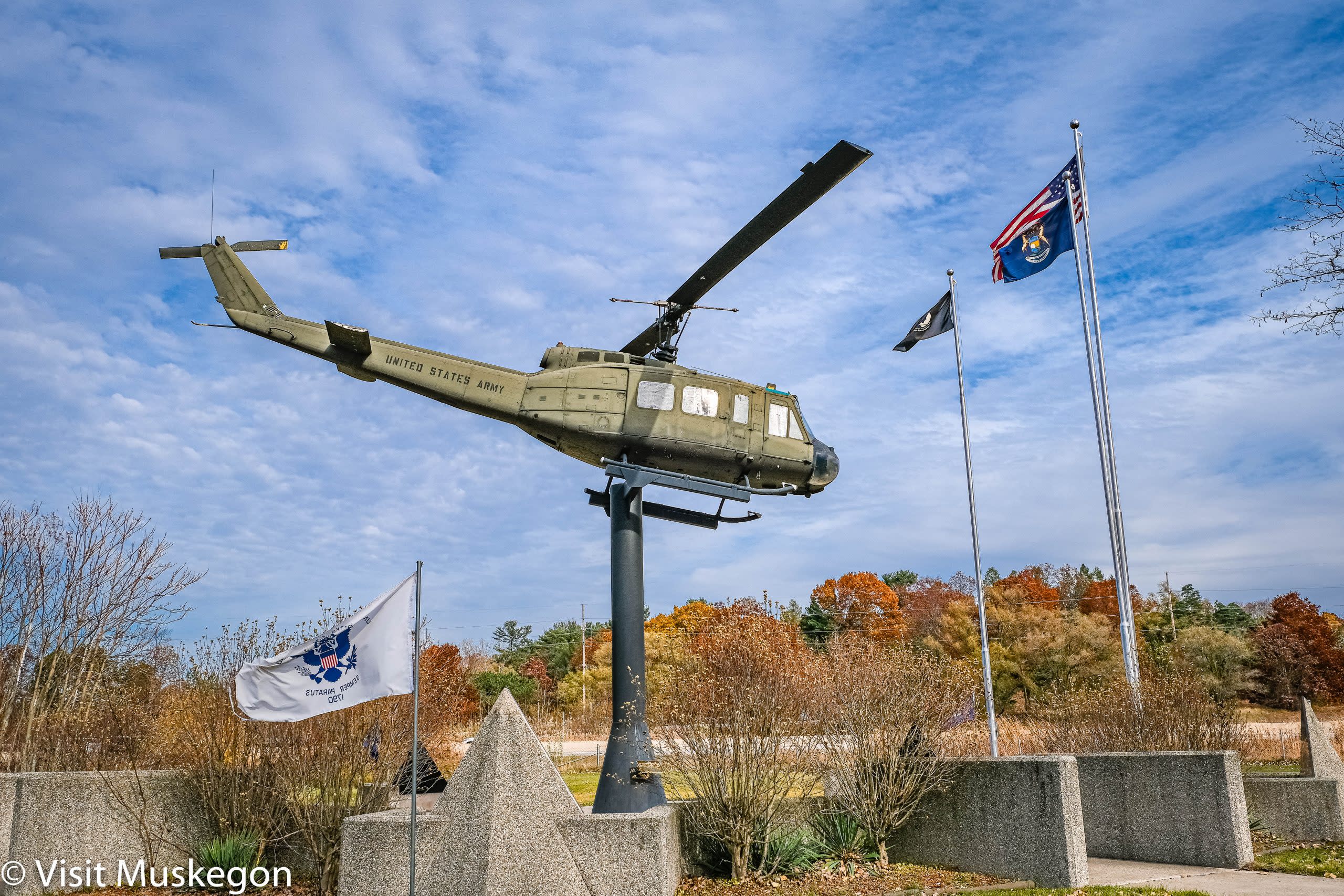 Tucked inside Hidden Cove Park is the Vietnam War Memorial "Final Approach". Rising above the park, surrounded by flags, benches and plaques is a UH-1D helicopter; a combat veteran of the Vietnam War. Learn more about this monument and park HERE
Address: 3941 Grand Haven Rd, Norton Shores, MI 49441 
Memorial Day Events to Attend

 
🌺 2023 Greater Muskegon Memorial Day Parade
🌺 Patriotic Concert featuring Mona Shores Marching Band at Frauenthal Center 
🌺 Milwaukee Clipper Memorial Day Party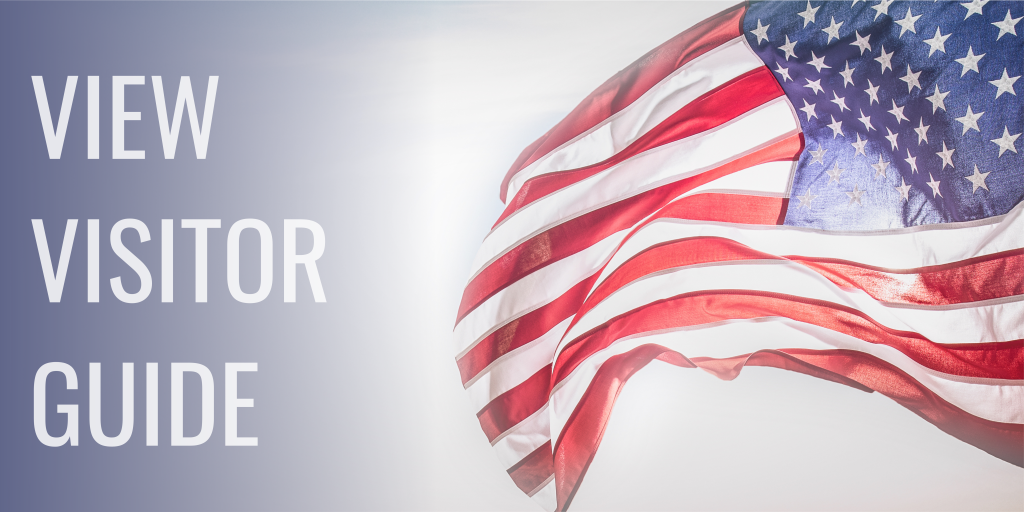 "As we express our gratitude, we must never forget that the highest appreciation is not to utter words but to live by them." ~ John F. Kennedy