Muskegon County is home to three delectable distilleries. Each with their own distinct atmosphere, craft cocktail menus and dining options.
Make time to visit 18th Amendment, Burl and Sprig and Wonderland Distilling when you visit our West Michigan beachtown. The owners, distillers and staff can't wait to welcome you - and show off what they have to offer.
18th Amendment Spirits Co.
18th Amendment Spirits Co. is located in a former Savings and Loan Bank in downtown Muskegon. Lit by vintage chandeliers, this eclectic, Instagram worthy décor also holds a vintage Brunswick bar, originally built in Muskegon.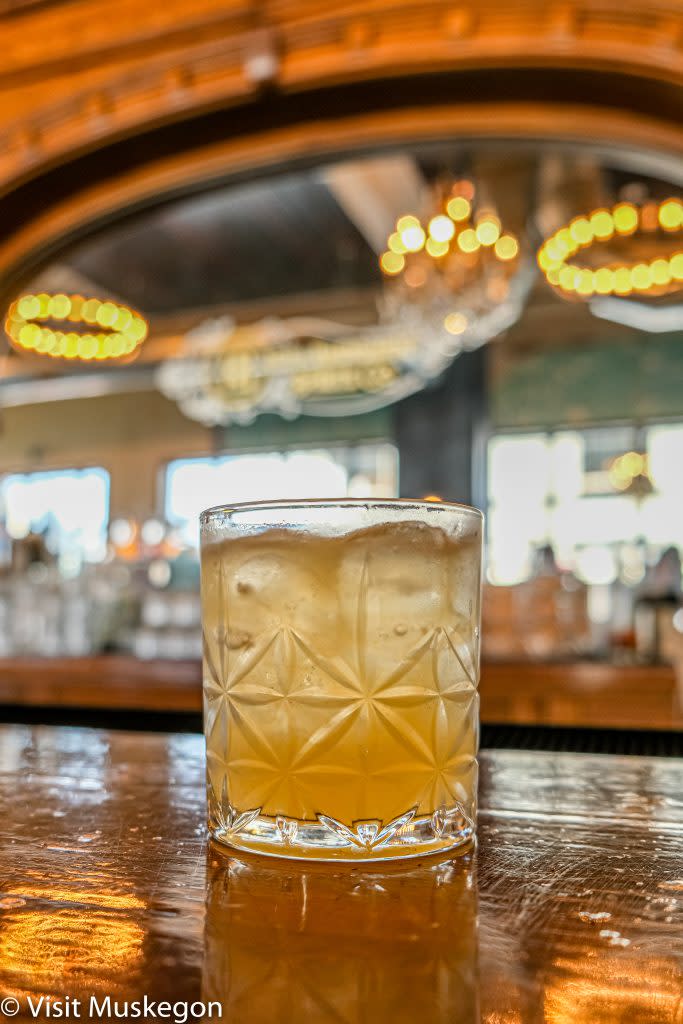 The drink menu is a nod to prohibition era libations with names like The Chesterfield, Man o' War and The Hackley. Not sure which to choose? Try the Dealer's Choice! The bar staff will create an original especially for you, based on your preferences. Blood Mary enthusiasts will appreciate the "Build Your Own Bloody" menu!
Speaking of menus, come hungry and dive into their wood fired pizzas (including Nutella Pizza for dessert!), salads and shared plates. Vegans and Vegetarians will appreciate the many options.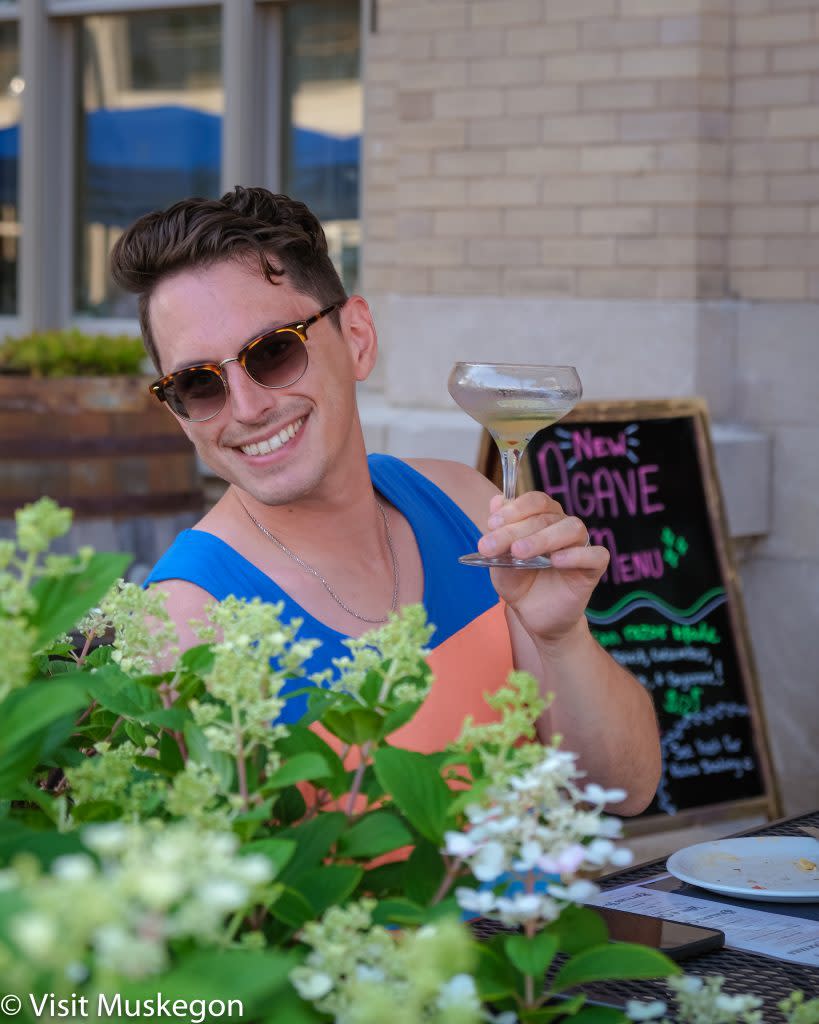 Sit inside and take in the ambience. Or, in warm weather grab a seat on the patio and watch the Western Ave. passersby. You an even take your toddy for a turn…18th Amendment is located within the Downtown Muskegon Social District. Check their website for a schedule of live entertainment, special and educational events.
350 W. Western Ave | Downtown Muskegon
Burl and Sprig
Burl and Sprig is a rum centric distillery that opened in 2019. The immediate popularity of this gathering spot meant it quickly outgrew its original, smaller location. Relocated to an expanded venue in Downtown Muskegon, Burl and Sprig offers an open space filled with warm woods and bright colors.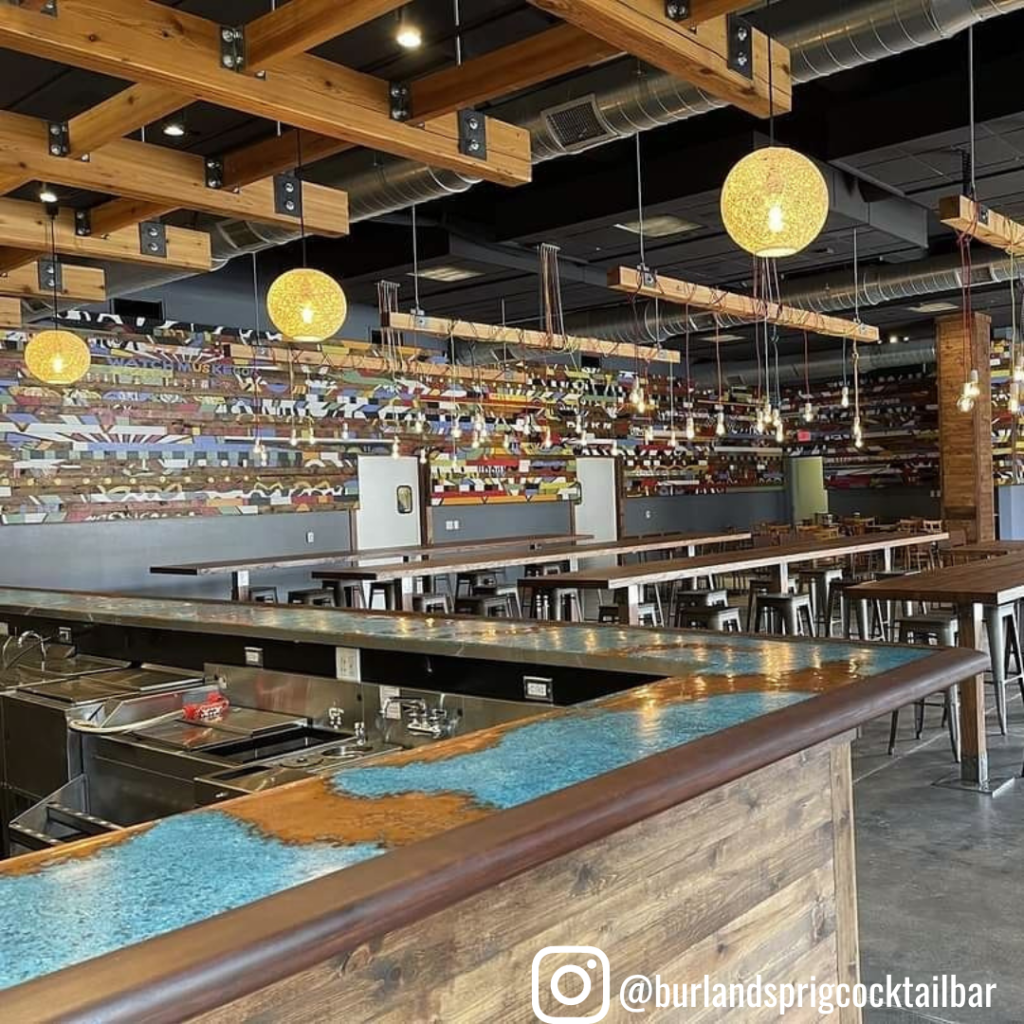 See More on Instagram
Large garage doors open in warmer weather to welcome the breeze - and music coming from the "Social Sandbox" located directly across the street. Because Burl and Sprig are also located in the Downtown Muskegon Social District, you can grab a to-go cup, kick off your shoes, and dance to the band in beach sand.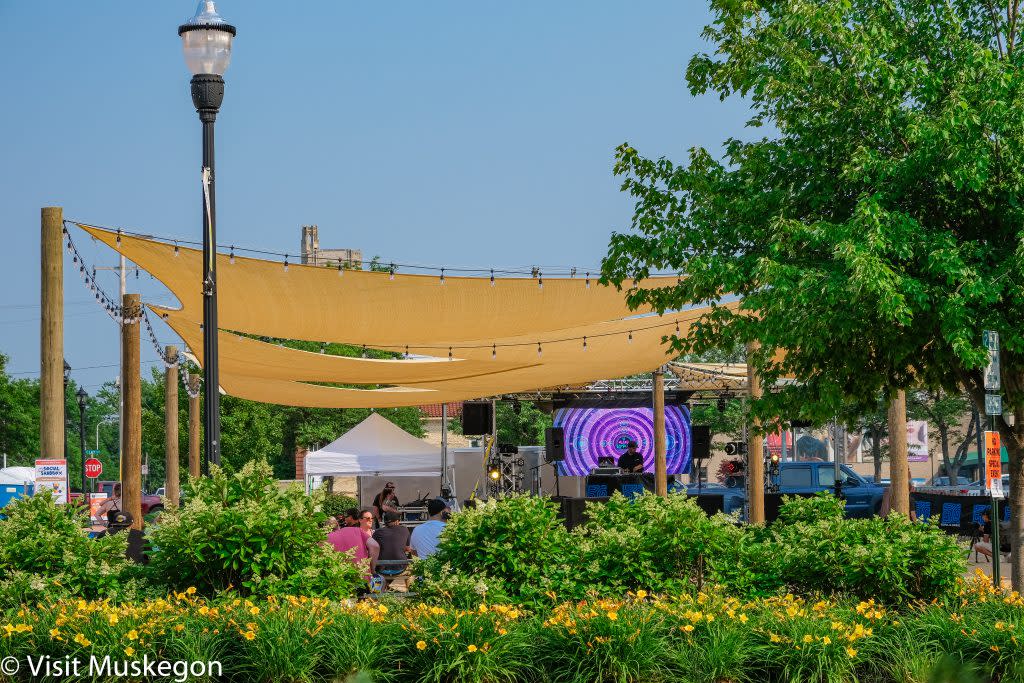 Their artfully crafted cocktails are a delight - both visually and to the taste buds. From classic cocktails to a those with a tiki twist, they are presented with cheerful accoutrements including fresh flowers, herbs, dehydrated fruits and paper parasols. The boundless offerings may be overwhelming, so we recommend starting with a cocktail flight.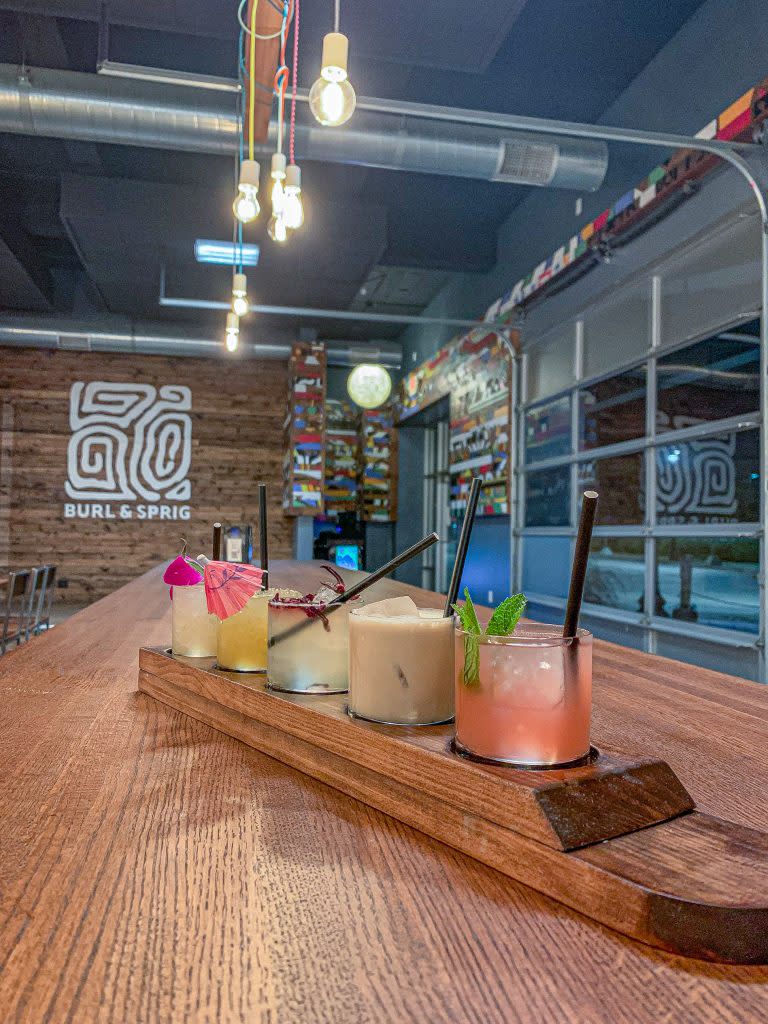 The food options are fresh and bright, taking the diner to warm and tropical places. Expect flavor filled salads, entrees, sharables (you will love the Lobster Coctel Ceviche!) and handhelds that range from Soft Shell Crab to burgers. There are vegan, vegetarian and gluten free options aplenty.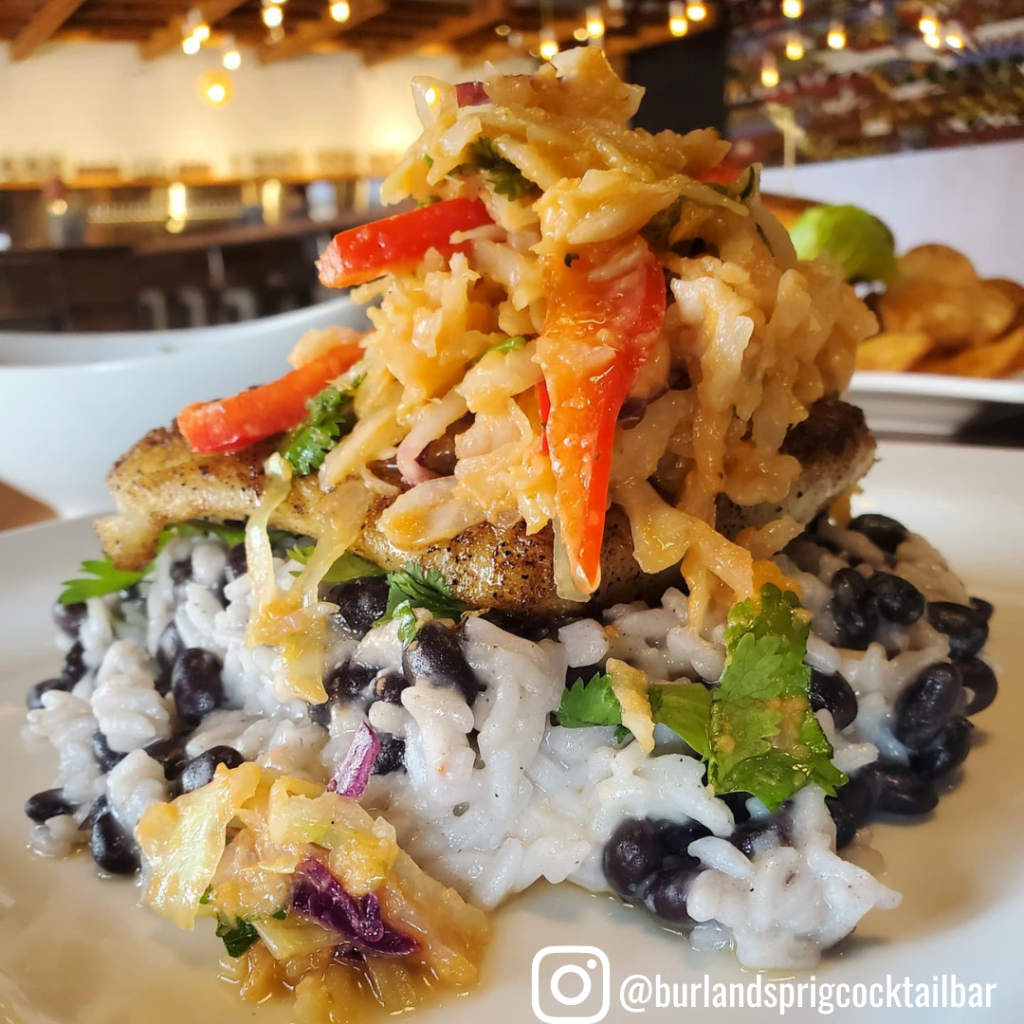 See More On Instagram
Follow their Facebook page for weekly specials, events and great happy hour deals.
333 W Western Ave | Downtown Muskegon
Wonderland Distilling
Located in the Lakeside Business District is Wonderland Distilling. Your palate will appreciate their passion for spirits, seasonally inspired drinks and great food. In 2021 they were nominated by USA Today 10Best for the Best New Craft Distillery award. They took 2nd place nationwide and have already won numerous awards.
The cocktails are entirely handcrafted with made-from-scratch ingredients. If you are a fan of a good ol' fashioned Old Fashioned, you will not be disappointed here!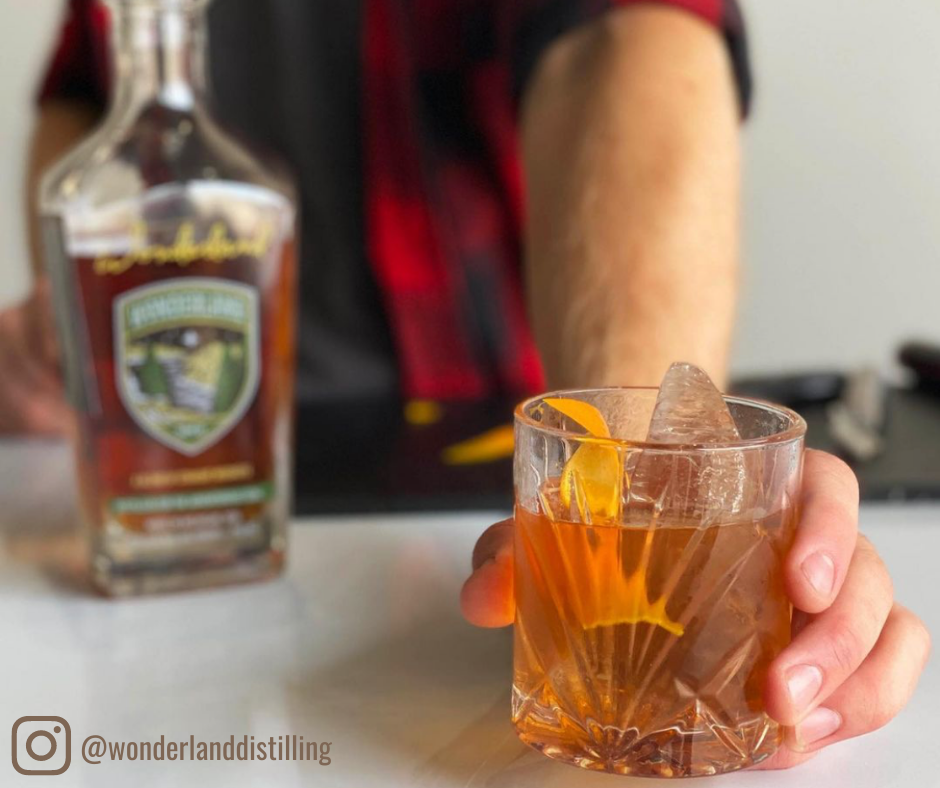 See More on Instagram
Snacks, shareables and wraps pair perfectly. All are made with as many locally sourced ingredients as are possible. Very popular are Wonderland's West Side Tacos. These fusion style menu staples are complimented by rotating features. Vegans, Vegetarians and those looking for gluten free will be pleased with the choices.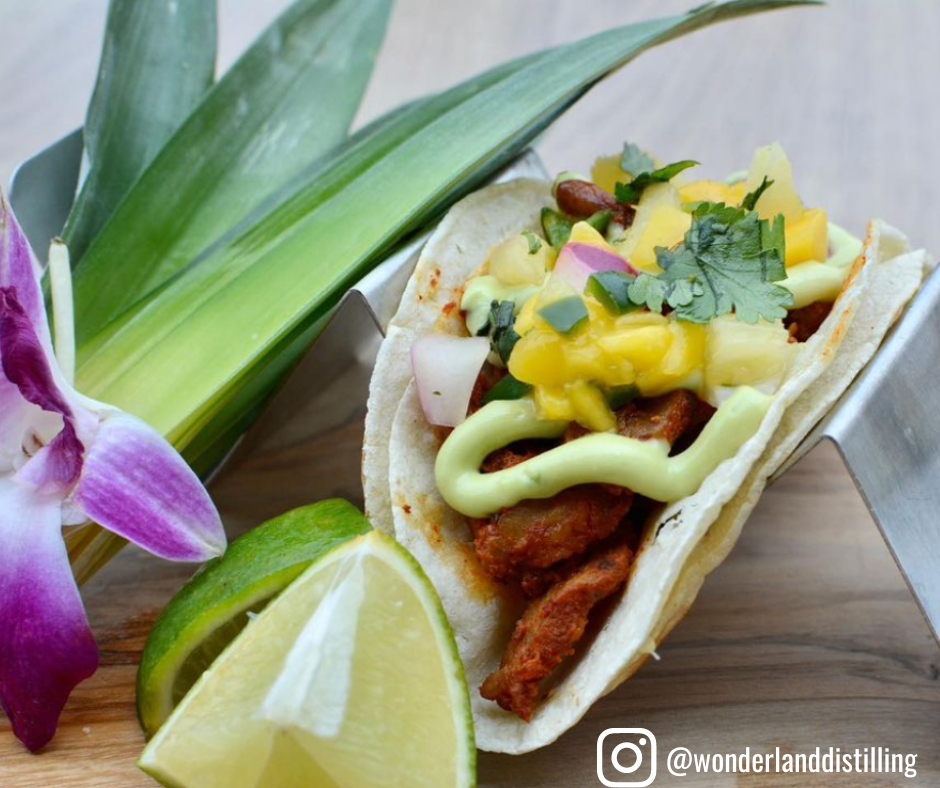 See More on Instagram
Wonderland is an open and sun filled venue that pays homage to Muskegon's woods and waterways. Large garage doors open to sidewalk seating with a view. Muskegon Lake and the Lakeshore Bike trail are just across the street. A small pocket garden is next door offering a flower filled respite to bring your Lakeside Social District beverage.
See More on Instagram
Follow their Facebook page to see who's performing, fun events, drink features and the weekly Taco Special.
1989 Lakeshore Drive Ste B | Lakeside Business District